May 18, 2018: Lizzie presented her work on the interactions between metals and antifungal drugs at the Duke EPIC (Eukaryotic Pathogenesis Investigators Colloquia) Symposium poster session.
May 13, 2018: Congratulations to our two graduating senior undergrads: Matias Horst and Vivian Lu. Matias and Vivian have done awesome work and we can't wait to see what they do next!
April 27, 2018: Abbey and Lizzie presented posters at the Duke Women in Science and Engineering Symposium.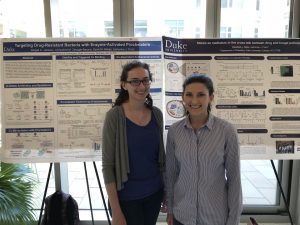 April 24, 2018: Matias gave his final undergraduate thesis presentation on his work with metallopolymers. Great work, Matias!
April 20, 2018: Seniors Matias and Vivian presented at the department undergraduate poster session.
April 19, 2018: Five Franz Lab undergrads presented their projects at the Visible Thinking poster session.
April 4, 2018: Lizzie gave a fantastic 5-minute talk at Duke GradX about her project: "How does copper control the efficacy of our drugs?"
March 2018: Jacqueline, Abbey, David and our collaborators publish in ACS Infectious Diseases on the role of copper in the antibacterial mechanism of pyrithione and its prochelator!
March 2018: Anton Razgoniaev joins our group as a postdoc to work on a joint metallopolymer project with the Craig Lab. Welcome to the Franz Lab, Anton!
March 2018: Jacqueline and collaborator Kelly utilize the beamline at Argonne National Lab to analyze the copper content of cells via x-ray fluorescence imaging.
March 2018: The Franz Lab has a Twitter account! Follow us here!
January 2018: "Chemical and functional properties of metal chelators that mobilize copper to elicit fungal killing of Cryptococcus neoformans" is one of the 10 most downloaded Metallomics articles of 2017! Congrats Marian, Lizzie, Zeenat, and Bruno!
January 2018: The Franz Lab welcomes a new graduate student, Joanna Campbell!
November 2017: Matias wins the ACS Division of Inorganic Chemistry Undergraduate Award in Inorganic Chemistry!
November 2017: Congrats to Lizzie and Steven for passing their prop exams!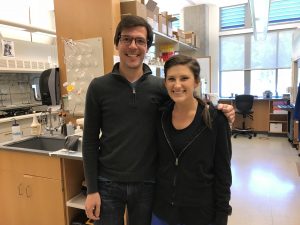 October 2017: Kacey, Andy, Rory, Mike, and Vivian publish their work on metal-binding hydrazone photoswitches in Photochemical and Photobiological Sciences.
November 2017: Congrats to Azim for winning a Barthalmus Research Grant to help fund his research and a conference presentation!
October 9, 2017: Kacey, Lizzie, and Jacqueline present posters at the Duke Chemistry Graduate Research Symposium. (Photos from Graduate Chemistry Council)
September 15, 2017: Jacqueline's poster wins an award at the Duke Pharmacology and Cancer Biology annual retreat poster session!
August 2017: The Franz Lab goes to Washington, DC for the American Chemical Society national meeting!
August 2017: Lizzie attends a Molecular Mycology course in Woods Hole, MA.
August 2017: Steven's paper on copper-dependent activity of histatin peptides is published in Biochemistry.
July 2017: Qin's paper on the hydrolytic susceptibility of prochelator BSIH is published in Bioorganic & Medicinal Chemistry Letters.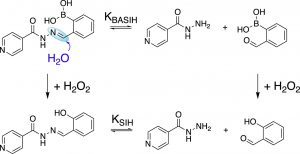 May 14, 2017: Congratulations to undergrads Kelley, Spencer, and Mike on their graduation from Duke!
April 21, 2017: Kelley, Spencer, and Mike present at the Chemistry Majors Poster Session.
April 20, 2017: Kelley presents her senior thesis!
April 13, 2017: Kelley and Matias present posters at Visible Thinking: A Presentation of Undergraduate Research.
April 7, 2017: Congratulations to Jacqueline for passing her prelim!
April 6, 2017: Congratulations Dr. Mark Sleeper! Franz Lab PhD #14
April 5, 2017: Congratulations to Abbey for passing her prelim!
March 10, 2017: Congratulations, Dr. Qin Wang! Franz Lab PhD #13
November 2016: Jacqueline collects data (and gets some exercise) during beam time at the synchotron in Chicago!
October 2016: The Franz Lab hosts Prof. Nils Metzler-Nolte!
August 2016: We have enjoyed having Emma Bridgman and Tanvi Dange with us for summer research! Emma is a rising senior at St. Mary's College (with group alum Kathryn Haas!), and Tanvi is a rising high school senior at The Peddie School (with group alum Sarah (Crider) Venanzi!).
July 2016:  Kathy, Lizzie, Subha and Qin attend the 2016 Metals in Medicine Gordon Research Conference in New Hampshire (co-chaired by Kathy!).  Congrats to Subha and Qin for getting Best Poster awards!
April 2016: Congratulations to Lizzie and Steven for passing their prelims!
March 2016:  Kathy is awarded the Dean's Award for Excellence in Mentoring:
​
​
March 2016:  Abbey wins a prestigious NSF predoctoral fellowship.  Way to go Abbey!!!!
March 24, 2016:  Congratulations Dr. David Besse!  Franz Lab PhD #12
March 2016: Welcome new post-doctoral fellow Dr. Subha Bakthavatsalam!
January 2016: Welcome new graduate students Jacqueline Zaengle and Abbey Jackson!
Dec 2015: Congratulations to Zeenat for defending her Master's Thesis.  Good luck Zeenat, we will miss you!
May 2015:  Bruno and Jake's paper on heterometallic cooperativity by a designed peptide is published in Chemical Science. Check it out.
April/May 2015: Congratulations to Zeenat and Kacey for both passing their prelim exams!
December 2014: Welcome new grad students, Lizzie White and Steven Conklin!
October 2014:  Congratulations Dr. Marian Helsel, PhD!
July 2014:  Marian wins a Best Poster Prize at BioMetals2014.  Good Job!
July 2014: Marian's collaborative paper with Ricky Festa (Thiele lab) appears in Chemistry & Biology.  Cheers to that!
Read the News piece Molecule Enhances Copper's Lethal Punch Against Microbes on the Duke Medicine News website.
​
​
May 2014:  Congratulations Dr. Andrew Franks for completing his PhD.  Way to go Andy — keep Hope alive!
​
​
April 2014: Congratulations to Qiang Su on completing your Master of Science degree.  Good job, Qiang!
April 2014: Kudos go out to Zeenat Razvi for being awarded an NSF Graduate Research Fellowship.  Way to go, Zeenat
January 2014:  Welcome first year grad students Kacey Hall and Zeenat Razvi to the Franz Lab. We are thrilled to have you.
September 2013: The Franz lab welcomes new post-doc Bruno Alies to the lab.
August 2012:  Congratulations to Andy Franks for being awarded the Pelham Wilder Fellowship from the department for exceptional work in undergraduate instruction, and to Marian Helsel for the CR Hauser Memorial Fellowship for demonstrating an exceptional aptitude for research.
July 2012: Qin passes her prelim! Way to go Qin.
July 2012: Congratulations Dr. Drew Folk, the latest Franz Lab PhD.
June 2012:
Congratulations Marian and Andy, who were both selected to give "Poster Slam" presentations at the Metals in Medicine Gordon Conference.
What is Inorganic Chemistry? Go to the Duke University "Core Concepts in Chemistry" iTunes U course and click on lecture #4 "The Periodic Table and Life" (click on "view in iTunes" to get to the free content).
More video? Check out the ACS Publications "Why I read" campaign video, featuring Kathy and other chemists describing why they read and publish in ACS journals.
April, 2012:     Samhita and Justin present their independent study projects at the Chemistry Department Poster Session. Nice work!
April 2012: Congratulations to Mark and David for passing their prelim exams! Next stop, PhD . . .
March, 2012: Congratulations to Drew for winning a Best Poster Prize at the ACS National Meeting in San Diego. Drew's poster, entitled "Visualizing Beta-Sectretase Activity in Cells with a Membrane Anchored FRET Probe" was part of a special symposium on "Chemical Interactions of Metal-Related Therapeutic Drugs".
January 2012:
Qiang Su joins the lab as a first-year graduate student!
Check out Jeff's cover art on the Feb 2012 issue of J. Inorg. Biochem.
Group Alums Jeff and Kat can't escape the Franz Lab, even when touring in Italy! (October, 2011)
April 7, 2011: Congratulations Dr. Hyman!!!