June 9, 2021: Another happy meter filled in the Franz Lab, celebrating with Locopops and an updated group photo!
December 18, 2020: Franz Lab Secret Santas to celebrate the holiday season.
July 21, 2020: A masked and socially distanced Franz Lab dessert gathering!
April 20, 2020: Wonderful undergraduate thesis project presentations this afternoon!
February 27, 2020: In the Franz Lab, we like to make a monthly list of what makes us happy and celebrate. That means milkshakes!
December 12, 2019: Franz Lab Holiday Party 2019!
September 2019: Franz Lab members and friends visit the Duke Lemur Center!
December 16, 2018: Happy Holidays from the Franz Lab!
November 20, 2018: Great morning discussion about fungal metallomes and drug stress over Thanksgiving breakfast bagels – what could be better? Happy Thanksgiving y'all, from  the Franz Lab!
October 25, 2018: Franz Lab members serve liquid nitrogen treats at Science under the Stars. Yum!
(photos by Dr. Ken Lyle)
September 11, 2018: Hurricane prep in the Franz Lab!
September 1, 2018: Franz lab members traveled to South Carolina and had so much fun celebrating the wedding of our newest PhD Kacey and her new husband Greg from the Craig lab. Congrats Kacey and Greg!
August 29, 2018: Photo shoot in the Franz Lab! As always, Lizzie is fascinated with her fungus.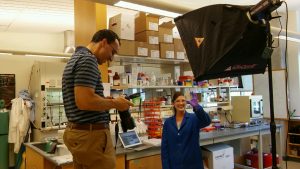 May 2018: Franz Group Spring 2018!
April 14, 2018: Grad students Joanna, Lizzie, and Abbey make delicious liquid nitrogen ice cream for families at Duke Alumni Weekend.
(Photo credit: Bob Carden and Ken Lyle)
March 26, 2018: We had a lot to celebrate during our group lunch today: birthdays, a publication, and a new postdoc!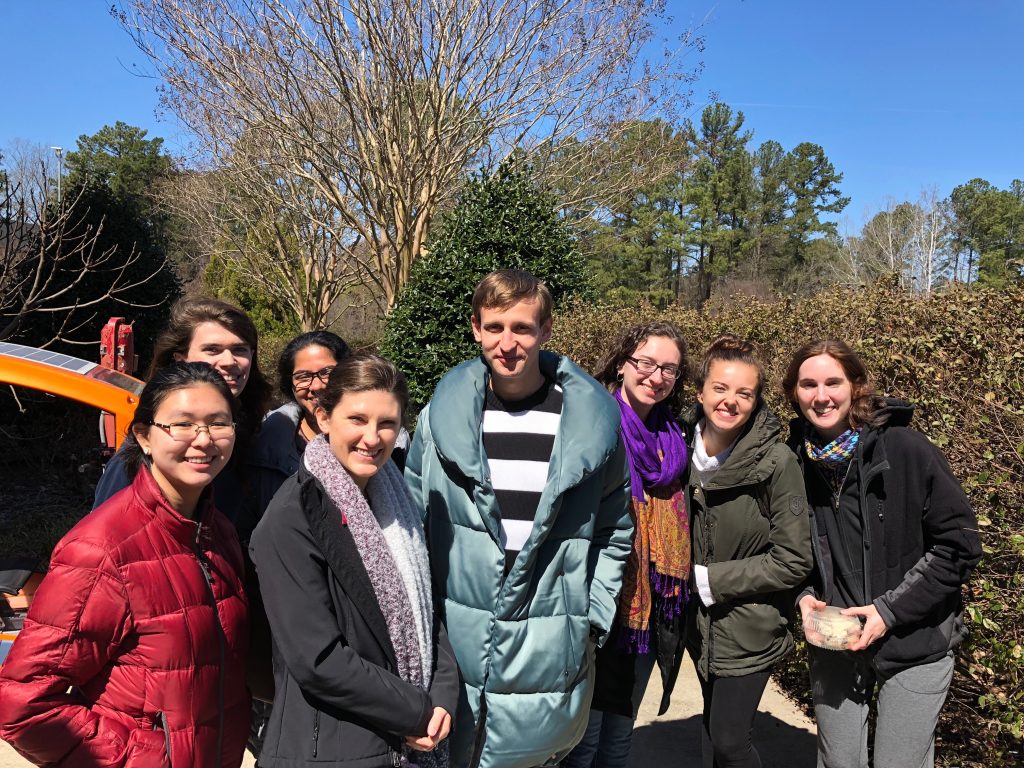 March 16, 2018: Group selfie as we present Subha with her wedding gift from the lab! Congrats Subha!
December 12, 2017: Holiday party!
October 31, 2017: The Franz Lab has some Halloween spirit!
October 19, 2017: Franz Lab members present demos, serve ice cream, and meet some snakes at the Science under the Stars outreach event.
October 13, 2017: The day we all came to lab wearing the same shirt.
July 8, 2017: The Franz Lab had a blast at Lizzie's wedding!
June 1, 2017: The Franz Lab has group meeting at the lake!
March 2017: Franz Lab members meet Professor Harry Gray from Caltech!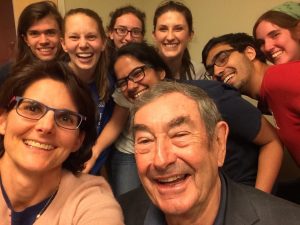 Franz Lab, Summer 2016 edition.  Lunch at Tobacco Road with group alum Sarah Crider front and center!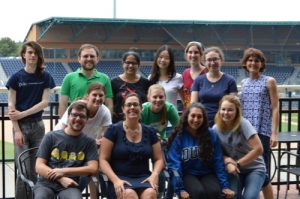 Happy Holidays 2015.  What a crew!! (Whose idea was the ugly sweater contest?)
​
​
ICBIC, Beijing 2015
​
​
Check your blind spots!  Group trip to Charlotte Motorspeedway for NASCAR driving experience. June 2015
​
​
Happy Holidays! Group dinner at the Melting Pot, Dec 2014
Where is your science taking you? Group event at Wine & Design, Jauary 2014.
​
​
Ben & Jerrie's trip to wish farewell to summer REU student and Lycoming College superstar Rory McAtee.  Good luck, Rory!
​
​
Group trip to the Durham Bulls, July 2012
Group Party at the Lake, June 2011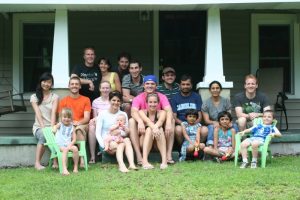 The group celebrates Lynne's PhD Defense, April 2011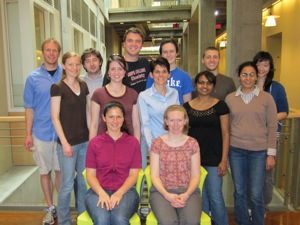 Summer '09.  Back row:  Lynne, Marina.  Front row:  Robert, Drew, Kathy, Kate, Lissette, Kat, Rosa, Jeff, Sarah
Happy Halloween!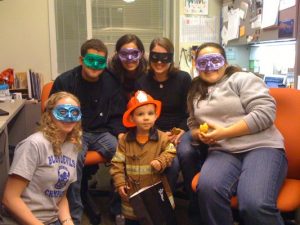 Marina, Kathy, Kat and Jeff at ACS, Washington, DC, August 2009
Group Trip to Frankie's Fun House 2008
Franz Group 2005-2006