My train home to Philadelphia was scheduled to leave Penn Station at 8 pm. I planned to hop on the subway two blocks from the NYU dorm and take the 2 or 3 train two stops uptown to the station—it would take me about 10 minutes. I left the dorm at 7:30 pm and was walking toward the subway and I realized it would be difficult to maneuver my 50-pound luggage down multiple flights
 of stairs. So, I decided to take a cab to get me 20 blocks north of where I was. In the thick New York traffic on 6th Ave, I arrived to 33rd street in the cab at 7:47 pm. I was cutting it very close. The cab turned left onto 33rd to get to the station on 7th Ave, and the street looked like a parking lot.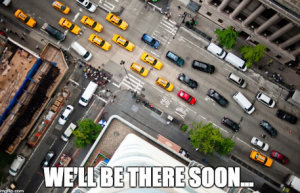 I learned on Day 1 of being in New York to never underestimate the amount of time it takes to get somewhere. I didn't, I just had a sudden change of plans when I realized the subway wouldn't be feasible. Maybe I should have thought it through a little better.
At 7:50 pm, I quickly paid the cab driver, jumped out of the car
and sprinted
the final two blocks to the station with my luggage trailing behind me. I apologize to whomever I may have run over with my barreling suitcase in my wake.
I arrived to the Amtrak board at 7:58 pm to see that my 8 pm train
was the only train
delayed 15 minutes.
Exhale. Deep inhale. Exhale.
I chugged a bottle of water and wiped the sweat from the back of my neck. I had just completed my last New York task. Next stop: Philadelphia.
When it was time to board the train
(which actually was 25 minutes late, just to poke fun at me), I rolled my luggage onto the escalator. I rolled it a bit too far and it started to fall forward, off the escalator step
. The man behind me reached in front and grabbed my bag to help me. I thanked
him, and he insisted he hold it for the next 20 seconds down the escalator. I told him it wasn't necessary, that I could hold my bag now that it was actually on the step
, and he asked me if I was sure. I said yes.
I wondered how I should react to this. Should I be outraged that a man doesn't think I'm capable of standing next to my own suitcase on an escalator scale? Is that too extreme? He was just trying to help. In this moment, I thought back to the Moxie reading on chivalry that we discussed on the day we arrived in New York. That man was conditioned by society to help a woman carrying a heavy object. I can't blame him for wanting to help me when my bag was clearly falling—I actually really appreciated it— but once it was back on the step
, I was fine. I would have also appreciated him recognizing that rather than insisting he carry it for me. The most frustrating part is, he didn't even realize he was implying I was incapable of handling it myself.
Structural oppression is everywhere. I knew this before I spent two months living and working in New York. What I didn't realize though was how structural oppression sneaks up on you. It's concealed in gestures, words, street corners, school curricula and governmental policies. It often hides from those who are oppressed, and even sometimes from its oppressors.
As the communications intern at Hollaback!, I read the many personal accounts
of street harassment victims. Many of these victims are aware of the deep-rooted sexism, racism, classism and homophobia of their oppressors' words and actions. But some are not, and are simply angry that someone bothered them on the street.
Not everyone has the language and skills I gained from Moxie this summer to speak about oppression. If you can't pinpoint it, how do you recognize that it's even there? And if you don't know it's there, how can it be changed?
These are a few questions I've been left to think about.
On the 90-minute train
ride home, I felt I was being transported from one world to another. To pass the time, I mindlessly listened to Beyoncé's newest album. However, I became more alert while I was listening to "***Flawless." Beyoncé uses a clip from Chimamanda Ngozi Adichie's TEDx Talk in her song, "Feminist: the person who believes in the social, political and economic equality of the sexes." I've listened to the song dozens of times, but this was the first time this line the words sunk in.
I thought back to the feminism chart
we created when we visited the group of high school girls who were studying social activism
. We had a lot more words and phrases to define feminism than just "social, political and economic equality of the sexes." A few the phrases on our list that resonated with me were analysis of power, uplifting the marginalized and intersectionality. Chimamanda's definition of feminist is just one of many interpretations of the word.
Just a few things I was thinking about during my uneventful train
ride home.
I reflected on my summer in New York. I remembered getting out of the car
on W. 13th Street on June 7th, unable to find the door to my dorm (in my defense, NYU dorms are very poorly marked for security
reasons). Within the first few days, people on the street started asking me for directions. It was nice to know I looked the part, but I had to admit my secret of being a newcomer when I couldn't be of service. During my last week in New York, a man stopped me in the Nevins subway station to ask how far Fulton Street was. Without blinking, I told him it was four stops on the 4 or 5 train. The next day, at Union Square Station, someone asked me for directions to Bryant Park and I told them how to get to the correct
subway station, which train to take and where to get off. And my favorite story: during my last weekend in New York, someone asked me which side of the subway to get off. I'm really glad I was there to point the person in the correct direction, because the side with the doors opening wouldn't have been a clear enough indicator.
Here are just a few of many things I will take away from this summer:
The Moxie Project reinforced many of my pre-existing beliefs. It shed light on the importance of the relationship between feminism and social activism.
I can confidently say I no longer feel as new in New York as when I first arrived.
My ability to verbally communicate my thoughts and opinions has definitely improved. I have a voice and I'm not afraid to use it in an outspoken group.
After participating in Moxie, I find myself being much more analytical and critical of both my personal world and the global world.
I have started to think about how I want to incorporate social activism into my life beyond New York City.
I have been learning how to be a better ally to many marginalized communities.
I'm heading into my junior year at Duke with some new friendships, built on the foundations of common interests, honesty and respect.
Thank
you DukeEngage, Hollaback!, and the Moxie Project leaders and participants for an incredible and unforgettable summer in the Big Apple. To the Moxies—can't wait to see all of you back on campus! Until then, I'll be passing the time reading The Sexual Politics of Meat.