Stella is a junior at Duke who will be interning at Sanctuary for Families.
Hi! My name is Stella Zhang and I'm a rising junior double majoring in Economics and Philosophy. I was born and raised in Dalian, a city on the east coast of China. What is my most important tag currently? Self-identified feminist.
Two questions you may want to ask at this point: How did you start identifying as a feminist? Is feminism even a thing in China?
To start my story by answering the second question, the answer is NO. At least not where I grew up. Most people have never heard of this concept; and among the very few who have, most register feminism as a sort of heresy aiming to give women more rights over men. Before college, I had heard this word mentioned only a few times, and naturally, considered the concept to be unnecessary, if not ridiculous, in this perfectly "gender-equal" world.
In my own defense, it was hard for me, as a teenager, to associate my immediate environment with gender inequality. My mother has a successful career, manages all family income, and her judgments are always highly valued whenever it comes to making important family decisions; at school, girls and boys are treated equally, and girls occupy around half the Dean's list; almost all my friends have both parents working. My parents have always told me to "work hard" because they have high expectations for my achievements, but have also casually suggested me not to "work too hard" because "after all, you are a girl." I always nodded to their advice, for the reason they gave was self-explanatory. Yes, I am a girl, why bother climbing to the very top of a field when I could be the daughter, wife, or mother of someone like that instead?
My cultural anthropology class in the second semester of my freshman year turned my world upside down, when I finally realized how many things I used to consider perfectly normal are actually siding with patriarchy. The overwhelming amount of male leaders, clearly defined gender roles, and the frequent interruption of female voices all started to bother me. What startled me the most was the realization that "a girl," "a woman," "a female" bear the connotation of a "lesser" being. "After all, you are a girl" could become the reason for not taking one's academic or career goal as seriously as one's male counterparts; for lowering one's voice so that people could hear the voice of men; for accepting the role of women as sexual objects for men. And I can go on and on. Why should my gender have anything to do with what people expect of me? How many women are affected by the idea "after all, I am a girl" when it comes to their academic, career, and personal choices without realizing the problem of gender inequality? How many girls like me will be influenced by "kind" suggestions that ended with the sentence "after all, you are a girl"? These questions started popping out randomly, leaving me curious and frustrated.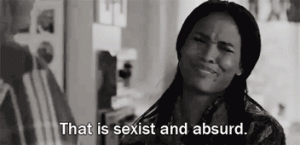 I gradually realized that I have become a feminist.
Ever since I started identifying myself as a feminist, I have been eagerly in search of an opportunity where I could put my enthusiasm into use. I applied for the Moxie Project hoping to gain a better understanding of feminism by working with female-empowering organizations. I specifically chose to work with Sanctuary for Families, a nonprofit organization dedicated to the safety, healing, and self-determination of victims of gender violence. In order to gain better insight on feminism, it is important to learn more about women suffering from activities that lead to extreme gender inequality. As their Communications Intern, I will be in charge of social media account management. I am excited to use the power of Internet to fight against gender violence and help victims continue their lives as strong, brave, and independent individuals.
So here is an official declaration: I am passionate about feminism. I am not afraid to be identified as a feminist. I am ready to fight against gender inequality.
If anyone asks for a reason, the answer would be: AFTER ALL, I AM A GIRL.