About SWiM
Summer Workshop in Math (SWiM)
Summer Workshop in Math (SWiM) is a free week-long workshop at Duke University for rising high school seniors who are interested in mathematics. SWiM is especially interested in increasing diversity in mathematics and in science and technology opportunities more broadly, so SWiM strongly encourages students to apply who are underrepresented in math.
SWiM participants will have two math courses, afternoon group work, lectures given by Duke instructors, as well as panel discussions and social activities. Participants in the program will be learning about exciting mathematics, discovering new arguments, and explaining insights to their peers. In addition they will have field trips nearby.
Throughout the workshop students will interact with undergraduate students, graduate students, and faculty of the Department of Mathematics at Duke University, and stay in (chaperoned) on-campus housing. All travel, activities and meals are fully funded.
SWiM runs mid-June; applications are available via the SWiM website in January/February.
Our past participants have shared their experiences with us on our Testimonials page.
Summer Workshop in Math was launched in 2016 by the Department of Math at Duke University.
Professor Ingrid Daubechies
Co-director 
Professor Dorothy Buck
Co-director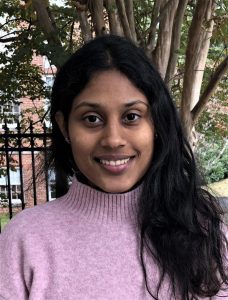 Shreya Arya
Co-director