Courses
Go with the Flow!
Instructor: Sarah Patterson
TA: Karina Cho (Harvey Mudd), Sophia Schein (Bryn Marwr)
Are you ready to make some waves? Navier-Stokes equation is used to model waves, aquatic animal locomotion, aerodynamics, blood flow, thin film lubrication, and much more! These models help researchers predict the weather, develop new medications, and create realistic animation in films. In this course, we will look at how to mathematically model fluid motion and many other natural phenomena. You will learn the meaning behind several differential equations including Navier-Stokes equation. You will also numerically solve various differential equations using basic programming techniques. No calculus or programming experience required.
Randomness through Markov Chains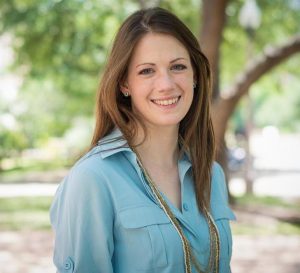 Instructor: Erin Beckman
TA: Natalie Meacham (Bryn Marwr), Stephanie Kolden (Gonzaga)
Randomness is all around us! Understanding randomness is a big challenge, and Markov chains are here to help. Markov chains can be used to break simple codes and to make predictions about financial markets. In fact, many of us have interacted with Markov chains without even knowing it; they are used when your phone tries to predict what word you want to type next. Markov chains are one of the most fundamental objects in the study of randomness. They can help us predict what is going to happen in a complicated system by incorporating information from the current state of the system, "forgetting" any past information.In this course, we will look at probability and randomness through the lens of Markov chains. We will start with a short introduction to probability and then take a look at some properties and applications of Markov chains. We will also look at how to use them to develop models of real world systems. No calculus or probability experience is required, only a willingness to learn something new!
Lectures
Project 1: Cleaning Up the Great Lakes
The great lakes in North America are the largest surface freshwater system in the world. They hold 21% of the world's freshwater supply and supply water to 10% of Americans and 30% of Canadians. However, chemicals, toxic pollutants, pesticides, and heavy metals entered the Great Lakes from heavy industry, manufacturing, and agriculture. Students working on this project will investigate what it would take to clean up the lakes.
A substitution code is a type of encryption where letters of the alphabet are permuted in a fixed way. If we are told how to decode the encrypted text, it is not hard to get back the original message. But what if we aren't told how to decode the message? In this project, you will learn how to decode substitution codes by finding the most likely decoding instructions through Markov chains and Markov chain Monte Carlo methods.
Project 3: Period Doubling and Chaos
The logistic equation is often used to model the growth of a population with a carrying capacity. In studying this dynamical system, the phenomena of period doubling and chaos are observed when computing numerical solutions. In this project, students will investigate this interesting behavior.
Project 4: Modeling Epidemics
One area of health research that mathematicians have gotten involved in is researching the spread of infectious diseases. Using both random and non-random methods, mathematicians try to predict factors which affect the spread of disease through a population and work to prevent epidemics from occurring. In this project, you will learn about some of the models which are used to study diseases and what math can contribute to the world health discussion.
Project 5: Stopping Fake News
In modern society, creating and disseminating information is easier than ever. While this allows access to information on unprecedented scales, the validity of the information can be difficult to determine. In this project, you will model the spread of fake news and investigate ways to deter distributing misinformation.
Project 6: Random Walks and Random Motion
One of the most famous Markov chains is called a simple random walk. Imagine you are walking around a city and at each street corner, you pick a new direction to go randomly: left, right, forward, or back the way you came. How far would you walk? Would you ever come back to where you started? How does the way you make your random choice effect the answers to these questions? In this project, you will explore random walks as a way to answer these questions. We will also briefly look at real life examples of random walks and their continuous counterpart – Brownian motion.
Project 7: Thanos Population Models
At the end of the "Avengers Infinity War", the villain Thanos snaps his fingers and turns half of all living thing to dust with the hope of restoring balance to the natural world.   In this project, you will investigate the validity of his claim using mathematical modeling.
Project 8: Markov Chains in Biology
In this project, you will learn about a Markov chain model for evolution of the proportion of a gene in a species. While evolution is a very complex process, you can use this simplified model to get an idea of how diploid or haploid evolution progresses and see the influence of natural selection and mutation on this process. You will use Markov chain tools to answer questions like about long it takes until a gene disappears from the population entirely and which genes will disappear.