My newest ensemble work is A Symphony of Spiral and Light (PARADES), for orchestral winds, brass and percussion (41 musicians!). The work was commissioned by the University of Maryland who will give the first performance in May, 2019 under the leadership of Michael Votta, and ten other co-commissioners who will present premiere performances during 2020. Congratulations to Michael Votta and to the co-commissioners: Carthage College – James Ripley/ Eastman School of Music – Mark Scatterday/ Florida State University—Richard Clary/ University of Georgia – Cynthia Johnson-Turner/University of Iowa – Mark Heidl/ University of Massachusetts-Amherst – Matthew Westgate/ University of Nebraska – Carolyn Barber/ University of North Carolina-Chapel Hill – Evan Feldman/ Virginia Technological University – Jonathan Caldwell/ University of Wisconsin-Madison – Scott Teeple/ Michigan State University- Kevin Sedatole. Here's a description:
Program Note
The completion of A Symphony of Spiral and Light (Parades) fulfills a long held desire to compose a work for orchestral winds, brass and percussion. The symphony as a whole is comprised of five or six evolving tableaux that explore the joy of rhythm, line and the constitution of this wonderful ensemble. Visually oriented listeners may imagine the parades of the subtitle as marches and fanfares re-fashioned into spirals of light, processions changing into radial music and encircling the audience in a celebratory pageant. The inner theater of the mind, also observable as a parade of sorts, may also be imagined to reveal a more fluid, intimate space, especially apparent in the slower music, which undergoes transformation, as the beauty of music and harmony's journey continue. In real sounds or metaphoric terms, the changing arc of A Symphony of Spiral and Light aims to allow the listener to enjoy music's radiance (such as in the opening), its change, and to observe the play of light and shade (such as in the close).
Besides the musicians who are performing, and the audience who is listening, this spirited and varied music also reflects the influence of my artistic elders, musicians of European and American concert music from whom I learned and whose practices I have extended in new ways, and of the Afro-Caribbean, where rhythm is primary. As I was bringing the end of the Ensemble Dance to completion in the summer of 2017, one of my admired colleagues, the dancer and activist Chuck Davis passed away. In homage to his spirit, embodying the joy of rhythm and movement, his initials (C-D) were embedded in the final cadence of the movement. Baba Chuck, as he was known in Durham and internationally, preached and lived "Peace, Love, and Respect for Everybody." May his contributions, and those of other artistic masters continue to inspire us in the years to come. (-SJ)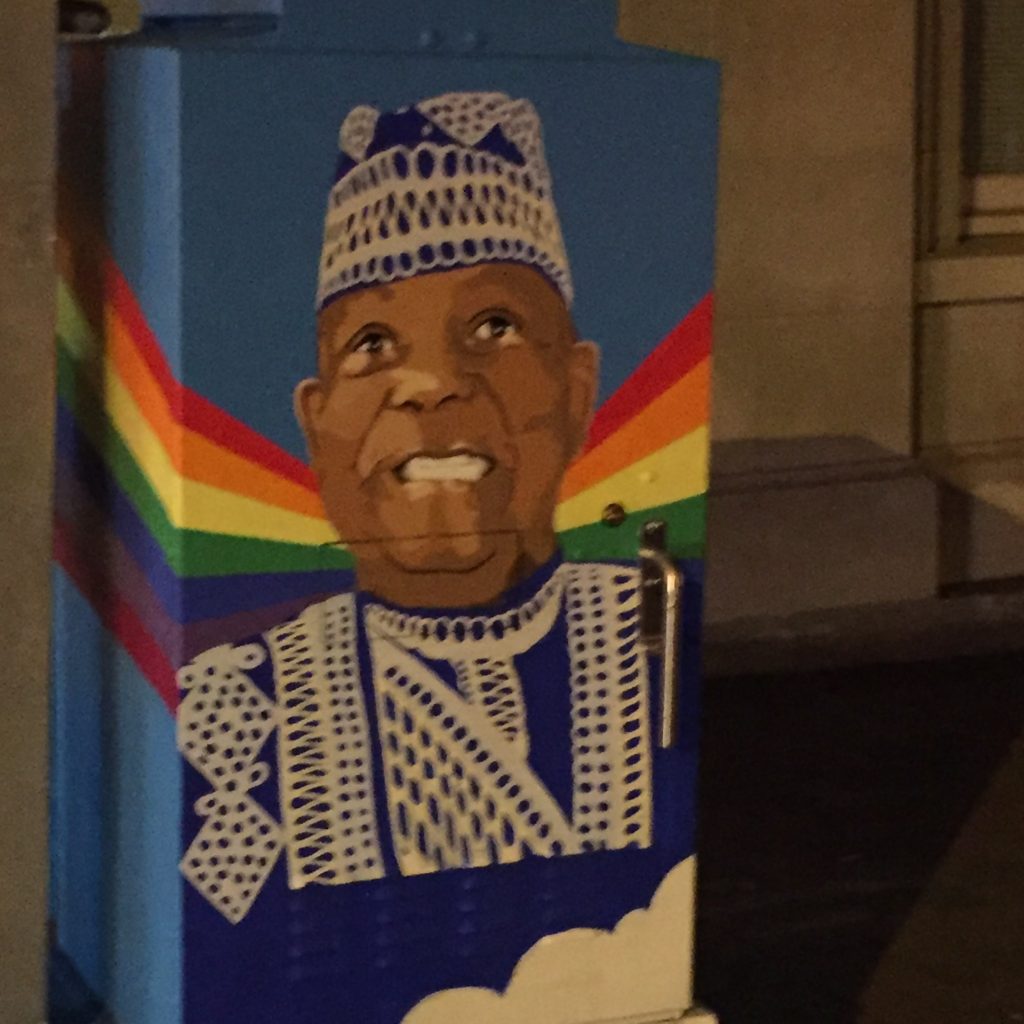 Chuck Davis, as painted in Durham.