Expand lifelong engagement with our alumni and stakeholders.
As our alumni body has grown, so has our imperative to expand what it means to be a Sanford alum. New technologies and trends in lifelong learning open up new possibilities for alums to reconnect and interact with students and faculty.
Goal: Engage more faculty in exchanges with alumni through events and programs/ increase faculty participation in alumni events.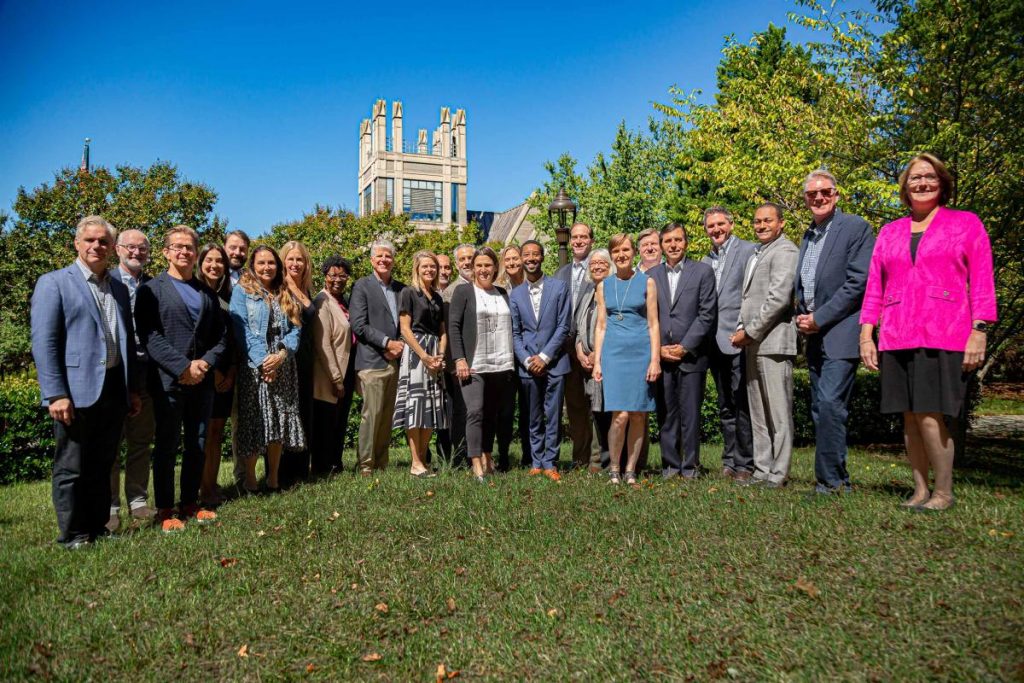 • In 2022, Sanford was involved with delivering 37 events that reached more than 3,700 alumni. These events include career networking panels, regional alumni events (9) and Duke Forever Learning Institute programs (5), 
• In April 2021, we launched the Dean's Salon series, small group discussions led by a faculty expert in conversation with 12-15 alumni. To date we have conducted three salons, featuring Professor David Hoffman for a discussion about privacy and cybersecurity, Professor Deondra Rose for a discussion about democracy, and Professor Bruce Jentleson, for a discussion about emerging national security challenges
• Since 2019, the launch of the Sanford Strategic Priorities, more than 6,100 Duke alumni have participated in policy themed programs.  
We will continue to plan and offer alumni networking opportunities, including lifelong learning opportunities. We are developing 1-2 virtual Dean's Salon events annually. We will continue to encourage faculty-alumni interaction through programs and events.

Goal: Find new ways to connect alumni with current students and with other alumni for networking benefits.
• In the 2021-22 year we launched Faces@50, a special series of alumni profiles marking 50 years of public policy at Duke. We continue to invite alumni to participate in the Video Blog (vlog) called #whypublicpolicymatters which features alums from across the world. 
• Sanford alumni receive a monthly Sanford Memo newsletter, which is sent via email to more than 8,000 alumni monthly. 
• More than 3,700 alumni participated in Sanford and Sanford/Duke alumni events this past year. 
• In 2022, we worked with Career Services and student groups like Policy in Living Color, Women in Policy, as well as the Sanford Latin American and Caribbean Student with alumni, to offer 8 career panels and networking opportunities for students and alumni. 
We will seek to institutionalize these innovations and continue to connect alumni with students or other alumni, especially for career benefits.

Goal: Broaden the use of alumni connections for career development and connections to public service.
Career Services continue to create new programs and connections:
• We secured additional funding for our EMBARK program, which helps Duke students identify career opportunities in public service and connect with alumni working in nonprofits, government jobs at all levels (local, state, and federal), and public-private institutions. Since the program started in October 2015, more than 850 students and over 100 alumni have participated in workshops, roundtables, career fairs, and DC trips. In the MPP program, we offer general policy and sector specific networking events, like national security.
• We increased use of Zoom to host career panels reaching a wider alumni audience .
• Career Services continue to collaborate with alumni to build relationships for job and internship possibilities.  Select recent examples include: KPMG, Deloitte, Booz, Rios, PMF, GAO, NC General Assembly, Blue Cross Blue Shield, NCGrowth, AJ Fletcher Foundation, Dalberg Advisors, Humana, Keywell, Opportunity Finance Network, The World Bank, NC HHS, US EPA, Democracy North Carolina, NC Office of State Budget and Management, Durham County, The Hunt Institute
• Career Services continue to provide career advising/coaching to recent alumni still searching for employment opportunities. Completed approximately 30 career advising/coaching appointments in Fall 2022. 
• Virtual Winter Alumni Panel series continue to provide opportunities for alumni to share their Sanford and professional journey with current students. About the series: MPP and MIDP alumni discuss their policy work and careers in domestic and international policy areas as a part of a moderated panel, followed by Q&A.
o 1/4/23 International Taxation, Finance, and Trade
o 1/4/23 International Economic Development
o 1/5/23 Domestic Energy and Environment
o 1/5/23 Domestic Policy Generalist
o 1/6/23 International Energy & Environment
o 1/6/23 Peacebuilding, Conflict &Human Rights
o 1/9/23 Domestic Social Justice Through Social Policy
o 1/9/23 Domestic Education Policy
The Identities in the Workplace Series continues to provide opportunities for alumni to share their professional journeys from the identity lens with current students, as well as network and share opportunities. About the series: The Identities in the Workplace Series is a collaboration between Sanford and peer institutions. The series consists of 4 alumni panels to discuss identities within the workplace, and a virtual networking event. The panels are in collaboration with the Nicholas School career center and the networking event is in collaboration with Duke career centers, Princeton, and the University of Michigan.
o 10/20/22 Navigating Identity and Social Norms in the Workplace with LGBTQIA Alumni 
o 11/15/22 Alumni with Disabilities & Neurological Variations in the Workplace 
o 1/23/23 Jumping Hurdles Toward Success: Navigating BIPOC Identities in the Workplace
o 1/30/23 First-Gen Alumni Navigating Careers and the Workplace
o 1/27/23 Identities Networking Event with Employers 
Goal: Increase faculty participation in alumni events.
See above under "engage more faculty in exchanges with alumni through events and programs."
Goal: Explore new channels for delivering campus-based programming to a broader audience beyond Durham.
• Even before COVID, we were planning expansion of our online engagement formats. In the last few years, we have vastly expanded the use of online and streaming programs to reach a broader audience. We now seek to live stream all our headline events, many of our centers are doing the same, and we are making recordings available when possible. We have partnered with faculty and alumni experts, other schools, Duke Alumni, and Duke's Forever Learning Institute. In the 2021-22 academic year, Sanford delivered 27 virtual alumni programs. 
• We made effective use of Zoom and other technologies to bring alumni from all over the world into our classroom and workshops, allowing us to diversify topics and panelists.
• In 2020-21, DCID offered a short four-class writing course on memo writing for alumni, which was a huge success. In the 2021-22 academic year Sanford offered a Proposal & Grant Writing course for alumni; 20 alumni participated. 
• In 2021-22, our podcast series, "The ARC of Justice," in collaboration with WUNC, partnered with the Provost's office and the Duke Lifelong Learning Institute and premiered on North Carolina Public Radio/WUNC. We continued a collaboration with the provost's office in 2022 to bring our Ways and Means Climate series to our alums. Season 8 of Ways & Means is made possible thanks to support from the Office of the Provost at Duke University. This collaboration reflects the Duke Climate Commitment.
Continue to develop and support these innovations.

Goal: Engage with policymakers to help facilitate policy dialogue around key themes where Sanford has expertise.
We have made more resources available for connecting with policy makers. Our faculty individually undertake an enormous amount of policy engagement, both directly through their research, but also through distribution efforts. In addition, many of our classes engage directly in policy dialogues.
Policy engagement occurs through many efforts such as:
• Duke's North Carolina Leadership Forum (NCLF), which was created by and is led by Sanford faculty.
• Our policy lab, which engages teams of students in aiding policy makers by researching requested policy issues.
• Our citizen experience lab, a class which pairs teams of students with public or civil society clients in Durham to solve challenges in the delivery of services to the citizens of Durham.
• Master's projects, which pair students or teams of students with policy challenges for their capstone experience, and lots of other client-based work in our master's programs.
• Assistant Professor Matt Johnson's research on workplace practices has featured in the 2022 Economic Report of the President from the White House and he has shared his ideas through a webinar attended by over 100 people from state and local labor standards agencies around the country. The webinar was titled "Publicizing Violations to Increase Compliance."
• At the request of the Durham Police Department Chief, Professor Phil Cook prepared an analysis of police investigations of criminal cases in which the victim was shot, creating a database from police and court records for shootings that occurred in the period 2017-2021. Results were presented to the DPD leadership and, the Violent Crime Reduction Roundtable, made up of Durham city and county leaders.
• Schanzer served on a Privacy and Ethics Experts Panel for a RAND Corporation project on "Misinformation, Disinformation and Mal-Information Challenges to Department of Homeland Security Functions" from January 2022 to July 2022.
• Our tech policy team engaged widely with policy makers. One of our leader researchers in the Tech Policy Lab testified before congress on Data Brokerage and we are engaging policy officials around the world in conversations about cyber policy. We are collaborating with NC partners though the North Carolina Partnership for Cybersecurity Excellence. With a focus on Privacy and Democracy, we are hosting annual data privacy day events to gather policymakers and stakeholders for discussion around privacy. With a team of student researchers, we have worked with the Federal Trade Commission (FTC) Commissioner Christine S Wilson to explore federal privacy legislation.
• The VA Health System on the national level commissioned a report on the state of urgent care telehealth for low acuity conditions, resulting in the report led by Nathan Boucher on which they are basing their decision.
• Professor Lisa Gennetian's consensus report Rebalancing Children First was released and Gennetian spoke at the launching event with Mitt Romney and Cecilia Rouse (Council of Economic Advisors).
• Professor Ken Dodge's universal system of primary psychosocial care for families giving birth, called Family Connects, has been found to reduce community-level child abuse rates by one third. It is now being disseminated around the nation through an independent nonprofit organization, Family Connects International.
Policy engagement spans the globe:
o Jeuland presented during the Environment for Development conference Policy Day in Kampala, Uganda, on the need for measurement, monitoring and evaluation of climate adaptation outcomes to spur private sector finance and action in Uganda and other similar countries.
o Professor Alex Pfaff was a keynote speaker for the Workshop on Environmental Economics held in Uruguay on What has (not) worked: some empirical results for environmental impacts of conservation and development interventions in Latin America.
o Professor Jennifer Lansford's research was cited by the advocacy group that helped Colombia outlaw corporal punishment in pushing toward realization of Target 16.2 of the Sustainable Development Goals
o Professor Jennifer Lansford was a consultant on developing a parenting and caregiver support strategy and positive parenting program for the Abu Dhabi Early Childhood Authority.
o Professor Roy Kelly was a featured speaker at the BLGF Anniversary webinar: Mobilizing Resources through Property Tax: Local and International Perspectives held on 21 October 2021. This webinar, attended by over 6,700 participants, was held to celebrate the 34th Anniversary of the Bureau of Local Government Finance (BLGF), Department of Finance, Government of the Philippines.
o DCID Director, Eddy Malesky presented a briefing to the US Sobean Expert Council and the US Department of Agriculture on post-COVID supply chain issues in Vietnam.
In addition, we have made targeted funds available for networking and workshops that engage faculty, students and practitioners.
In 2022, we held three such events: one on rural NC politics, one on food policy issues, and one on child and family policies. Summaries online at: https://sanford.duke.edu/faculty-research/policy-engagement-2022-examples/
• Our expansion of executive education programs is allowing us to partner with organizations such as Oxfam, the Chamber of Commerce, the US Military, and the Department of State to engage topics such as behavioral economics, Corporate Social Responsibility, and Cybersecurity capacity building.
Continue to invest in policy and community engagement, and to create an impact report.