Deepen our undergraduate experience to inspire students to lives of service and leadership.
We educate some of the smartest undergraduate students in the world. As technology changes, we must provide our students not only with skills, but with a truly transformative liberal arts education that challenges them in multiple dimensions of their humanity and citizenship. This area was targeted for attention starting mostly in year three of our plan. To launch the emphasis in this area, a new Undergraduate Major Task Force was organized to examine our undergraduate experience. The task force issued recommendations in the summer of 2022, and we are now working on their implementation.
Goal: Tie undergraduate curriculum and events closer together for depth.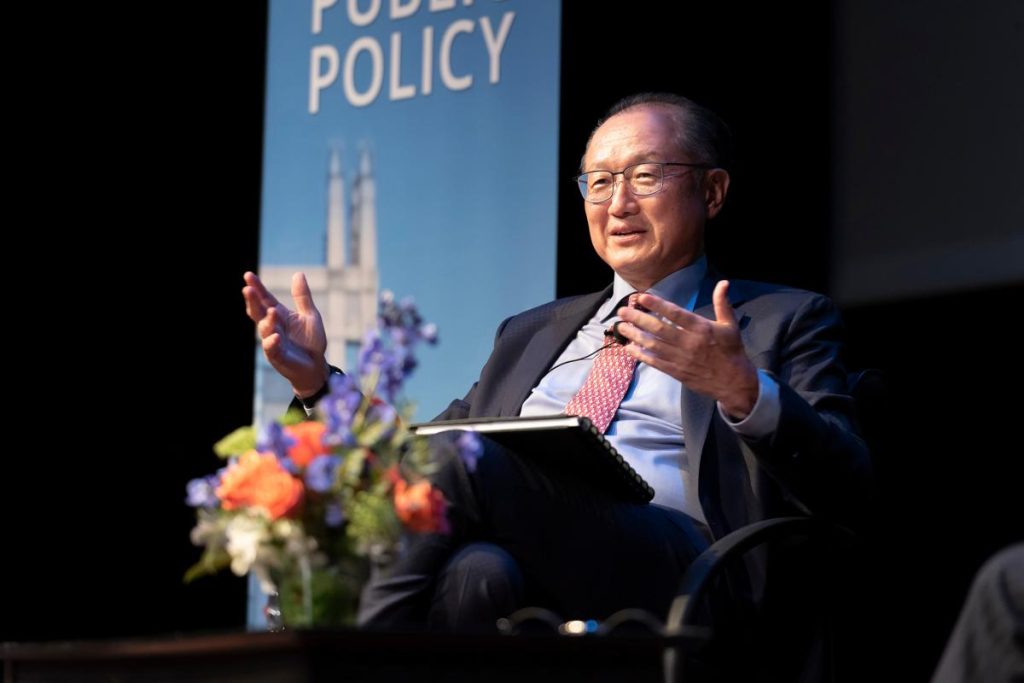 • We are targeting speakers with direct relevance to topics discussed in class: climate justice, criminal justice, human rights, energy policy, media and democracy. Our endowed lectures (Sanford, Rubenstein, Crown, Wilson lectures) have included headliners such as Nobel laureate Nadia Murad, Darren Walker, the Rev. Dr. William Barber II, former Secretary of State Madeleine Albright, Bryan Stevenson, and many others. 
• We created a special "Stand For" speaker series in the Fall of 2020 to tie into themes that connect to current events and societal debates and could be connected to classes.
• During the 50 Years of Public Policy in 2021-2022, Sanford reimagined events in a hybrid format. Sanford organized 12 major events (celebrations, lectures and conferences) in partnership with faculty, centers, programs and organizations.
We are exploring additional ways to tie together curricula and events, and connecting events with key Sanford and university themes.
• Several faculty will teach a 500-level Information Inequalities and Public Policy class in the spring of 2024, an outgrowth of the DeWitt Wallace Center's Information Inequalities speaker series.

Goal: Expand the use of technologies to promote deeper learning.
We have built two recording studios to enable faculty to easily pre-record material. We have increased use of flipped classroom techniques. All classes can be recorded via Panopto technology. We are making better use of technology, including an increased use of in-classroom polling which provides real-time student feedback. Faculty are increasingly making use of the features available in the online class platforms for class discussion and sharing of work. 
We will continue to explore other learning technologies. Our Director of Online Learning will continue to help us to adopt new tools.

Goal: Provide opportunities for reflection.
• We participated in the 2020 winter immersion with an offering entitled "Think Again," encouraging students to consider why people change their minds.
• We collaborated with the Kenan Institute for Ethics to create a two-day program as part of the larger Duke "Purpose" programming. Students were encouraged to consider how living a life of purpose connects with careers in public policy.
• We overhauled our gateway course to feature multiple track assignments that teach students core concepts through application to policy issues, providing greater opportunities for them to identify areas of personal interest.
• The Hart Leadership Program created a reflective video challenge called "Why Vote."
• The Hart Leadership Program launched a new "Why Not Fail? Challenge," to encourage reflection on ways people learn from failure and put it to productive use.
• We ran a "Stand For" challenge, encouraging the Sanford Community to consider Terry Sanford's challenge to know what you stand for and share their own beliefs.
• Polis: The Center for Politics, has been engaging students in Braver Angels and other conversations that encourage thoughtful discussion across political divides.
• Hart Leadership Program hosted The State of Youth Voting Rights Half a Century after the 26th: Diagnoses and Solutions. Panelists were in conversation with undergraduate research teams who presented new work on barriers to youth voting—from misinformation to structural disenfranchisement—and possible solutions to secure youth voting rights. Organized and moderated by Hart Leadership Program Director Gunther Peck, in collaboration with Bass Connections.
• The undergraduate task force completed its work and is now considering how to implement the recommendations.
Institutionalize and sustain these innovations. Respond to recommendations from the Undergraduate Major Task Force.

• In partnership with POLIS: Center for Politics, the Hart Leadership Program welcomed the third cohort of Political Engagement Project (PEP) Fellows. After completing Democracy Lab—a course on the crises and opportunities facing democracy worldwide—these 15 students immersed themselves in democracy projects. We are now completing the third year of this popular program.
• The Policy Lab: Policymakers from across the state submit requests for policy analysis, and teams of students execute these as part of a class. Students report feeling motivated by the real-world application.
• The Polis Innovation Accelerator: a policy competition program for student teams.
• Political Engagement Program (PEP fellows): a new leadership initiative which offers coursework, summer internships and mentoring for undergraduates interested in political engagement.
• Other new undergraduate experiences have come under the new Tech Policy Lab, such as the Cyber Policy and Gender Violence Initiative, other research initiatives, and the Cyber Cup.
• We have opened the human-centered design class to undergraduates.
• The 9th Street Journal is providing valuable local journalism.
• Transitions Team (2020 pilot): teams of undergraduate students joined graduate students and worked with newly-elected NC officials to help them transition into office.
• The number of student honors theses rose from 20 in 2018 to 39 (2019), 31 (2020),  34 (2021) and 28 (2022). The number of students working with faculty on research through the Eads Endowment Fund remains substantial: 64 in 2018-2019, 91 in 2019-20, 75 in 2020-2021, and 89 in 2021-2022.
• In 2022, Polis director Deandra Rose led a group of 150 incoming freshmen in an immersive introduction to public policy through a weeklong pre-orientation program that, among other things, took the students to Washington, DC. We are working on bringing this experience into our core classes.
• 2022 undergraduate internships included: Council on Foreign Relations, Legal Aid of North Carolina, Partnership for Public Service, The Urban Institute, U.S. Department of Health and Human Services, World Bank Group.
• Now in its 26th year, the Hart Fellowship Program supported three recent Duke graduates conducting community-based research with local partners around the globe. Kemunto Okindo '21 worked in Kigali, Rwanda with MASS Design Group, where she evaluated sustainable energy infrastructure for rural electrification (photo attached). Hope Jackson '20 spent her ten-month fellowship in San Diego, California, working with the reproductive justice non-profit For The Village, which provides doula services and advocates for Black maternal health outcomes. Aly Diaz '21 researched state legislative action and survivor outreach programs to combat human trafficking in Florida, in partnership with Glory House Miami, an organization that provides support services to survivors of sex trafficking. 
Finding financial support to sustain these innovations. 

Goal: Expand elective opportunities in our core areas.
We have added several faculty members with the hope of expanding our elective offerings.
We have created some new electives. The number of electives for Spring 2022 was 39 and Fall 2022 was 36. 
Together with the Margolis Center, we launched a new undergraduate certificate program in Health Policy, allowing students more opportunities to go in depth in this area. 
Our certificate program in journalism is in the process of being converted into a minor. 
We will continue to strengthen our undergraduate major by expanding elective offerings and institutionalizing our curricular innovations by hiring faculty and staff and identifying the resources to sustain them.
Goal: Improve the integration of the internship experience into the major.
We changed the memo project expectations to ask students to reflect on what they used from their public policy courses during their internships and how the internship made students think differently about what they are learning.
Goal: Build an undergraduate certificate program in systemic racism and structural inequality.
N/A – A similar undergraduate minor is now available via the Cook Center and the History Department.