Broaden and reimagine our professional offerings to equip students for the future of policy.
We are educating the next generation of policy professionals in a time when the skill set needed to succeed is changing and government needs professionals more than ever. At the same time, where, when and how students learn is also changing, and debt makes it hard for students to enter public service.
Goal: Create opportunities and find support for a talented and diverse student population.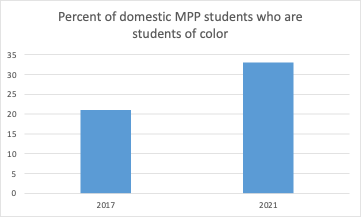 We have increased diversity in our MPP student body (Our MIDP student body has always been incredibly diverse). The share of the MPP domestic students of color has grown from 21% (17 students) in 2017 to 33% (40 students), 22 of whom are Black/African American. Hispanic/Latinx students have steadily increased (from 3 in 2017 to 12 in 2021), and we have enrolled at least one Native/Indigenous student every year. We continue to lean female (65%).
We have increased funding for pilot programs to provide living stipends and more financial aid.
We have raised about $12 million for financial aid for our professional students.
We have made significant efforts to support student careers. Career Services offered panels to showcase alumni with a range of backgrounds. We hosted recruiting events geared towards diverse populations. We created a Partner Employer Program to ensure that our best employers always think of Sanford first. We hosted an Identities in the Workplace Career Fair with 85 attendees, as well as pre-event panels of alumni holding various identities. We formalized workshops for MPP and MIDP students into a full semester weekly required course to help students to launch their career search early.
We continue to raise funds for student support. Career Services continues to plan innovative programs and strengthen partnerships with other Duke career centers to reach more students interested in public service. We plan to expand our team of employers into newer areas of interest, including technology, social justice, and corporate ESG (environmental, social, governance). We plan to increase support for Duke students interested in public service by partnering with the University Career Center and early-career graduate students and increasing connections with entry-level employers. All of these are goals of the EMBARK program.

Goal: Launch curricular reform both within and across MPP/MIDP programs, to achieve synergies.
We created a class that allows MPP and MIDP students to satisfy their statistics core class together.
We restructured the financing of the MIDP program to incentivize cross-program activities and offerings.
Continue to find synergies across programs.

Goal: Rethink MPP architecture, including flexibility and more modular options along with group projects.
We implemented group projects as an option for our MPP students for their Masters' Projects.


We hope to add more opportunities to focus on or earn recognition in specific skills areas. We hope to increase modularity, or the ability of students to take part of our program online.

Goal: Experiment and expand hybrid and online executive/modular options and/or mid-career degree options.
Due to COVID-19, we have gained valuable experience in online teaching and learning. All our professors now have competencies to teach online.
We have built an Office of Digital Learning led by a new Director of Digital Learning.
We now create cutting-edge digital content in a newly-built recording studio.
We have added a new executive Master of National Security Policy program (MNSP), which has a hybrid format for working professionals.
We have broadened Executive Education across the school to provide more topics and sessions, launching new programs in corporate social responsibility, behavioral economics and policy, program evaluation, and human-centered design. We received a gift to launch an executive program in cybersecurity.
We will launch MNSP and diversify our professional offerings through online and hybrid programs or other stackable credentials to increase impact and revenue. Several options are under consideration. We will be experimenting with some online courses for our MPP students this fall. We are building a content library and a strategy to develop flexible options for our students and alumni. We will continue expanding executive education.

Goal: Consider new graduate degrees and/or stronger concentrations.
Working with Duke Learning and Innovation, a faculty group developed a new executive Master of National Security Policy program for professionals working in national security. This will be the first new Sanford degree in decades and will welcome the first candidates in June 2022.
We also added concentrations for our MPP program. Students can now graduate with an MPP with a concentration in:
Energy and Environment
International Development
Social Policy
Tech Policy
Health Policy
National Security.
Another new program option is the team-based master's project.
We are in the planning stages for additional professional programs. Ideas in various stages include new degree options in tech policy, majors in our MPP such as, for example, International Development (MPP-ID), and a new hybrid mid-career executive MPP in Leadership, Management, and Ethics. This fall, a Growth Group is modeling scenarios across our professional programs to guide sustainable growth.

Goal: Broaden new competences in data science, analytics and governance technologies, as well as ethics of technology.
We explored a dual degree with data science at Duke but it did not progress.
We are interested in hiring faculty who can teach data science governance technologies.

Goal: MPP skills certificate in systemic racism and structural inequality.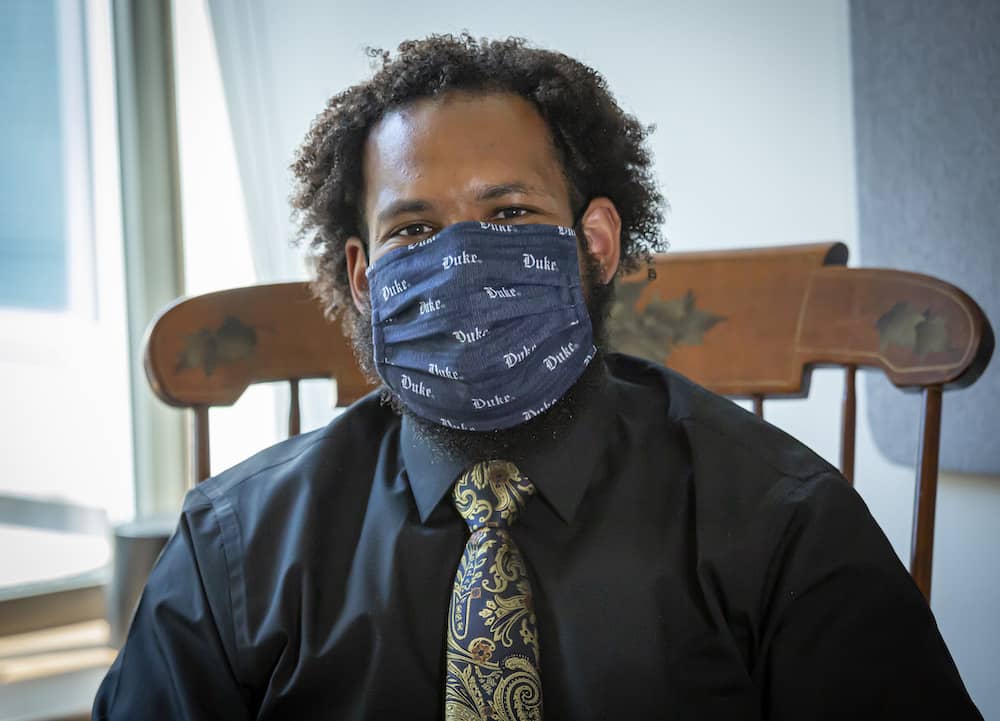 A faculty group set criteria for inclusion of classes. We have hired an Assistant Dean of Diversity and Inclusion who is working with faculty to identify classes that meet these criteria for a certificate.
Continuing efforts to build the skills certificate.