Almost everyone knows this iconic Mean Girls scene: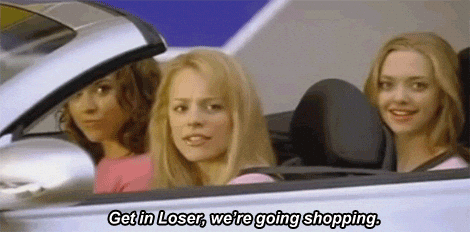 I assumed Regina George and crew are most likely going to a mall that features stores like Forever 21, Urban Outfitters, H&M, you name it. If this is the case, I would've gladly hopped in the car, despite the whole name-calling thing.
After this week's readings and seminar at the National Domestic Workers Alliance, it's hard to reconcile my shopping habits with the knowledge that almost all of the stores I shop at outsource their labor. Women all over the world are working terrible hours, living in unhealthy environments, and sacrificing their lives and autonomy to make the clothes that I buy. The products that these women are producing are most often consumed by other women. In other words, women are oppressing other women. Many of us felt that we wanted to change the way in which we were consumers, but weren't sure how to do so. The aforementioned stores are cheap and easily accessible, perfect for our age and stage right now. Do we ditch Forever 21 and H&M forever?
Honestly, I don't really have an answer. As much as I would want to be able to go to co-ops to buy my food and clothing, I'm not sure how realistic that would be. And clothing stores that do not outsource their labor tend to be much more expensive than those that do. I wish I had a magic wand to resolve this issue, but I'm hoping that educating myself is the first step to figuring out how to live a more conscious and thoughtful lifestyle. Stay tuned.