MiniGrants Summary 
Introduction 
dPS MiniGrants are a flexible funding source for service organizations or organizations engaging in service activities. We may fund items that SOFC Programming or other Duke resources do not cover, such as transportation, capital expenses in the middle of the year, closed events, and materials benefiting community partners. All SOFC chartered or recognized groups, as well as departmentally recognized groups, are invited to apply for MiniGrants.
If you have any questions, comments, or concerns, please contact the dPS Student Director of Finance and Operations, Fayfay Ning (fn28@duke.edu)
MiniGrant Flow Chart: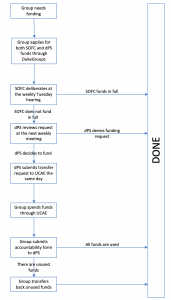 How to Apply:
Groups can apply for dPS MiniGrants through DukeGroups. The application is the same as the standard SOFC Programming application. Please make sure to answer YES to the question, "Are you a service or philanthropic organization and/or are you seeking funding for service-related activities?"
Steps:
Group applies for both SOFC and dPS funds through the DukeGroups SOFC Programming application

SOFC discusses at its next Tuesday hearing and makes a funding decision

SOFC submits a transfer request form to SOP Finance if they choose to fund

dPS discusses at its Sunday weekly meeting and makes a funding decision

dPS submits a transfer request form to SOP Finance if they choose to fund

SOP Finance transfers funds from SOFC/dPS to the group's fund code

Group spends the funds through SOP Finance

Group fills out accountability form within a week of the event end:

https://forms.gle/u4Gkn11uwZgAeqwT9

Group transfers back unused funds if necessary
Notes:
DukeGroups will provide information about the status of the group's request

Look out for email correspondence from the dPS Student Director of Finance and Operations
Requirements 
Eligibility:
Group is SOFC chartered or recognized, or is a departmentally recognized club

Group is in good standing with dPS

Group is a service group, or is engaging in service-related activities

Executive members must have attended the Service Organization Orientation training

If groups are not able to attend the Service Organization Orientation on September 8, they may instead seek a consultation with Duke Civic Engagement (DCE) and dPS. Please email

partnershipforservice@duke.edu

to set up a meeting.
Group Responsibilities:
Groups may be asked to meet with dPS to discuss the request before final funding decisions are made

Generally, a hearing with dPS will not be required

However, a hearing may be required for particularly complicated requests

Groups should fill out the MiniGrant accountability form within one week of the end of the event

Form link:

https://forms.gle/u4Gkn11uwZgAeqwT9

For recurring requests such as transportation for an entire semester, the form can be filled out once at the end of the semester

If more than $20 of the MiniGrant is left unused, dPS will ask for the student organization to transfer back the unused funds

This can be done through a Payment Request form on DukeGroups

dPS fund code: 811-0340
For more information on MiniGrant decision guidelines, click here.
For a list of funded expenses, click here.
Additional Resources:
Websites
Useful Contacts:

dPS Director of Finance and Operations:

fn28@duke.edu

dPS General Email:

partnershipforservice@duke.edu

SOP Finance (formerly UCAE Finance):

sopfinance@duke.ed

u