Applications for the 2022-23 dPS Fellowship are now open from August 28th to September 6th.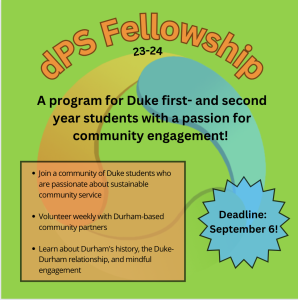 Apply now!
The dPS Fellowship is a student-led year-long program that is aimed at helping students learn about the Durham community, engage thoughtfully with community-based nonprofit organizations, and reflect on their role and place within the community. The Fellowship is open to first- and second-year undergraduate students.

Components of the Fellowship include:  
Required biweekly cohort sessions that include: guided discussions and reflections; training sessions about mindful community engagement, Durham history, personal identity, and other topics; and guest lectures from members of the community. 

Fellows will be partnered with a local Durham nonprofit organization and will contribute to this organization's efforts for approximately 4 hours/week.

Support from the dPS Fellowship team and mentors (who are Fellows from previous years of the program) in reflecting on your experiences and addressing any challenges and concerns that may come up. 
Why apply?
If you are interested in engaging with the vibrant Durham community, this Fellowship is perfect for you. This program will introduce you to the Durham community, and connect you with a community nonprofit organization for the academic year. 

By joining the dPS Fellowship, you will be part of a diverse community dedicated to thoughtful engagement in the Durham community. 

It can sometimes be difficult to navigate community service at Duke and identify opportunities for engagement. As a member of this Fellowship, you will be connected with an organization that resonates with you, and learn about the foundational context for your activities.

This Fellowship is by no means the only way to become involved in the Durham community or with Duke Partnership for Service. However, we hope for it to be an exciting and meaningful part of your service journey at Duke.
Questions? Contact Madi McMichael madison.mcmichael@duke.edu
Click HERE to apply!