Want to get involved in our research? Check out our page for parents or for student & community members to learn more!
Our lab is currently offering in-person and virtual study opportunities for children and adults! Please read the description(s) below to check out our online studies:
Multi-racial and Multi-cultural Kids Study
We are recruiting aged 5-7 multi-cultural or multi-racial kids for our online study on social attributions. This study takes around 45 minutes and touches on topics related to race, adoptive families, and identity. If a family participates, they will receive a $20.00 amazon e-gift card and a printable Duke Scientist Certificate as a kid prize! If your child is eligible, email us at DukeIDLab@gmail.com or sign up here: https://duke.qualtrics.com/jfe/form/SV_eQz2Dza7DPW4QJw 
Hispanic/Latino Identity Development
How do children and adults understand their Hispanic/Latino identity? To better understand this question, we are recruiting children ages 9-14 and their parents to learn more about their experience being Hispanic/Latino. There are no right or wrong answers, we just want to know what you think! Our 30 minute study can be completed online via Zoom, or in-person at Duke University. As a thank you for participating, your child will receive a Duke Scientist certificate and your family will receive a $20 Amazon gift card. To participate please fill out an interest form in English or Spanish. You can also email us at dukeidlab@gmail.com or call 919-590-0468.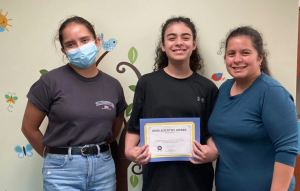 Task Perception and Personal Attitudes Study
If you are a college student, and 18+ years old, you may be eligible to participate in a 1-hour in-person study on people's perceptions of various academic tasks. Participants are compensated $15 for their time. If you are interested in participating, please email dukeidlab@gmail.com about the Task Perception Study to complete a brief pre-study survey and be scheduled for a lab session.
Gesture and Learning Outcomes Study
Our new research project examines how different types of non-verbal gestures can influence learning outcomes for children, and we would love to have your child participate! Children will play a series of memory games in our 45-60 minute virtual study. Kids ages 5-8 are eligible to participate. Families will receive a $25 digital gift card along with a Duke Scientist Certificate for their child! To get involved, email dukeidlab@gmail.com for information about signing up!