Home » Posts tagged 'Amazon Web Services'
Tag Archives:
Amazon Web Services
70 Duke faculty, staff and students attended Amazon Web Services Event held this past week.  Missed the event? Check out these session resources.  To get notified of future Research Computing events, subscribe to the Research Computing Newsletter.
Note from the IT Security Office: We have begun discussions with Amazon around a potential master service agreement with accompanying data security requirements and business associate agreement.  However, while we have a long term vision that includes the use of AWS for many purposes, at present this solution is not acceptable for projects involving sensitive data such as protected health information (PHI), FERPA, export controlled or other confidential data. Any researchers or students who have questions about the use of AWS for projects involving research data should contact Duke University and Medicine Security Offices (security@duke.edu) to vet the concept or use of AWS before proceeding.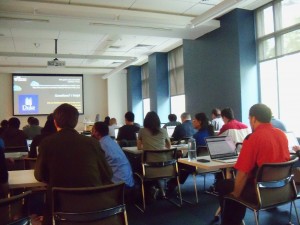 Interested in a quick primer on Amazon Web Services (AWS) and an opportunity for hands-on experience with the cloud service. Join us for Amazon Web Services Immersion Day at Duke:  Monday, September 21 & Tuesday, September 22. The event includes a large group session (with lunch) (Monday), optional 1/2 hr. private research meetings with the AWS Scientific Compute Group (Monday) and several optional hands-on labs (Monday and Tuesday). For complete details & a schedule, visit: https://rc.duke.edu/aws-immersion-day-2015
Registration is currently limited to Duke students, staff and faculty. To register, go online to: http://training.oit.duke.edu/research (We will be maintaining a wait list, so do register if seats have filled up.)
For questions, email Christine Vucinich at <oit-training@duke.edu>.