Home » Posts tagged 'Adobe'
Tag Archives:
Adobe
Changing an image's dimensions affects its onscreen size and its printed image quality.
How can you change the dimensions of an image? 
Follow the steps below to learn how to properly adjust the size of an image using Adobe Photoshop.
Choose Image > Image Size.
Select "Constrain Proportions" to maintain the ratio of pixel with do pixel height. Selecting this option will automatically update either the width or the height when the other is changed.
Enter values for Width and Height under "Pixel Dimensions" (to enter values as percentages of the current dimensions, choose "Percent" as the unit of measurement. The new file size of the image will be at the top of the "Image Size" dialog box. The old file size will be in parentheses.
Select the "Resample Image" option, and choose an interpolation method (read below). If the image has layers with styles applied to them, select "Scale Styles" to scale the effects in the resized image. You must select "Constrain Proportions" in order to use this option.
Click "OK" when you finish setting the options.
What Resampling method should I use?
Resampling refers to the process of changing the amount of image data when you change either the pixel dimensions or the resolution of an image.
"Downsampling" means decreasing the number of pixels, or deleting information from the image. "Upsampling" means increasing the number of pixels, or adding pixels to the image.
In order to do this using Photoshop, you must first specify an "interpolation", or method for determining how pixels are added or deleted.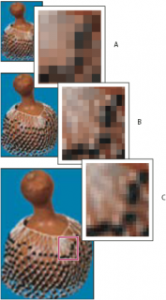 Here are the various methods of interpolation:
A. Nearest Neighbor
Fast, but not very precise
Replicates pixels in an image.
Preserves hard edges and produces a smaller file, but can produce jagged effects