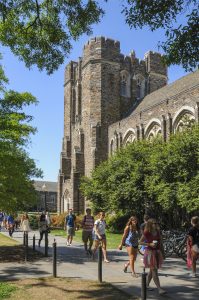 Libraries Assembly (LA) is an organization of librarians and library staff within Duke University Libraries (DUL). It is the mission of the Libraries Assembly to:
Promote excellence in library and information professions and participation in these professions at large

Advocate for and promote the interests of library staff within the libraries and in university affairs

Foster a collegial environment among the staff of the various libraries

Make recommendations to the administrations of the libraries concerning matters of interest to the membership

Welcome and mentor new members
All professional librarians are automatically added as members to LA. Membership within the Libraries Assembly is also open to all interested library staff within DUL or professional library schools.
Please complete this form to join Libraries Assembly!
All LA documentation is available through Sharepoint for library staff access (NetID required).