The Center for Pathway Programs launched in 2021 as an initiative of the Duke Clinical and Translational Sciences Institute. The Center was co-founded by Drs. Tony Fuller and Charles Muiruri. The administrative team includes Dr. Tony Fuller, Dr. Charles Muiruri, and Amber Richardson. Contact the team at thecenter@duke.edu.   
---
Tony Fuller, MD, MSc.GH
Anthony Fuller, MD, MScGH, is the Director of Research and Uganda Operations for the Division of Global Neurosurgery and Neurology (DGNN). He was part of the team that helped found DGNN in 2014 as the first division in the United States dedicated solely to global neurosurgery and neurology.
Dr. Fuller's research efforts focus on strengthening and developing health systems in neurosurgery and neurology in East Africa. Publications from this work cover expanding neurosurgery access, outcome assessments from international partnerships and interventions, and epidemiology research on the burden of surgical diseases in low- and middle-income countries. 
Recently Dr. Fuller's research has included exploring epilepsy in Uganda, where the focus is on health system strengthening using a multi-faceted research approach using epidemiology, health facility based, and community belief research for intervention and advocacy development.
Dr. Fuller plays a pivotal role in several pathway programs at Duke including the BOOST Program, SALUD, and HPREP. Connect with Dr. Fuller on LinkedIn or at anthony.fuller@duke.edu. 
---
In addition to his roles as medical instructor in the department of population health sciences and assistant research professor of global health at Duke, Dr. Muiruri is a visiting lecturer at the Kilimanjaro Christian Medical University College in Moshi, Tanzania. Prior to joining the Duke faculty, Dr. Muiruri worked in various administrative capacities within the KCMC–Duke Collaboration for 15 years. Broadly, his research interests seek to improve the quality of healthcare and reduce disparities for persons with multiple chronic conditions both in and outside the United States. His current projects focus on people living with HIV and have or are at risk for cardiovascular disease.
Dr. Muiruri received his master's degree in public health leadership and a Ph.D. in health policy and management from the University of North Carolina–Chapel Hill. Connect with Dr. Muiruri on LinkedIn or at charles.muiruri@duke.edu. 
---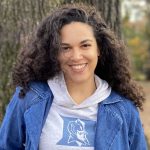 Amber Richardson
Amber Richardson serves as Senior Program Coordinator for the Center for Pathway Programs. Amber earned a BA in Psychology from Duke University and has spent most of her career working for advocacy organizations that address the needs and interests of historically marginalized communities. Prior to joining the Center, Amber led communications efforts at the Center for Native American Youth at The Aspen Institute and Management Leadership for Tomorrow, two DC-based nonprofit organizations. She currently supports the Center by coordinating stakeholder engagement, developing strategies for effective program administration, and promoting the Center's efforts both internally and externally. In addition to her role at the Center, Amber directs communications for The BOOST Program, a program founded by the late Dr. Brenda Armstrong to get Durham Public Schools students excited about STEM. Amber is an alumnus of the North Carolina School of Science and Mathematics, originally from Hollister, North Carolina, and a citizen of the Haliwa-Saponi Indian Tribe. Connect with Amber on LinkedIn or at amber.richardson@duke.edu.