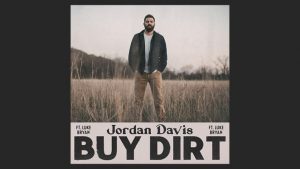 Faith, family, friends, and some dirt – according to country artist Jordan Davis, these are the ingredients necessary for a happy life.
Released in May 2021, the title track of Davis' recent album, "Buy Dirt," plays like an archetypical country song. Its gentle acoustic melody is accompanied by Davis' soulful voice and features a duet with Luke Bryan.
At first, the message may seem simple – owning land will result in happiness and a piece of the American dream. But land ownership is a complicated subject. For Native Americans who believe that land cannot and should not be owned, for Black Americans whose promise of "40 acres and a mule" never came to fruition, and young families who are unable to purchase a home in the current housing market, land ownership remains an elusive carrot, ever out of reach.
And yet, "buying dirt" may mean something entirely different, or perhaps nothing at all.
The lyrics begin with a presumably young man conversing with an elderly man about his life. After hearing about the young man's obsession with "chasing a dollar," the man provides some important advice on leading a fulfilling life.
In addition to the ever important "buy dirt," the chorus emphasizes the importance of love, both for your family ("find the one you can't live without") and your job ("do what you love but call it work"), of religion ("send some prayers up"), of community ("send… your roots down deep").
While the titular phrase not-so-subtly alludes to the concept of land ownership, the song's chorus highlights other key components for a joyful life. Although "buying dirt" represents the idyllic and often unattainable "white-picket fence," it also emphasizes the importance of these other components. In a recent interview, Davis described the song as one about "faith, family and friends, and really finding your happiness."
Davis' song may not be the most complex, but there is comfort and peace in its simplicity. "Buy Dirt" is catchy, country, and meaningful. College students like me are often told to contemplate our life's goals and ambitions. "Buy Dirt" encourages its audience to reevaluate these goals. Life may go by quickly, but this song reminds its listeners to slow down and invest time in what really matters – faith, family, friends, and some dirt.
After all, you may not be able to purchase happiness, but, to some extent, you can "buy dirt."