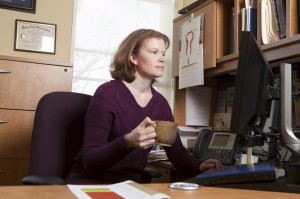 First and foremost, take the time to make sure you know the functions and possibilities of the learning management system (LMS) that you are using. This provides the "home" for your course — all the content, the interactions, grading, etc. Attend LMS training and bring your course plan with you so that you can ask questions relating to your specific instructional strategies. This way you can begin building the course site soon after attending the training.
Other technology issues to think about are:
What content resources are needed?

Narrated PowerPoint presentations, learning activities, writing assignments, URLs of resources …

How does my LMS handle tests and assignments?
How can the gradebook make my life easier?
How do I assess the student?
If you are doing this in isolation there are textbooks and a wealth of online resources to help guide you.
One last note on technology. Be judicious with the use of technology. Focus on how technology is being used to meet the learning objectives. Does it help or hinder the learning experience?
Remember that new technology is also new to your students. So don't bombard them with the latest and the greatest. Nothing is worse than using something that is so complex that the students spend their time learning the technology rather than learning the content. The article Computer Literacy in a Traditional Nursing Program highlights the skills needed by online nursing students.