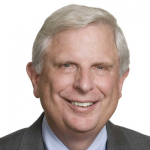 Charles B. Neely, Jr.
Retired Partner, Williams Mullen, and Former State Representative
Chuck Neely engaged in the practice of state and local tax litigation for 40 years. He tried and negotiated the resolution of cases involving corporate, franchise, individual, sales and use and property taxes. In connection with the firm's state and local tax practice, Chuck has counseled clients and negotiated with government entities on the broad array of state and local tax incentives available to new and expanding businesses in North Carolina.
Chuck had extensive experience lobbying both tax and other legislation in the North Carolina General Assembly. He was elected three times to the North Carolina General Assembly, serving from 1995 to 1999 as a member of the House of Representatives.  He served as chairman of the House Judiciary II Committee, co-chairman of the Revenue Laws Study Committee of the North Carolina General Assembly, and a member of the House Finance Committee.
Chuck served two years on active duty as an officer in the U.S. Navy, achieving the rank of captain in his subsequent Naval Reserve service.  He served as senior warden of the Christ Episcopal Church Vestry, the board of trustees of St. Timothy's School, president of the Occoneechee Council of the Boy Scouts of America and president of the Rex Hospital Foundation.  He is past chairman of the Triangle Land Conservancy and is on the boards of the School of Government Foundation, UNC Chapel Hill, the North Carolina Free Enterprise Foundation and the Dix Visionaries, a group dedicated to the preservation of the grounds of the Dorothea Dix Hospital as a destination park.  He is a member of the Fourth Circuit Judicial Conference.
Chuck received his A.B. from the University of North Carolina, with honors, in 1965.  He received his J.D. from Duke University School of Law in 1970.