After 7 hours, three abnormally large confederate flags and two glaring looks from Murphy natives, I finally made it to the mountains for my family getaway.
Most of the time I feel the need to be political in my actions, including the artists I listen to, places I eat and conversations I have with my family. I believe that how I act in real time and who I support financially is important and political. With this constant awareness of my actions and conversations, I notice the need to also detach.
I rarely have a moment when forget the injustices and tragedies of the world I am living in. I make sure to keep myself as aware as I am emotionally capable, and I always wonder why others don't approach issues of social justice and human rights like me. I question why my family never wants to speak on things or dig deeper into how practices we maintain could *most likely* be rooted in slavery. Or why issues of colorism aren't contemplated or spoken about regularly. Last week I had a moment in between a webinar on voter suppression, my normal research on teen dating violence, and a very misguided, inaccurate and extremely disrespectful commercial on the Black Lives Matter movement created by the current president. In this moment I thought: wouldn't it be great to not be aware right now? In that moment I knew none of this would just go away but I wondered how great it would've been to be blissfully ignorant for five minutes. After that, I no longer questioned my family or my friends who don't have the emotional capacity to learn more about social injustices.
"Caring for myself is not self-indulgence. It is self-preservation, and that is an act of political warfare." -Audre Lorde
To be a member of a marginalized community and to be happy, to enjoy life is a fight, it is political in its own. Some of us become aware by choice (webinars and readings) and others are reminded daily, while some learn both ways or never learn at all. To be aware is a heavy burden because once you are aware you cannot just sit and do nothing. Once you are aware you must carry that awareness and so the moments of happiness, even me taking this trip into the mountains is a sign of political activism in itself and that is something I never considered.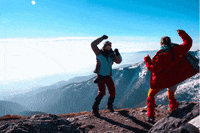 Thus I am choosing to be aware through my experience AND research and most importantly to take moments to detach and care for myself as an act of political activism.