Polls
Which SIG group would you like to hear more about?
Implementers Group (31%, 5 Votes)
Metadata Management (25%, 4 Votes)
Resource Management (13%, 2 Votes)
ERM Sub Group (13%, 2 Votes)
Reporting (13%, 2 Votes)
User Management (6%, 1 Votes)
System Ops and Management (0%, 0 Votes)
Total Voters: 16

Loading ...
June 7, 2021 / Leave a comment

Iris Release
The FOLIO community announced the first release of 2021, Iris, on Friday, April 30th. Iris introduces a new app for the integration of the remote storage product, Demantic, which is used by University of Chicago for their remote storage. This is a first step to integrating Duke's remote storage software, CaiaSoft. Also included in Iris is support for EDIFACT invoices, and integration with OCLC's Connexion software. The Single Record Import integration using Connexion was developed by our hosting partner, Index Data, and was supported by Duke, the University of Chicago, and Cornell. You can find more details in the Iris Release Notes.
Local Project Updates
Data Migration from Aleph to FOLIO continues. We've been able to test the migration of budgets and orders recently. We are working on how to provide the initial allocation for the budgets. The daily patron loader we use in Aleph is now running in our FOLIO test instance, and we'll be migrating existing Aleph-only patrons such as Friends of the Library, guests, etc. this summer. A fresh load of bibliographic, holdings, and items from Aleph to our test server was run the week of May 10th  so that we can make final configurations and do training on the Courses app, which we'll be launching in just a few weeks!
The Training Development and Delivery Team has hosted the first two sessions of the Introduction to FOLIO: Searching, Filtering, and Navigation course to designated superusers. Initial responses were positive to the course, so we'll continue developing courses as laid out by our draft course curriculum. We can't wait to share the training with all the staff!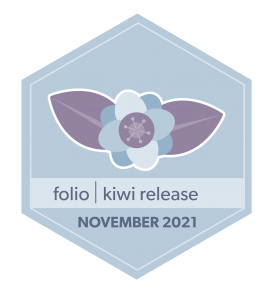 We spent the month of April working to determine the features we need in the upcoming Kiwi release (on top of all the other FOLIO work!). The community agreed to give each institution 100 points to distribute among their highest ranked features. In the FOLIO issue tracker (using Jira), each institution ranks each feature on a scale from one to five, with one being the most important. Duke currently has around 250 rank one features. Our project manager reviewed each of the 250 features and noted the highest priority of those. Our implementation teams then reviewed the features in their area and narrowed the list down to a total of about 25. We distributed our 100 points among those and reported them to the community ballot. The community Capacity Planning Team will then take the highest ranked features and work to assign development teams and product owners to develop those features and include them in the Kiwi release.
The Kiwi release is important to Duke because that's the release on which we'll base our training curriculum and use for training staff.
International Project Updates
Along with the Kiwi pointing process, the community has been working to implement a new governance model. We've had a Product Council and a Technical Council over the years, and they have shepherded the functional and technical development respectively. We've recently added a Community Council which will focus on building the community, handling the budget, and manage elections for the Product and Technical Councils. Duke's Dracine Hodges, Associate University Librarian for Technical Services, was elected to the Community Council. Voting for the Product and Technical Councils will take place this summer.
Two of our peer institutions are planning to go live this summer, Texas A&M, and Cornell. The University of Chicago is launching the ERM-focused apps, and plans to launch a full FOLIO implementation later this year. Having these large research institutions live on FOLIO is a great test for the product, and Duke will be able to learn a lot from their implementations. The community's Implementer's Group meets every week to discuss features and issues that affect implementation, share demonstrations, and welcome the Capacity Planning Team to share the work they're doing on each release.
The community Special Interest Groups have been working on documentation over the last few months. The result is a new documentation portal which houses general user documentation for FOLIO. Duke will be developing documentation for our local workflows, and this documentation portal is a great place to start to understand how FOLIO workflows were designed.
Watch This
The community's Reporting Special Interest Group presented recently on reporting with the Library Data Platform. They introduced a new reporting app that is linked to the LDP and will allow users to be able to view reporting data quickly and through the FOLIO interface. Duke staff will recognize Angela Zoss, who is now convening the Reporting SIG.
Bee Facts
Looking to reduce the use of plastic for your food storage? Consider using a beeswax wrap instead of plastic wrap or plastic bags. Wraps are available commercially or can be made yourself.
Review data requirements for historical Aleph data
Circulation rules creation
Document workflows in Kiwi
Begin working on integrations
Special development underway
Testing process documented and practiced