Category Archives:
Newsletter
Polls
Which SIG group would you like to hear more about?
Implementers Group (31%, 5 Votes)
Metadata Management (25%, 4 Votes)
Resource Management (13%, 2 Votes)
ERM Sub Group (13%, 2 Votes)
Reporting (13%, 2 Votes)
User Management (6%, 1 Votes)
System Ops and Management (0%, 0 Votes)
Total Voters: 16

Loading ...
February 9, 2022 / Leave a comment
Local Update
Project Changes
As mentioned in Deborah Jakubs' letter to all Duke Libraries' staff dated January 25, 2022, the Duke University Libraries' Executive Group has set a firm go-live date to fully switch to FOLIO by July 2023. The project teams are excited to have a firm deadline so that we can make our plans appropriately. It was also announced that beginning in February 2022, that DUL has contracted with Index Data for full project management of our implementation. Index Data also provides hosting services for the three Duke instances of FOLIO (development, test, and production). Mike Gorrell, Director of Operations will be leading our project. Mike has years of experience with software and libraries. He formerly held executive-level positions at EBSCO in their Publishing branch, and was the Executive Vice President and Chief Information Officer at EBSCO Information Services. He has held positions in the FOLIO Technical Council, and is currently chair of the FOLIO Community Council. The project management responsibilities that Mike will provide to DUL include:
• Scheduling and running meetings
• Establishing and managing schedules
• Identifying and leading the mitigation of project risks
• Communicating status
• Consulting with management on alleviating bottlenecks
• Coordinating dry runs, tests, gap analysis/workaround planning
• Significant, consistent, and detailed documentation
On February 7th, the Library Service Platform Steering Group (LSPSG) met with Mike. Mike shared with us his preferences in managing a project timeline, meeting minutes, and meeting schedules. He suggested three, six, and nine month goals focusing on analysis of gaps, figuring out workflows, and working on integrations with essential applications outside of FOLIO. He recognized that we've already done a lot of work on our local implementation, and looks forward to working with us.
Juniper Release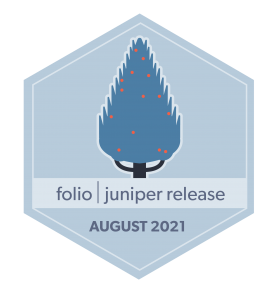 Library Systems and Integration Support staff have been working with Index Data staff to prepare our three local instances for the upgrade to the Juniper release. We will be re-loading data from Aleph into our Juniper development instance. We will also pull the FOLIO-born item records that have been created for the Courses app from production into development. As we move through the process of updating our servers, we will make sure that the Inventory data is up to date from Aleph as well as production Courses data. A big bonus for having individual apps is that they each have their own storage! We'll be able to pull the data from the production instance of the Licenses app into our development and test instances too, so we can verify that all the data is correct before we upgrade the production instance. We're currently working to upgrade the test instance beginning the week of February 7 and will invite our local testers to check functionality and validate data before we move on to upgrading the production instance in mid-February.
Team Work
The Implementation teams took the liberty of a low-meeting December to take a break and are getting back to work on FOLIO now.
The Resource Access implementation team has been focusing on creating FOLIO circulation rules. They are also considering how to handle long-overdue items that still have active loans. When we move loans into FOLIO, we will use the new FOLIO circulation rules and will check the items out in FOLIO. We do not want these long-overdue loans from Aleph to become new loans, so the RA implementation team is considering how best to handle this issue, and maybe take on a clean-up project. 
The Resource Management implementation team is reviewing the Receiving app and considering the need for prediction patterns for serials. The FOLIO community originally did not prioritize print serials management since many institutions are no longer ordering the volume of serials Duke is. Only recently has the community revisited this feature. There are other institutions who have voiced the need for print serials management, and members of the LSPSG are reaching out to those other institutions in hopes of a collaboration to address this need.
The Metadata Management implementation team has been focusing on the data clean up projects. When they begin meeting again, Matt from LSIS will be joining the team and taking on some of the business analyst tasks that had been done by Jackie before her departure from LSIS and Duke. They will have some new features to explore, including the new search functionality and improved Data Import app. Juniper introduces the behind-the-scenes work for storing links to bound-with materials. LSIS has scripted the loading of the bound-withs, but they won't be viewable through the user interface until we upgrade to Kiwi.
Peers
Deborah mentioned in her letter that some of our peer institutions have implemented FOLIO. Cornell went live with all the FOLIO apps in July 2021, Texas A&M switched in December 2021, and the University of Chicago switched in January 2021. Other institutions that have gone live in the last year include the University of Colorado Boulder, Skidmore University, and Spokane Public Library. The world is watching our implementation. Occasionally, other institutions reach out to Duke staff to learn more about the project and our implementation. We've spoken to libraries in California and Australia in just the last month!
International Update
List of release names and planned dates of release for the next 18 months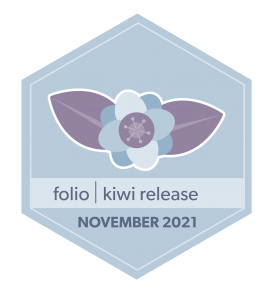 | | | |
| --- | --- | --- |
| Release Name | Release Number | Expected Month of Release |
| Kiwi | Release 3 2021 | Released January 2022 |
| Lotus | Release 1 2022 | April 2022 |
| Morning Glory | Release 2 2022  | August 2022 |
| Nolina | Release 3 2022  | November 2022 |
| Orchid | Release 1 2023 | March 2023 |
The international project continues to move forward in adding features and back-end support for those features. The Product Council assigned a group to consider the next version of a roadmap document. Karen is a member of the Roadmap Group. The group began by grouping work in themes such as data import, data consistency and integrity, dashboard functionality, self check, and bulk edit. There were also sub-themes that were considered such as under bulk edit, user bulk edit, acquisitions bulk edit, and inventory bulk edit. There is a new project in the FOLIO Jira site for the roadmap, and the group linked existing Jira issues (work that the SIGs and developers are planning or working on) to the roadmap themes and subthemes so that an overall picture could start to be created of the work that is currently being done and the work that is upcoming. The next steps in the roadmap group is to involve product owners and the SIGs to contribute to the roadmap and to create an easy to understand snapshot for sharing on the folio.org site.
The Community Council is preparing for a membership drive. The roadmap snapshot will be an important document to share with newcomers to the FOLIO project. The international project is always looking for product owners, developers, and reporting developers, as there's still lots of work to be done!
Watch This
The next
Quarterly Community Update
was Friday February 11, 2022. You can find the recording
here
. 
Agenda:
Community Council update
Product Council Update
Tech Council update
WOLFcon update
FOLIO.ORG Website update
Bee Facts
It's winter in North Carolina, so soothe your throat with homemade honey cough drops.
Review data requirements for historical Aleph data
Circulation rules creation
Document workflows in Kiwi
Begin working on integrations
Special development underway
Testing process documented and practiced