On Wednesday, November 20, we held our second quarterly open forum for Duke Libraries' staff. We shared updates on the international project, heard from members of three of the FOLIO special interest groups (SIGs), and an update on the project plan and timeline of Duke's implementation.
Dracine Hodges led us off with an overview of the international project, starting with the advantages of FOLIO's platform and it's features. She shared an updated FOLIO development timeline that extends to the fourth quarter in 2020.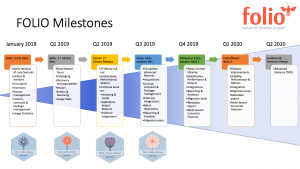 We celebrated Chalmers' being the first to launch FOLIO in production. And we learned more about the commitments other institutions have made and when they're planning to launch FOLIO in their production environments.
FOLIO's Round 2 early adopters are:
Implementation Teams will be focused on the functional areas traditionally covered by an ILS – Resource Management (Acquisitions), Metadata Management (Cataloging and other data tasks), Resource Access (Circulation), and E-Resource Management. We separated ERM from Resource Management, since we'll be implementing their suite of apps in summer 2020.
As we thought about the work that needs to be done, there were some task categories that surfaced, no matter which functional area we were thinking about. Those categories are Configuration, User Permissions, Data, Workflows, Documentation & Training, Functional Testing, and Reporting. We're going to convene a working group for each of those task categories.
The implementation teams and working groups will work together to complete all the tasks for the implementation. We expect that the implementation teams will circulate throughout the working groups, allowing the working groups to focus on their tasks and having the implementation teams bring the subject matter expertise. We've gathered names of people we'd like to have serve on these teams and groups, and will be kicking them off in early 2020 with a team building and on-boarding opportunity.
Finally, we entertained questions that were submitted in advance of the forum, and answered questions from those in in attendance.
Slides from the presentation: