Simon W Davis, Ph.D. (Principal Investigator) is an Assistant Professor in the Department of Neurology at Duke University School of Medicine. He completed his PhD at Duke with Roberto Cabeza, where he was a student in the Department of Psychology & Neuroscience. He then trained at the Centre for Speech, Language and the Brain in Cambridge University under Lolly Tyler. Simon is a cognitive neuroscientist with experience in behavioural modelling, psychological task design, neuroanatomy, neuroimaging, and the global and local changes in brain physiology and anatomy associated with aging.
Simon's Top 7 bands are The Fall, The Fiery Furnaces, Pulp, Guns N Roses, Xiu Xiu, Albert King, and Lambchop.
---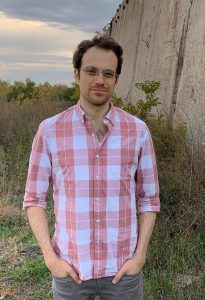 Matthew Slayton is a PhD Student in the Psychology and Neuroscience program at Duke University. He studies neural representation of concepts, memory, and Alzheimer's Disease. He earned his BA in Neurolinguistics at Duke, an MA in Philosophy of Biology at the University of Chicago, and an MM in Music Composition at San Francisco Conservatory of Music. In addition to his work in science, Matthew is a composer of contemporary classical music, and his work can be found on www.matthewslayton.com 
Lab Alumni
---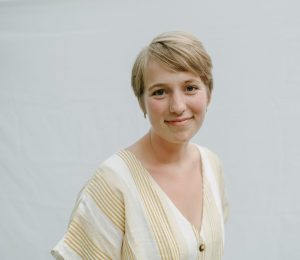 Mags McAllister is Clinical Research Coordinator in Cabeza Lab. She graduated from UNC-Chapel Hill in 2018 with a B.A. in Psychology and Neuroscience. Mags is generally interested in using neuroimaging tools to better understand how the developing brain learns over the lifespan. She works with cognitively impaired older adults on a study of the impact of transcranial magnetic stimulation (TMS) on connectivity and memory. She previously worked on research in early detection and intervention of disordered development including ASD, ADHD, and Anxiety. She's a harpist who loves baking and dabbling in amateur triathlons. Mags will begin graduate school at UNC-Chapel Hill to pursue her PhD in Speech and Hearing Disorders with research in sex and gender differences in Autism.
---
Erin Welch graduated from Boston College with a B.S. in neuroscience in 2021 and is currently working on projects in Drs. Roberto Cabeza and Simon Davis' labs. She is interested in investigating the limits and characteristics of episodic memory with the aim of contributing to the refinement of techniques that may support and maintain the network, particularly as people age. Erin is an amateur birder, a former musical theatre kid, and loves finding places in the woods to read. Erin will begin graduate school at Columbia to pursue her PhD in Cognitive Psychology while she researches memory in the aging brain.
---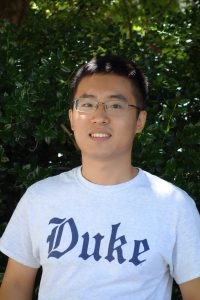 Lifu Deng completed his PhD in Electric Dinosaur and Cabeza Labs. He graduated from Shanghai Jiao Tong University with B.S. in Biomedical Engineering & Applied Mathematics, and M.S. in Biomedical Engineering. Lifu was interested in the dynamics of functional networks in the brain, and how they are influenced by structural connectivity and stimulation. Lifu enjoys outdoor activities and playing music. He's an amateur in botanics who used to own a collection of bizarre-looking cacti, succulents, and orchids. He donated a few beautiful plants to his colleagues before he left to .
---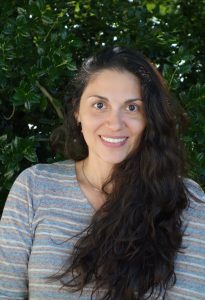 Olga Lucia Gamboa Arana is a physicist with a Ph.D. in Basic and Clinical Neurology.  She is deeply interested in understanding memory, forgetting processes linked to emotion and how these affect well-being. She is also interested in the development of non-invasive transcranial stimulation protocols that in combination with neuroimaging techniques such as fMRI (concurrent TMS-fMRI) and electroencephalography (concurrent TMS – EEG) will allow the assessment of their efficacy and reliability modulating and enhancing cognition. At Duke, she collaborated with Prof. Simon Davis working on an EEG – TMS project aiming to asses, modulate, and enhance brain function in MCI patients.
---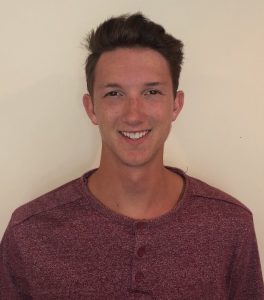 JT Galla was an undergraduate at Duke University who majored in Neuroscience with minors in Chemistry and Computational Biology & Bioinformatics. At Duke, he conducted research on clinical trials involving rTMS as a therapeutic for PTSD and smoking cessation with veterans, and has also assisted in fMRI data analysis for a study on TMS-coupled Cognitive Behavioral Therapy. At the Electric Dinosaur Lab, he focused on conducting EEG Source Localization. He's an avid snowboarder and currently serves as the President of Duke's Club Ski & Snowboard Team.
---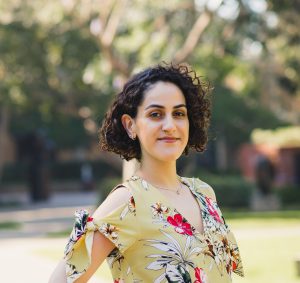 Mariam Hovhannisyan was a Research Technician in the Electric Dinosaur lab. She graduated from UCLA in 2017 with a B.S. in Cognitive Science. Mariam is generally interested in using neuroimaging tools to better understand the aging brain. Her favorite book at the moment is Flowers for Algernon. Mariam is currently working towards a PhD in Clinical Psychology at University of Arizona
---
Devi Lakhlani was an undergraduate research student for the Electric Dinosaur lab. She graduated with a major in neuroscience and a minor in global health. In her free time, Devi enjoys dancing on Duke's classical Indian dance team, Duke Lasya, and volunteering with Duke Helping Hands for Alzheimer's and other Neurological Disorders (DukeHAND).
Happy Joey the Maltese:
---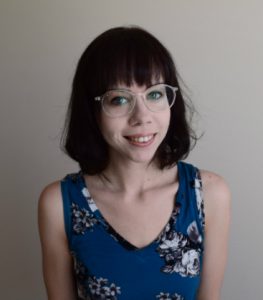 Courtney Crowell was a Research Associate in the lab. She graduated from the University of Rochester in 2016 with a B.S. in Brain & Cognitive Sciences/B.A. in Psychology. Courtney focused mainly on fMRI analysis in the lab, and she is interested in research linking brain and behavior in the context of memory and aging. Her favorite documentary is The Barkley Marathons.
---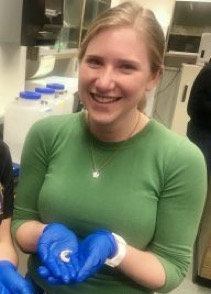 Daisy Banta was a Research Technician for the Electric Dino Lab. Originally from Richmond, VA, she braved four frigid New England winters to graduate from Williams College with a degree in Biology and Neuroscience—though she also enjoyed taking classes in Spanish lit, religion, and philosophy. She loves many forms of movement, from rock climbing to dancing to hiking, and can appreciate a good laugh at a standup comedy show. Daisy is excited to spend the coming months learning as much as possible in the lab before heading to Brazil next year, where she'll be working on her samba steps and language skills. Tudo bem!
---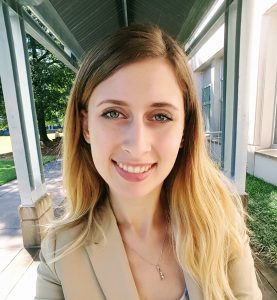 Amanda Szymanski was a Research Technician for the Electric Dinosaur. She graduated from High Point University in 2015 with a B.S. in Psychology. She now works at CliniPace, a leader in clinical trials organization. A lover of art, music, and nature, when she isn't busy creating scripts and analyzing brain imaging data, she can be found painting, hiking, or at the dog park. Bonus: Fable the Fabulous
---
Eduardo Salgado was an undergraduate student double majoring in Neuroscience and Psychology. With his lab experiences, he hope to pursue a PhD in Cognitive Neuroscience or Clinical Psychology, with the goal of developing research projects that can help directly or indirectly inform interventions for Major Depressive Disorder. When not in lab, he enjoys gaming, checking out cool places to eat in Durham, and sleeping, basically being a bum.
---
Lena Patel was an Undergraduate Research Assistant for the Electric Dinosaur. She graduated in Spring 2018 with a B.A. in Biology, minor in Neuroscience, and certificate in Markets and Management Studies. Post-graduation, she will be going to New York to do Healthcare Investment Banking with the hopes of bringing together her passions for the life sciences and business. In lab, she assists with histological data collection, but she can also be found in Wilson Gym teaching her H.I.I.T. class, camping out for Duke Basketball games, or spurring conversations of reform as President of the Duke Healthcare Policy Forum.