Here at the trumpet section, we're better than everyone else. And we know it! As trumpets, we embody extremely important characteristics such as volume, infallibility, perfection, faultlessness, supremacy, and (of course) modesty.
Should you choose to pick up a trumpet along with our fearless drum majors Erik Savereide and Kelly Cochran, or even our own director, Jeff Au, you will be welcomed into a tight-knit group that is committed to firing up the Cameron Crazies with confident, high-quality sound. Are you prepared for the pure glory that is the trumpet section of the Duke Band? Fear not, for we can always be found leading the band to victory.
A particularly dapper looking trumpet section celebrating the Section Wars Championship win.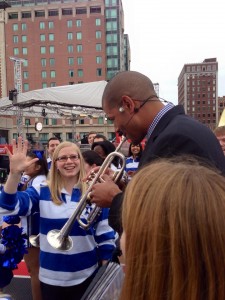 Teaching Shane Battier to play Fight Fight!
After witnessing this moment in Duke Football History
Trumpets punching the audience in the face with sound.
Section photo before homecoming, where trumpets clearly stole the show.
Trumpets in Pittsburgh after a great win by Duke Football!
Trumpets at the UNC game. Trumpets were present and played particularly loud and the team won. Correlation? There certainly seems to be one.
2017-2018 Section Leaders:
Aurelio Falconi: aurelio.falconi@duke.edu
Sarah Hendrix: sarah.hendrix@duke.edu