Supporting Climate Resilience Through Equitable Ocean Conservation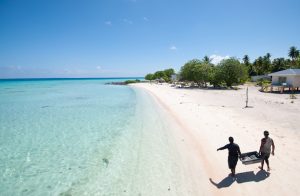 Blue Justice will produced original, solution-oriented research based on the synthesis of multiple existing, and newly assembled, global datasets on MPA social and ecological conditions. This work comes in tandem with findings on "Triple Exposure" for coastal communities experiencing rapid change. Read more.
Fish as Food Workstream: led by Dr. Ranaivo Rasolofoson and advised by Dr. David Gill (PI) and Dr. Gabby Ahmadia (PI)
This project will examine key elements of conservation interventions and coastal social-ecological systems that shape food security and related social outcomes from conservation. This work intends to advance knowledge on the role of governance, intervention design, and context in enabling successful outcomes for fisheries and food security in coastal communities. Read more
Bass Connections: Ocean Evidence Gap Map
In collaboration with the World Wildlife Fund and the American Museum of Natural History, our Duke University Bass Connections project is developing an ocean evidence gap map with a subset of evidence gap maps on coral reefs, mangroves and seagrasses. The project's interdisciplinary approach used natural and social science research to examine potential linkages between intervention (e.g., take limits, restoration) and both natural (e.g., fish abundance, ecosystem health and resilience) and social outcomes (e.g., income, well-being, degree of cooperative interactions). Read more.
Bass Connections: Marine Conservation Evidence and Synthesis
Building on the work of previous teams, this project team will refine and develop evidence maps and related products in partnership with the World Wildlife Fund and the Center for Biodiversity and Conservation at the American Museum of Natural History. Read more.
Capacity Development for Coral Reef Science and Conservation in the Bird's Head Seascape
Duke University, in collaboration with UNIPA and WWF-US, with the support of the Walton Family Foundation, are conducting scientific monitoring, research, and communication of results from the long-term monitoring in the Bird's Head Seascape (BHS), and streamlining data management processes to support the continuity of the monitoring and evaluation (M&E) program. Read more.
Analyzing the Social Impacts of Marine Protection in the Sunda-Banda Seascape
We are part of a partnership of conservation scholars, practitioners, and policy-makers, led by WWF that has developed simple yet rigorous monitoring systems for documenting and explaining the variation in MPA performance in Eastern Indonesia. In the Sunda-Banda Seascape (SBS), we monitor the human well-being impacts of seven MPAs, as well as the characteristics of marine resource governance. Read more.
The Impacts of Marine Protected Areas on Human Nutrition
Despite the critical implications of MPA expansion for human well-being, research has not yet examined the global implications of MPA expansion for human health and nutrition. Better understanding of the implications of MPA expansion for human health has the potential both to galvanize support and finance to achieve agreed upon targets for MPA expansion, as well as to ensure MPAs are optimally located to maximize returns both for conservation and human health objectives. Read more.
Fisheries, Food & Culture Duke-WWF Research Initiative
Duke University and the World Wildlife Fund (WWF), with expertise and shared interests in conservation, natural resource management, and food security, are launching a partnership to produce impactful research that will advance understanding of marine food systems and the management practices necessary to effectively, equitably, and durably sustain them. Read more.
Education, Outreach, and Capacity Development for Marine Conservation in Tropical Coastal Communities
We reviewed existing literature using evidence synthesis methodology developed through the Ocean Evidence Gap Map project to investigate education and outreach interventions conducted in tropical marine environments. We assess implementation factors, such as type of intervention, program duration, target audience, and implementing organization, that correspond to positive social and ecological outcomes. We hope to identify gaps and opportunities for further work in the evaluation and design of educational conservation programs for researchers and practitioners. Read more.