Non-malaria febrile illness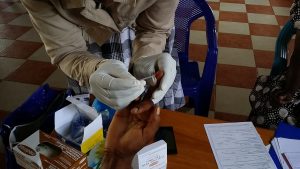 If a febrile patient doesn't have malaria, what do they have? Improving use of malaria diagnostics can improve antimalarial drug targeting but also identifies a group of people with undiagnosed febrile illnesses. Laboratories in rural, malaria-endemic areas have limited tools for identifying other causes of fever. With support from a pilot grant from Duke Global Health Institute, we conducted a clinical study to understand the etiology of non-malaria fevers in an area where malaria control has recently been scaled up. Unlike previous studies, our study included both febrile children and age-matched healthy controls, which allowed us to measure asymptomatic carriage of specific pathogens. We identified several important respiratory pathogens (influenza A and B in particular) responsible for a large proportion of fevers, as well as a significant role for zoonotic vector-borne pathogens such as Q fever (Coxiella burnetti, nearly 10% of fevers), spotted fever group (17%), typhus group (3.5%), and scrub typhus group (1.1%) rickettsia. This is the first confirmed report of acute scrub typhus group rickettsia in east Africa.
Collaborators: Thomas Holland co-PI, Christopher Woods, William Pan, Alice Maina (Naval Medical Research Center; NMRC), Allen Richards (NMRC), Joshua Mott (CDC), Janice Armstrong (Moi University), Jeremiah Laktabai (Moi University)
Publications
W.P. O'Meara

, J. Mott, J. Laktabai, K. Wamburu, B. Fields, J. Armstrong, S. Taylor, C. MacIntyre, R. Sen, D. Menya, W. Pan, B. Nicholson, C. Woods, T. Holland "Etiology of pediatric fever in Western Kenya: A case-control study of falciparum malaria, respiratory viruses, and streptococcal pharyngitis" American Journal of Tropical Medicine and Hygiene,92(5):1030-7 (2015)
A. Maina, C. Farris, A. Odhiambo, J. Jiang, J. Laktabai, J. Armstrong, T. Holland, A. Richards,

W.P. O'Meara

"Q-fever, scrub typhus, and rickettsial diseases as common causes of undifferentiated fevers among pediatric patients in western Kenya" Emerging Infectious Diseases 22(5):883-6 (2016)
Group A strep, rheumatic fever and rheumatic heart disease
Our fever etiology study including testing for Group A strep (GAS) from throat swabs. In our study area, rheumatic heart disease is common and is seen even in very young children. We were interested in measuring the burden of strep pharyngitis in order to identify potential intervention strategies to prevent untreated strep leading to rheumatic fever and eventually rheumatic heart disease. Surprisingly, we found very little GAS in the symptomatic or asymptomatic group. We continue to try to understand the etiology of infections leading to rheumatic heart disease, including identifying geographic patterns in cases of rheumatic heart disease reporting to tertiary care hospitals.
Collaborators: Thomas Holland, Jerry Bloomfield, Constantine Akwanalo (Moi University), Rebecca Lumsden
Publications:
R.H. Lumsden, C. Akwanalo, S. Chepkwony, A. Kithei, V. Omollo, T.L. Holland, G.S. Bloomfield,

W.P. O'Meara

"Clinical and geographic patterns of rheumatic heart disease in outpatients attending cardiology clinic in western Kenya" International Journal of Cardiology 223:228-235 PMID: 27541662 (2016)