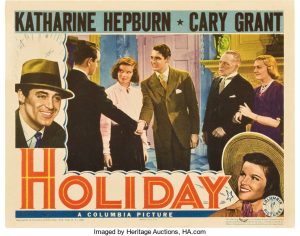 Although beloved by critics, George Cukor's 1938 Holiday failed to impress me. While Cary Grant charms as the acrobatic Johnny Case and Katharine Hepburn dazzles as the independent Linda Seton, the film's inherent critique of capitalism fails to somersault to its full potential.
Resulting from a whirlwind romance, the somersaulting Johnny Case and bow-straightening Julia Seton become engaged. The problem? Neither individual knows much about the other. Only when Johnny visits the luxurious Seton manor, does he realize the enormity of the Seton wealth and his working-class background is quickly overwhelmed. During the visit, the couple encounter Julia's younger sister, Linda, the self-proclaimed black sheep of the family.
Even religion serves as a method for the Seton family to manipulate each other while maintaining an appearance of morality. Julia Seton attends Mass with the sole purpose of informing her father of her engagement, knowing he cannot vocally object. The other black sheep of the family, Ned Seton, utters the most explicit example of religious hypocrisy – "Money is our God here."
After a well-rehearsed and highly amusing conversation, the family patriarch, Edward Seton, approves the marriage and plans to welcome Johnny into the Seton finance business. Following comedic interactions and acrobatic stunts, Johnny rejects Edward's offer, claiming he wishes to "retire young, work old" and travel the world. Upon witnessing Julia's horrified reaction, Johnny realizes that he loves Linda, and the two embark on their extended "holiday."
While admirable in its rebuke of the American pursuit of wealth, Holiday ultimately portrays two young, attractive individuals who obtain happiness due to their social privilege and access to enormous wealth. It is not surprising that Holiday furthered Hepburn's status as a "box office poison." Perhaps the Depression-era audience was not too keen on a film that celebrates the abandonment of a steady paycheck for an ocean liner voyage?
Today, the ability to embark on a carefree holiday around the world seems out of reach for most. For young professionals with a staggering amount of student loans, aspiring homeowners entering an unwelcoming housing market, or working-class families struggling to make ends meet, the rejection of a stable paycheck may seem difficult to stomach.
Julia Seton summarizes my thoughts on Holiday perfectly – "Johnny, what's the matter with you?"