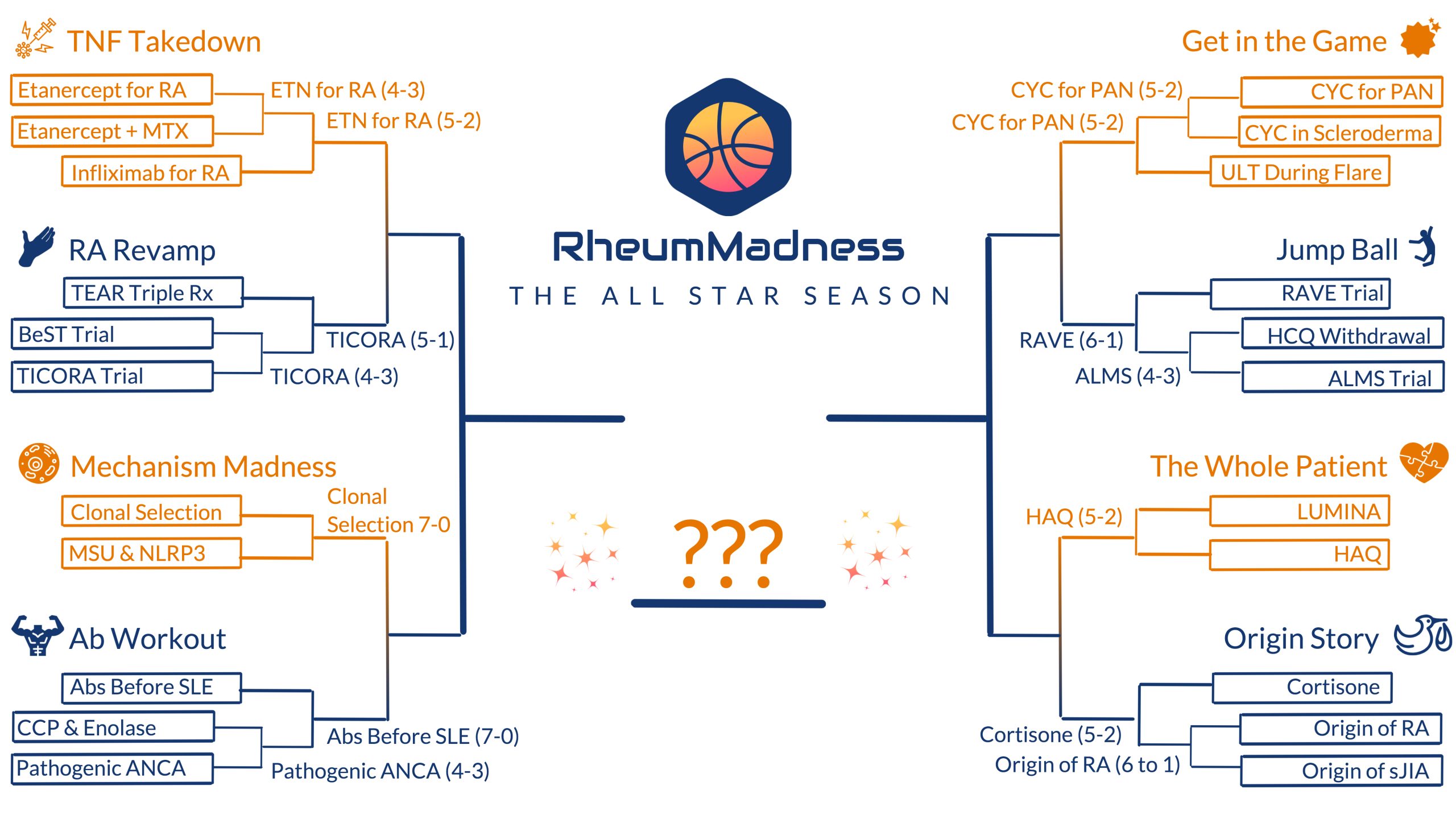 The second round of RheumMadness was full of upsets and a few surprising blowouts. To see how your bracket is doing, head over to the RheumMadness Tourneytopia website.
Results for reach matchup in the second round are reviewed below, including how the  Blue Ribbon Panel (BRP) voted compared to participant picks. Huge thanks to our amazing panel for their thoughtful consideration.
Match-up 1: Etanercept for RA defeats Infliximab for RA (5-2)
This was the match-up everyone wanted to see. Infliximab was the first anti-TNF molecule ever studied for RA, and etanercept was the first anti-TNF agent approved by the FDA for the treatment of RA. In the end, etanercept took the win 5 to 2.
In support of Etanercept for RA, the BRP said, "TNFi vs TNFi. Both seminal studies but ETN shot to popularity in use due to convenience."
In contrast, a BRP member who voted for infliximab had this to say: "The transformational aspect as first human biologic TNF but also showing disease modification which was critical."
Did they get it right? According to participant picks, 39% picked Etanercept for RA and 37% picked Infliximab for RA (the remainder picked Etanercept + MTX which lost in Round 1). So in the end, most participants agreed with the panel, but JUST BARELY!
Match-up 2: TICROA defeats TEAR Triple Rx (5-1)
This was, at least according to participants, another huge upset. According to the Blue Ribbon Panel (BRP), TICORA had no trouble defeating TEAR Triple Rx, even with Dr. Worthing abstaining from the vote again. TEAR Triple Rx only mustered one vote.
BRP comments in support of TICORA: "T2T was the game changer that changed how we approached all future studies."
However, participants did NOT agree, with 43% of all participant brackets picking TEAR Triple Rx in this round versus 35% who supported TICORA. The remaining 22% picked BeSt, which lost in round 1.
So who got it right? The panel or the participants? Use #RheumMadness to tell us what you think.
Match-up 3: Clonal Selection destroys MSU & NLRP3 (7-0)
Wow. This was another huge upset. According to the BRP, the mechanism madness region was a blowout, with Clonal Selection receiving every single BRP vote. Here's what the BRP had to say:
"This team has some of the best fundamentals of the whole tournament. Well earned Nobel for a doctor Burnet. But the inflammasome was critical."
"Fundamental theoretical paper."
Yet again, the majority of participants did NOT agree, with only 44% picking Clonal Selection and 56% picking MSU & NLRP3!
We are sure no one will have any strong opinions about this on social media 🙂
Match-up 4: Abs Before SLE defeats Pathogenic ANCA (7-0)
Another blowout, this time in the Ab workout region, with Abs Before SLE receiving all 7 BRP votes. Sounds like myeloperoxidase, considered by some to be the Most Villainous Protein (MVP) of the tournament, didn't come ready to play this round.  Here's what the BRP had to say:
"Both scouting reports are stuffed full of outstanding hoops references and transformational, novel data. But Abs Before SLE pulled away down the stretch by influencing the care of millions more people with preclinical positive test results."
"Higher conceptual impact in rheumatology."
"The concept of antibody formation leading to disease led to the search for other "pathogenic" antibodies in other diseases."
This time, participants agreed, with 67% picking Abs Before SLE versus just 16% picking Pathogenic ANCA. Interestingly, those who chose CCP & Enolase remained faithful to their team, with 17% picking it to win the entire region. Oh well, nice try!
Match-up 5: CYC for PAN defeats ULT During Flare (5-2)
Now this was an interesting upset. CYC for PAN defeated ULT During Flare in BRP votes, 5-2, however the majority of participants disagreed.
Here's why the BRP chose CYC for PAN:
"John Stuart Mill and the utilitarian philosophers step into the arena with this classic test of saving the lives of a few vs improving the lives of many. CYC for PAN wins in double overtime when Coach Fauci dramatically leaves a man under the hoop to cherry pick 17 times while ULT sticks with its deliberate, controlled study all game."
"Use of cyclophosphamide has greater impact across many diseases in rheumatology."
In contrast, one member of the BRP who voted for ULT During Flare said this: "If there is one thing we continually have to teach and reteach non rheumatologists, it is this."
The majority of participants disagreed with the BRP, with 46% picking ULT During Flare, and just 25% picking CYC for PAN. The remaining 29% picked CYC for Scleroderma, suggesting their fanbase is more loyal than CYC for PAN.
Match-up 6: RAVE defeats ALMS Trial (6-1)
The Jump Ball region was certainly not a toss-up. RAVE dominated the ALMS Trial in BRP votes, 6-1.
Comments from the panel in support of RAVE: "RAVE more strongly disrupted standard of care, and the scouting report was just too good for RAVE."
In contrast, the lone BRP who voted for ALMS had this to say: "Best matchup yet! RAVE may have one of the best names in the tourney, but it I think it loses in a squeaker to ALMS, who showed up to practice and ultimately gave patients an oral option for life-changing treatment,"
The majority of participants agreed with the BRP, with 61% picking RAVE to win this region. Interestingly, only 14% of participants picked the ALMS Trial to win this region, compared with 25% of participants who stayed true to HCQ Withdrawal despite its early exit in round 1. The bottom line? Rheumatologists sure love their rituximab and hydroxychloroquine!
Match-up 7: HAQ defeats LUMINA (5-2)
Another region, another upset, this time in The Whole Patient Region. Here, the BRP picked HAQ over LUMINA, 5-2. Comments from the panel in support of HAQ:
"Foundational for patient reported outcomes."
"Post-game interview said it all. 40 years hence, every one of my patients completes a HAQ. Teams in other regions are trembling — except RA Revamp!"
Participants disagreed, with 54% picking LUMINA and 46% picking HAQ. To us, it sounds like everyone is passionate about caring for The Whole Patient, with strong support for both teams!
Match-up 8: Cortisone defeats Origin of RA (5-2)
Finally, in the Origin Story region, Cortisone defeated Origin of RA 5-2, and the vast majority of participants agreed.  The main surprise of this region was that cortisone didn't all 7 votes!
According to the BRP in support of cortisone:
"Cortisone wins this rare, heartbreaking (because early) matchup of two powerhouses. We now know that cortisone would be effective for both primary asthenic gout and ordinary gout even if Dr. Landré-Beauvais hadn't distinguished the two."
"The mainstay of our treatment paradigms and the story of its discovery is amazing. Talk about a shift in how rheumatology was approached!"
"Glucocorticoids are the currency of rheumatology."
The overwhelming majority of participants agreed, with 86% picking Cortisone, 11% picking Origin of RA, and 3% remaining true to Origin of sJIA.
What's up next?
Results for the next 3 rounds will be released on the following dates:
Round 3: Tuesday, March 28 (the Entheseal Eight)
Round 4: Saturday, April 1 (the IgG Four)
Round 5: Monday, April 3 (the Interleukin Two, aka the championship!)