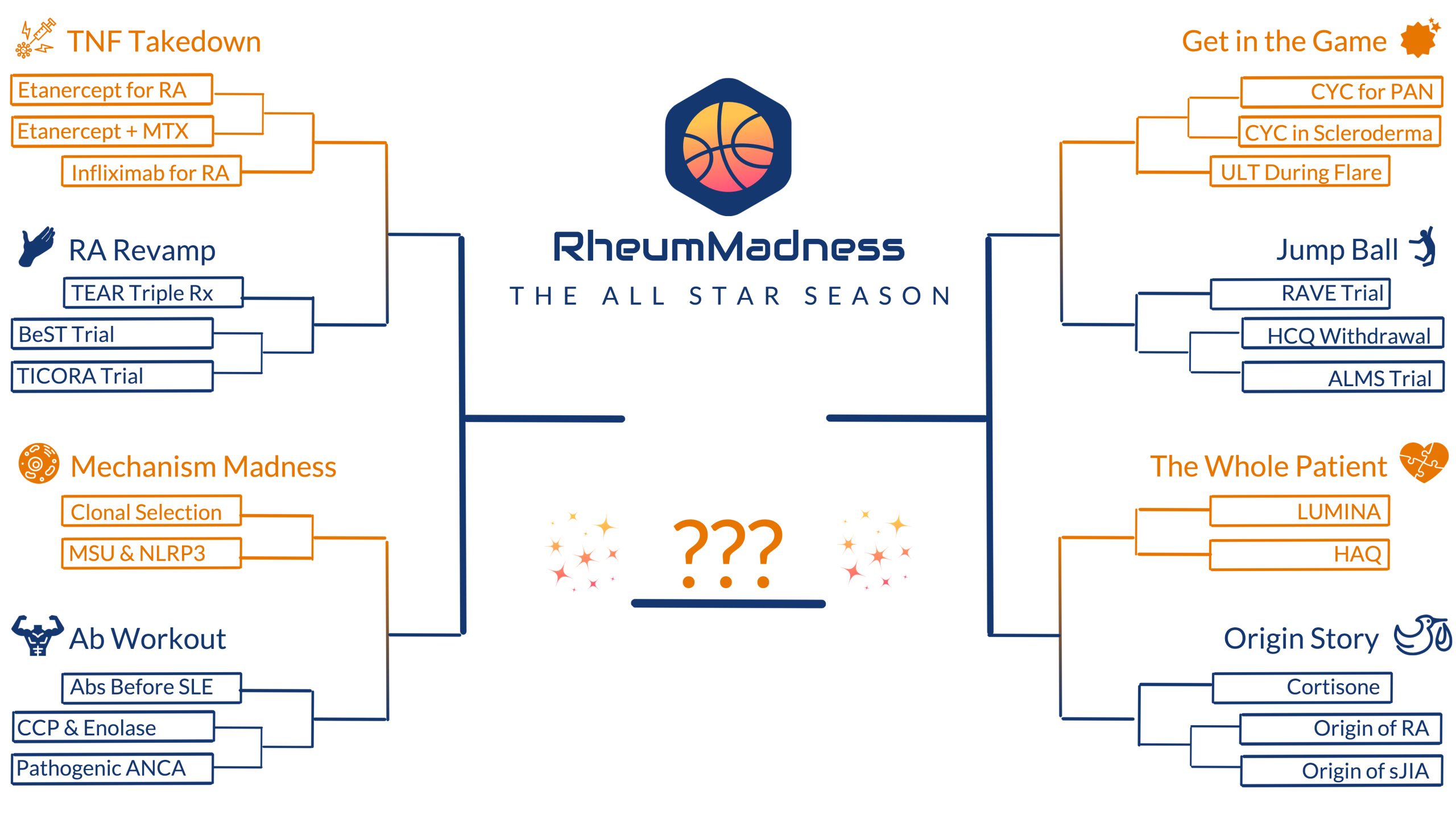 The All Star Season is here!  This year, the scouting reports were authored by 123 collaborators from 19 fellowship programs and 2 private practice groups, including 76 fellows, 40 faculty, 4 residents, and 3 medical students. What an amazing collaboration!
Below, we have listed all of the scouting reports for the 2023 tournament. When you're ready, head over to the tournament website and submit your picks.
Use the links below to access each scouting report
Etanercept for RA, by the Ohio State Fellowship Program
Etanercept + MTX, by the University of Chicago Fellowship Program
Infliximab for RA, but the University of California San Diego Fellowship Program
TEAR Triple Rx, by the UT Southwestern Fellowship Program
BeSt Trial, by the Medical University of South Carolina Fellowship Program
TICORA Trial, by the Arthritis & Rheumatism Associates Practice, Washington DC
Clonal Selection, by the Vanderbilt University Medical Center Fellowship Program
MSU & NLRP3, by the Geisinger Medical Center Fellowship Program
Abs before SLE, by the Massachusetts General Hospital Fellowship Program
CCP & Enolase, by the University of South Florida Fellowship Program
Pathogenic ANCA, by the University of North Carolina Fellowship Program
CYC for PAN, by the Allegheny Health Network Fellowship Program
CYC in Scleroderma, by the Louisiana State University Shreveport Fellowship
ULT During Flare, by the Medical College of Wisconsin Fellowship Program
RAVE Trial, by the Wake Forest Fellowship Program
HCQ Withdrawal, by Bryn Mawr Medical Specialists Association Practice
ALMS Trial, by the University of Alabama and Birmingham Fellowship Program
LUMINA, by the Northwestern University Fellowship Program
HAQ, by the RheumMadness Leadership Team
Cortisone, by the University of Colorado Fellowship Program
Origin of RA, by the Duke University Fellowship Program
Origin of sJIA, by the Montefiore Pediatric Fellowship Program
Ready to make your picks?

Note: you will be taken to an external website (Tourneytopia) where the RheumMadness tournament actually takes place.  If you have not submitted a RheumMadness bracket before, you will need to register.
The RheumMadness OnePager
Need a quick review of the teams as you make your picks? We collaborated with Dr. Mithu Maheswaranathan (@MithuRheum), creator of @RheumOnePagers to create an infographic reviewing the entire bracket in one page. Check it out below.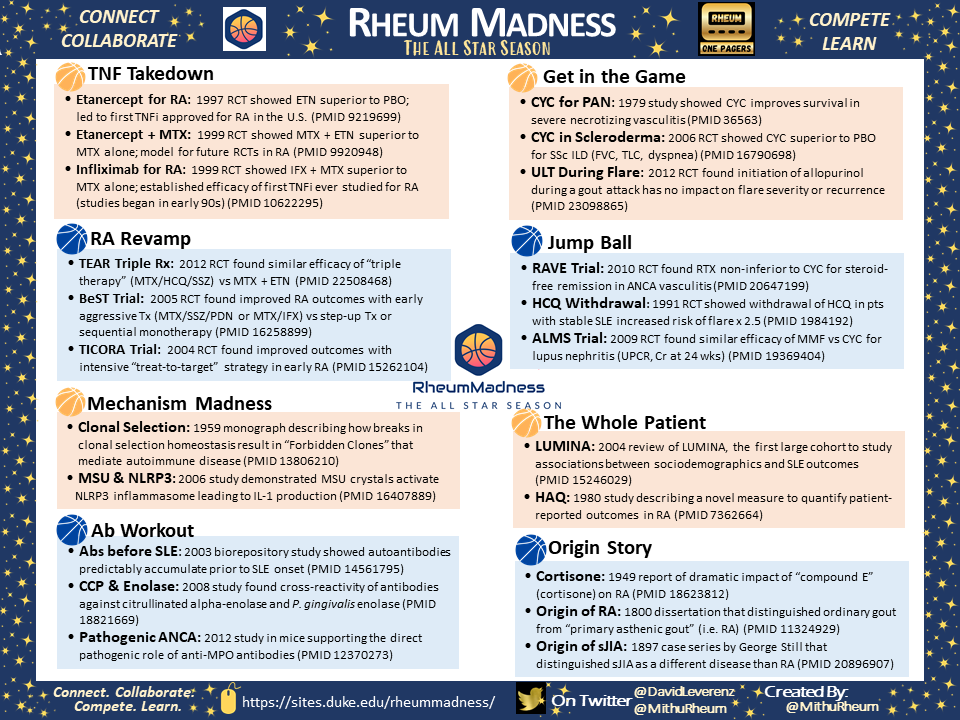 Scouting Report Archive
Looking to find your favorite scouting report from a prior year?  See links below.
2022: Click here to access the bracket and scouting reports from RheumMadness, Planet of the Rheumatologists
2021: Click here to access the bracket and scouting reports from the first season of RheumMadness