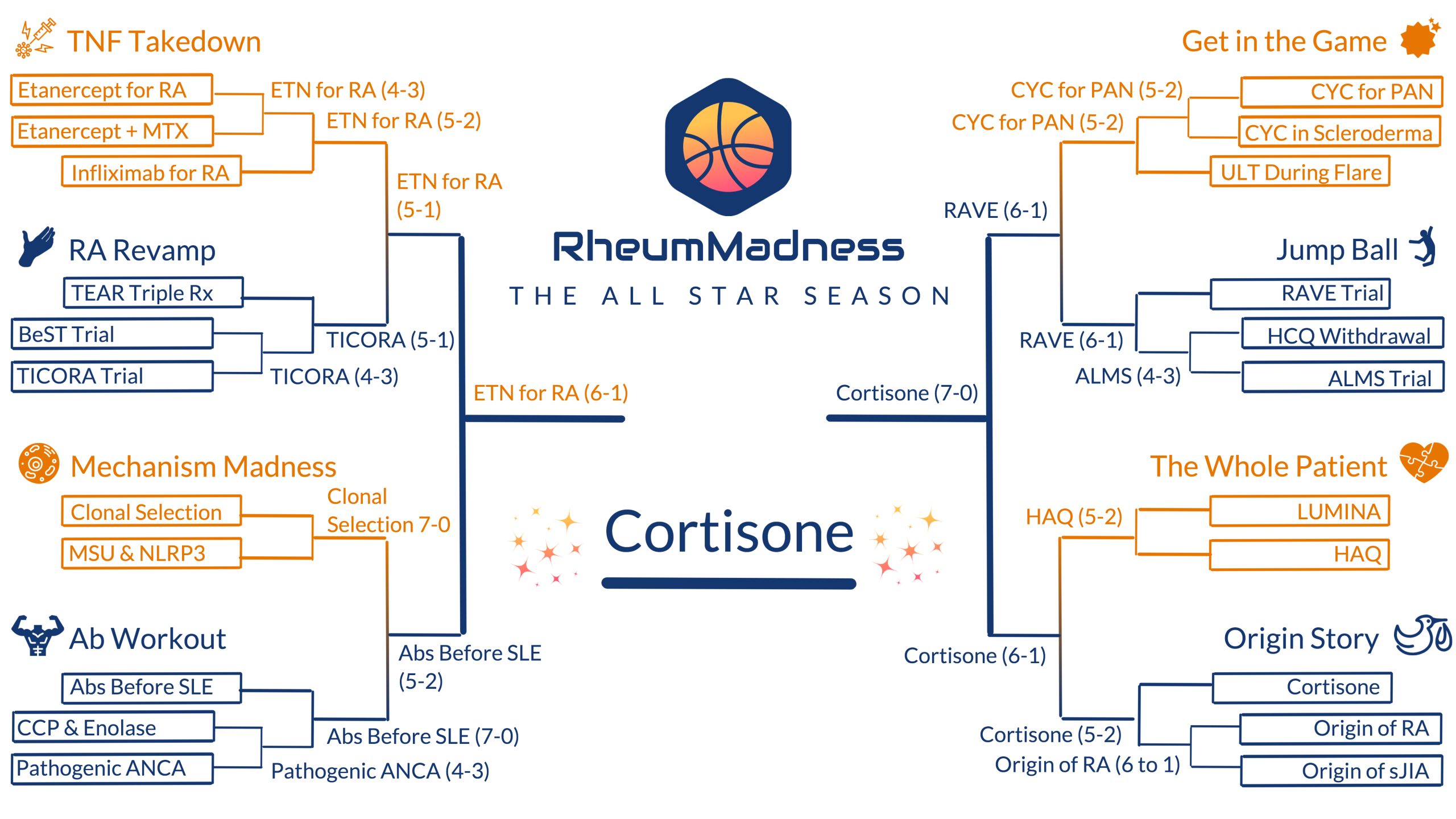 What an amazing All Star Season. In the end, Cortisone cut down the nets as the most important and transformational article ever written in the field of rheumatology.
To see how your bracket did, head over to the RheumMadness Tourneytopia website.
Below is a detailed analysis of the entire tournament.  We'd also like to highlight all the amazing people who collaborated to make this tournament the best one yet – see below.
Final Match-up: Cortisone defeats Etanercept for RA (4-3)
This was almost a huge upset – Cortisone barely beat Etanercept for RA in a 4-3 nail-biter according to Blue Ribbon Panel (BRP) votes. Here is what the BRP had to say about this year's winner:
"A championship for the ages! Both teams made spectacular, innovative plays (ie new mechanisms of action), took care of the ball (patient care) hit their free throws down the stretch (persistently effective). But cortisone has touched more lives across a broader array of diseases for a longer time, so it cuts down the nets for me."
"Nobel Prize aside…it was cortisone that changed all our thinking in rheumatology. Every drug developed since cortisone was an effort to mimic its benefits and minimize the cortisone toxicity."
"Etanercept led the way for biologics, but let's not forgot who started it all. The fact that so many of our current efforts are targeted toward minimizing steroids just highlights their importance in our field. A flashy Noble prize doesn't hurt as well."
"While everyone in rheumatology has a love / hate relationship with glucocorticoids, no other discovery has advanced therapeutics in our field to a greater degree."
Despite Cortisone being the heavy favorite, Etanercept for RA made it close. Here is what the BRP had to say in favor of Etanercept for RA:
"It goes without saying that this final was a very difficult matchup. There's no doubt regarding the force that 'cortisone' has brought to the rheumatology world, and we all knew from the beginning it was a favorite in the tournament as it has been in previous years. However, every one loves an underdog story, and perhaps 'Etanercept for RA' was the one needed to dethrone 'cortisone'.Etanercept for RA' changed the treatment landscape for RA, very much triggering the biologic renaissance in rheumatology. No easy task, and to make such a revolutionary impact demands the respect it rightfully deserves."
"TNF inhibitors ushered in the era of durable responses for patients with RA, with e a remarkable safety profile. Rheumatology has never been the same."
Did they get it right? Here's a breakdown of all participant picks for the winner of RheumMadness 2023: The All Star Season. Basically, once you made it past cortisone, it was anyone's game!
| | | |
| --- | --- | --- |
| Team Name | Votes (N) | % |
| Cortisone | 56 | 39% |
| Abs before SLE | 13 | 9% |
| RAVE | 12 | 8% |
| TICORA | 9 | 6% |
| Etanercept for RA | 8 | 6% |
| LUMINA | 7 | 5% |
| TEAR Triple Rx | 5 | 4% |
| Pathogenic ANAC | 4 | 3% |
| Clonal Selection | 4 | 3% |
| HCQ Withdrawal | 3 | 2% |
| Infliximab for RA | 3 | 2% |
| MSU & NLRP3 | 3 | 2% |
| HAQ | 3 | 2% |
| Etanercept + MTX | 2 | 1% |
| CCP & Enolase | 2 | 1% |
| ALMS Trial | 2 | 1% |
| CYC for PAN | 2 | 1% |
| ULT During Flare | 2 | 1% |
| BeSt | 1 | 1% |
| Origin of RA | 1 | 1% |
| Origin of sJIA | 0 | 0% |
| CYC in Scleroderma | 0 | 0% |
Participant Winners
This year, we received 142 bracket submissions from participants in 13 different countries. Here's a breakdown of who submitted a bracket for RheumMadness 2023:
Attending: 44%
Fellow: 26%
Resident: 13%
Medical Student: 5%
APP: 3%
Patient/interested citizen: 3%
Other health care professional: 1%
Chose not to answer: 5%
Prizes are awarded for participants who submitted a bracket in three categories: 1) Attending / APP, (2) Fellow, and (3) Resident / Medical Student. Members of the RheumMadness Leadership team are not eligible to receive these prizes. This year, the prizes go to:
Attending / APP: RobShmerling (41 points, link shows their bracket)
Fellow: lveder8 (40 points, link shows their bracket)
Resident / Medical Student: Gmaldonado (39 points, link shows their bracket)
Thank you so much to everyone who played!
Time to Say Thank You
This was our biggest season ever, which means we have so many people to thank. First, thank you to the Rheumatology Research Foundation for supporting this project with the Clinician Scholar Educator (CSE) Award.
We would also like to thank the leaders of NephMadness for allowing us to borrow their amazing educational model to create RheumMadness.
Thanks to the Scouting Report Authors
The real all stars of RheumMadness are the scouting report authors who create reviews of each team in the tournament. This year, the scouting reports were written by 123 collaborators from 19 fellowship programs and 2 private practice groups, including 76 fellows, 40 faculty, 4 residents, and 3 medical students. What an amazing collaboration! Thank you to all those who wrote the scouting reports for each team, as follows:
Etanercept for RA, by the Ohio State Fellowship Program
Etanercept + MTX, by the University of Chicago Fellowship Program
Infliximab for RA, but the University of California San Diego Fellowship Program
TEAR Triple Rx, by the UT Southwestern Fellowship Program
BeSt Trial, by the Medical University of South Carolina Fellowship Program
TICORA Trial, by the Arthritis & Rheumatism Associates Practice, Washington DC
Clonal Selection, by the Vanderbilt University Medical Center Fellowship Program
MSU & NLRP3, by the Geisinger Medical Center Fellowship Program
Abs before SLE, by the Massachusetts General Hospital Fellowship Program
CCP & Enolase, by the University of South Florida Fellowship Program
Pathogenic ANCA, by the University of North Carolina Fellowship Program
CYC for PAN, by the Allegheny Health Network Fellowship Program
CYC in Scleroderma, by the Louisiana State University Shreveport Fellowship
ULT During Flare, by the Medical College of Wisconsin Fellowship Program
RAVE Trial, by the Wake Forest Fellowship Program
HCQ Withdrawal, by Bryn Mawr Medical Specialists Association Practice
ALMS Trial, by the University of Alabama and Birmingham Fellowship Program
LUMINA, by the Northwestern University Fellowship Program
HAQ, by the RheumMadness Leadership Team
Cortisone, by the University of Colorado Fellowship Program
Origin of RA, by the Duke University Fellowship Program
Origin of sJIA, by the Montefiore Pediatric Fellowship Program
Thanks to The Rheumatologist
Thank you to the editorial staff of The Rheumatologist for their amazing support of RheumMadness over the last 3 years, including this article highlighting the 2023 tournament:
Thanks to theMednet.Org
We would also like to thank theMednet.org for collaborating with us to create even more content for this year's RheumMadness tournament. theMednet.org is a physician only site providing a space for physicians to tackle difficult clinical questions and see how colleagues are practicing. theMednet is featuring select Q&A relevant to articles in our 2023 tournament, providing a space for further discussion and polling around clinical application. They offer free CME and MOC credit for reviewing this material. Register here for a free account with full access to the theMednet site. After registering, click here to find RheumMadness content on theMednet, with Q&A about the following topics:
Thanks to the 2023 Blue Ribbon Panel
Next, we'd like to thank our amazing Blue Ribbon Panel (BRP). This panel worked hard to review each article and scouting report, and they didn't mind taking the heat for all those upsets in the early rounds. Thank you so much to our panelists!
Thanks to the 2023 RheumMadness Leadership Team
Finally, we'd like to thank all the members of the RheumMadness Leadership Team for the 2023 tournament.
Finally, thank YOU for playing.  We can't wait to do this again next year!