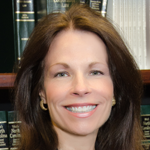 Tamara Barringer
Associate Justice, NC Supreme Court, and Professor, UNC-CH Kenan-Flagler Business School; Former State Senator
Tamara Patterson Barringer is an Associate Justice of the North Carolina Supreme Court. She is also a Clinical Associate Professor of Legal Studies at the UNC-CH Kenan-Flagler Business School, where she primarily teaches law and ethics in the Master of Accounting Program. Tamara also teaches in the Kenan-Flagler Undergraduate Program and serves as the Lead Faculty for the MAC Mentorship Program, which she founded almost a decade ago to introduce careers in accounting and business to first-generation and underrepresented minority undergraduate students.
Tamara served almost seven years in the North Carolina Senate, representing District 17, Southern Wake County. A recognized leader in the State Senate, Tamara served as Chair of the Senate Judiciary Committee and Chair of Appropriations for the General Government and Information Technology Committee. As a member of the Senate Finance Committee, she played a pivotal role in drafting and evaluating tax and financial legislation.
During her time in the Senate, Tamara authored and sponsored 32 bills which are now law. These bills, ranging from the Foster Care Family Act to the Business Court Modernization Act, ALL passed almost unanimously in both the House and Senate, receiving very broad bipartisan support across the ideological spectrum.
As the former managing partner of the Barringer Law Firm, LLP, Tamara has over 25 years' experience serving entrepreneurs and small business clients in business and tax law, estate planning, and estate administration. She graduated with highest honors from the Kenan-Flagler Business School and graduated with honors from the University of North Carolina School of Law.
Tamara and her husband Brent served as therapeutic foster parents for the Methodist Home for Children for 10 years. This experience has greatly shaped her life and that of her family. Tamara and Brent are the parents of Jessica (27), John Charles (21), and Emily (18).