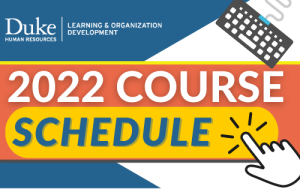 Our 2022 catalog is here!
Course offerings for 2022 have been posted and are ready for registration! To view a list of available courses, please click HERE!
Wait Lists
L&OD strongly recommends using the waitlist feature in the LMS for two reasons:
If someone drops the class, individuals on the waitlist will be offered the seat in the order in which they registered. The waitlisted person can accept or decline the offer online or by phone. If they decline, the next person on the waitlist will then be contacted.
When there are enough participants on a waitlist, we do our best to schedule another class as soon as possible. Those individuals will be invited to participate in the new class before it is opened to everyone. L&OD can only add classes if we know there is interest. 
Payment Information
Payment details must be provided for classes that have a fee. Many departments can provide time off and/or funds to cover the cost of job-related training; please check with your supervisor.
Upon registration, the LMS will email a confirmation notice prompting you to provide your department's cost object number (a.k.a. fund code). A personal check or money order made out to "Duke Learning and Organization Development" is also acceptable; please pay at L&OD's offices at 402/406 Oregon Street no later than five business days before the class date.
If a method of payment is not provided prior to an L&OD class, the employee's default department cost object number will automatically be charged. 
Cancellation / No Show Policy
If you can no longer attend your class, it must be dropped in the LMS at least four business days before the course.  Drops after that time must contact L&OD directly to receive a credit towards a future offering of that exact course or forfeit the payment.  Remember to also account for any official Duke holidays, and be careful with transitions from one month to the next when figuring out your last drop day.