Graduate Student Teaching Assistants 
Gabriela Nagle Alverio is a J.D. – Ph.D. candidate in the University Program in Environmental Policy (UPEP) with a concentration in Political Science. Her research interests broadly include the impacts of climate change on human rights and the legal and policy solutions therein. Her dissertation research focuses on climate-induced migration. She holds a B.A. in International Relations, a B.A. in Feminist, Gender, and Sexuality Studies, and an M.A. in Environmental Communications from Stanford University.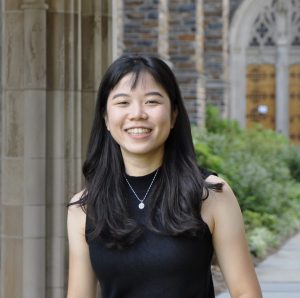 Shih-Husna Liao (Ina) is a second-year Master of Environmental Management candidate at Nicholas School of the Environment, concentrating in Energy and Environment. This summer, she worked as an EDF Climate Corps Fellow, helping S&P Global develop an internal carbon pricing strategy and nature risk profile to achieve the reduction targets and enhance sustainable procurement practices. Before coming to Duke, she worked as an NDC working group member at Taiwan Youth Climate Coalition, assisting the Executive Yuan in developing a national net-zero roadmap. Ina holds a Bachelor of Arts in Public Administration and Policy from National Taipei University. Her research interest focuses on how financial incentives facilitate renewable energy integration and reduce the adverse effects of energy transitions
Student Participants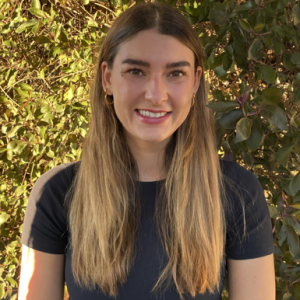 Brook Hemphill is a first-year Master of Forestry candidate at the Nicholas School of the Environment at Duke University. Before joining Duke, Brook worked for Architecture for Reducing Emissions from Deforestation and forest Degradation (REDD+) Transactions (ART), where she managed the carbon credit registry and provided support to the technical and policy teams in reviewing REDD+ documents from various subnational and national jurisdictions. During this time, Brook also served as an intern at TreePeople, where she contributed to reforestation projects aimed at rehabilitating previously degraded and deforested forest ecosystems in the Angeles National Forest. She holds a Bachelor of Science in Ecosystem Management and Forestry from the University of California, Berkeley, and a Certificate in Forest Carbon Management from the University of British Columbia.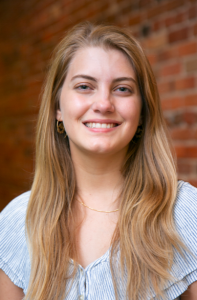 Cecilia de la Guardia is a senior undergraduate student majoring in economics and public policy with a certificate in energy & environment. She is passionate about working towards a just and clean energy transition. Ceci is currently interning with Heelstone Renewable Energy, a utility-scale solar & storage developer, and helping to plan the 2023 Duke Energy Week. Through the Duke Undergraduate Energy Club, she has worked on consulting projects for various clean tech startups including Fervo Energy, 8 Rivers, and Terrafuse AI. Ceci has also conducted research on waste-to-energy solutions through Bass Connections, and on Paraguayan hydroelectricity/hydropolitics through Duke Engage. Ceci hopes to learn more about international climate finance and economics through this practicum.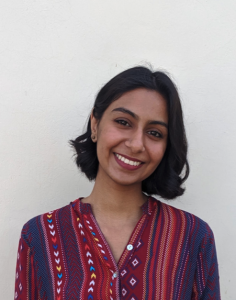 Dania Nasir is in her second year of the Master of Environmental Management, concentrating on Environmental Economics and Policy. Dania holds a BSc. in Economics, with a minor in Anthropology and Sociology from Lahore University of Management Sciences. Since graduating, she has interned with the Acceleration Lab at UNDP Pakistan, worked at a design lab on creating a Child Protection Information Management System for UNICEF Pakistan, and worked in an environmental consultancy for international clients to understand ESG disclosure laws. This summer, she was in a rural village in Madagascar collecting data for her master project. Dania will be conducting a program evaluation on the Duke Lemur Center's Gardening and Chicken Husbandry workshops in Ambodivoara, Madagascar. She is passionate about exploring solutions for the impact of climate change on rural and marginalized/minority communities in developing countries and plans to work towards creating sustainable and equitable solutions.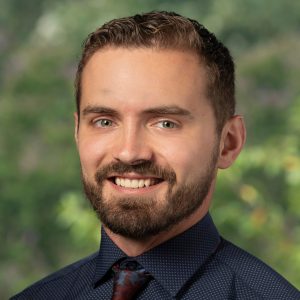 Dylan Moore is a second year Master of Public Policy student at the Sanford School of Public Policy. Originally from Pullman, Washington, Dylan earned his Bachelor of Science in Biochemistry from the University of Washington in Seattle. Dylan then joined Teach For America Memphis, where he taught biology and environmental science to the brilliant youth of the Westwood and Whitehaven communities. While in Memphis, Dylan engaged in community organizing, served as a Leadership for Educational Equity Fellow, and worked as a policy researcher on the mayoral campaign of County Commissioner Tami Sawyer. Dylan Moore then transitioned fully into policy work, working as a legislative staffer in the U.S. House of Representatives for then-Majority Whip James Clyburn, where he covered a diversity of policy issues including climate and the environment, manufacturing, financial services, and higher education. At Duke, his focus is on understanding how policy can better promote economic justice and facilitate human flourishing. During the summer of 2023, he participated in the Duke Global Policy Program in Geneva, supporting capacity building projects within the Division for Multilateral Diplomacy at the United Nations Institute for Training and Research.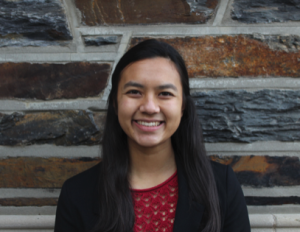 Emily Nagamoto is a seniorundergraduate studying Earth & Climate Science and Computer Science, minoringin Environmental Science & Policy. She is fascinated by the intersection of climate science,health and societalimpacts, and data science. After working as a research intern for both the Department of Energy at a national laband the Department of Commerce with the National Weather Service, she is interested in government science and the integration of climate science and policy. In this practicum, she looks forward to learning more about international climate change negotiations, particularly the role of data and how legal accountability operates. On campus, she is the president of the Undergraduate Environmental Union, a Green Devil internwith the Office of Sustainability, and a producer with the student-run podcast Operation Climate.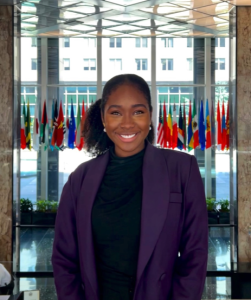 Eni Owoeye is a first-generation Nigerian-American and a first year MPP student in the Sanford School of Public Policy. She graduated from New York University in 2022 with a dual degree in International Relations and Environmental Science with a minor in Spanish and Portuguese.  Eni gained work experience at the United Nations Foundation, the National Oceanic and Atmospheric Administration, and the Department of State among other nonprofit organizations. Eni enjoys working on ocean-climate-related issues and used her research in the shipping industry to further expand her repertoire of environmental issues while capturing concerns such as public health and labor rights. She also served as the co-chair for the first cohort of the U.S. Youth Advisory Council to the U.N. Ocean Decade.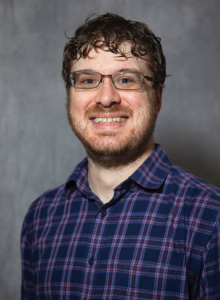 Ian Hitchcock is a current Master of Public Policy Student at the Sanford School of Public Policy at Duke University, and recently worked as an Environmental Protection Specialist for the Environmental Protection Agency (EPA) Air Quality Policy Division (AQPD). He grew up in rural Wyoming, where the rugged beauty of the Greater Yellowstone Ecosystem sparked his love for wild places. After graduating from Marlboro College in 2016, Ian worked in the Senate Office of Senator Bernie Sanders and tracked energy and climate policy for Renewable Energy Vermont (REV) before serving as an AmeriCorps Member with the Vermont Energy and Climate Action Network (VECAN) and supporting climate action on the local level. That work led him to a position with the Vermont Natural Resources Council (VNRC) as Energy and Climate Program Coordinator, where he helped to secure passage of the Vermont Global Warming Solutions Act.
Juan Pablo Quintero is a third-year MEM/MBA student at the Nicholas School of the Environment and the Fuqua School of Business. He completed his undergrad in Finance, Marketing, and Environmental Science at the NYU Stern School of Business. His main academic interests are the overlap between business and climate, with a focus on driving large-scale organizational change in Fortune 500 companies. At Duke, he has completed research on the blue economy and climate policy, and is interested to see how these topics intersect at the COP28 negotiations in Dubai.  He completed his MEM internship at the North Carolina chapter of the Sierra Club and his MBA internship at McKinsey & Company in Chicago. He will be returning to McKinsey full time after graduating. In his spare time, he enjoys playing with puppies and long walks on the beach.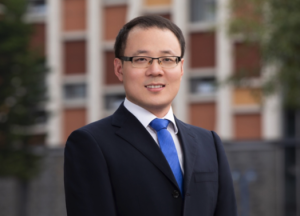 Ji MA is reading the Doctor of Juridical Science program at Duke University Schoolof Law. He also works as a Research Associate with the China, Law and Development Project at Oxford University, and as an affiliated fellow with the Information Society Project at Yale Law School. Previously, he was a Senior C.V. Starr Lecturer at Peking University School of Transnational Law and was awarded Excellence Award for histeaching. His interests are in international economic law and international environmental law. His articles have appeared in the Review of European, Comparative & International Environmental Law, Journal of World Investment & Trade, Vanderbilt Journal of Transnational Law, among others. He has presented at Yale, Oxford, ChineseUniversity of Hong Kong, Peking University, Renmin University, and Fudan University. And he had been interviewed by The Guardian as well as China Global Television Network.
Kalipa Gedion is a 2nd-year Global Health Master's student at Duke Global Health Institute. He completed his medical degree at Hubert Kairuki Memorial University in his home country Tanzania. Since an undergrad, Kalipa has been affiliated with the Ministry of Health and NGOs in promoting healthcare access and combating infectious diseases. He has worked with Management and Development for Health NGO and was responsible for the uptake of COVID-19 vaccination among HIV clients in Temeke District. He was the content developer for the mHealth app at Mobile Afya Organization. Due to his research and societal contributions, he was awarded the AIDS Youth Leader 2022 by the International AIDS Society. As he is currently investigating factors that influence Myocardial Infarction (Heart Attack) in Northern Tanzania, he has noticed the gap in measuring climate-related causes that influence cardiovascular diseases. He yearns to bridge the gap, along with improving the understanding of the linkage between climate and health among health professionals and policymakers.
Katie Maxwell is a first-year Master of Environmental Management student concentrating in Environmental Economics & Policyand Energy & Environmentto ensure the transition to a clean energy economy is equitable, centeringthe needs of communities disproportionately burdened by the impacts of climate change. She currently serves the Nicholas Institute for Energy, Environment & Sustainability as its 2023-2024 Communications Graduate Assistant. Prior to beginning her studies at Duke University, Katie was the Communications Senior Coordinator for Faith in Place and the Faith in Place Action Fund. The proud affiliate of Interfaith Power & Light, Faith in Place and its Action Fund work across Illinois, Indiana, and Wisconsinto advance environmental justice in a multifaith context. Based in Chicago, Illinois, Katie's nearly six-year tenure at Faith in Place in both outreach and communications positions began as a Lutheran Volunteer Corps service-year, which emphasized simple, sustainable living, intentional community, and spirituality. Shemanaged Faith in Place's then Winter Farmers Market program during its 2017-2018 season. A 2017 graduate of St. Olaf College in Northfield, Minnesota, she holds a Bachelor of Arts degree in Environmental Studies (Social Science Emphasis) and German, along with a Management Studies concentration. Katie is a passionate climate activist and storyteller who leans into the ways intersecting identities (including gender, race, age, and spirituality) inform a person's relationship to the environment. She hopes to learn about how the UNFCCC's Action for Climate Empowerment (ACE) creates a framework for young people to fully participate in the transition to a clean energy economy so they can lead abundant, healthy lives.
Kimberly Ludeña is a Master of Environmental Management student at the Nicholas School of the Environment, concentrating in Energy and Business. Kimberly holds a BSc. in Industrial Engineering, from Pontificia Universidad Catolica del Peru. She has 7 years of consulting experience, and her recent projects include GHG verifications, evaluations to reduce Scope 1 and 2 in companies, and Scope 3 quantifications for mineral, Oil & Gas and food industries. She also worked in Hatch where she audited HSE procedure's implementation in Peruvian mines. Kimberly is passionate about accelerating the energy transition for developing countries, and she hopes to work at the intersection of sustainability and business.
Luna Abadia is a Public Policy undergraduate student. Her policy interests include climate mitigation and finance, gender justice, and technology accountability. Luna worked with the U.S. Mission to the U.N. and Department of State at the U.N. 67th Commission on the Status of Women, shaping internal policy negotiations regarding gender and technology ethics. She works on policy and advocacy on Plan International's Youth A
dvisory Board. Luna is also a fellow with the Duke Technology Policy Lab and non-profit Beyond the Screen, researching national security-related harms from Big Tech. Luna speaks publicly on climate advocacy. In the future, she hopes to work on human rights and international peace and security diplomacy.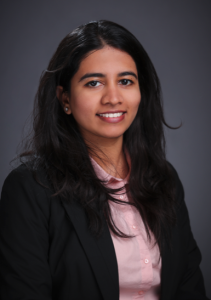 Meera Ayyagari is a Master of Environmental Management student at the Nicholas School of the Environment, with a concentration in Energy and Environment. This summer, she was an clean energy investment banker at Marathon Capital, where she performed banking due diligence along with building financial models and market research for wind and solar transactions. Prior to Duke, she worked as a subsea engineer at TechnipFMC, an international oil and gas company, where she was responsible for engineering design, development and product validation. Meera has also worked with various environmental justice organizations like the Duke Environmental Justice Network and Global Energy Access Network, where she focused on global energy access to developing nations. She is interested in the intersection of finance and climate change, with special focus on funding pipelines for low to middle income communities. She holds an undergraduate degree in Mechanical Engineering from the Chaitanya Bharathi Institute of Technology, India.
Paula Sarmiento is a Ph.D. student in Environmental Policy at the Nicholas School of the Environment and the Sanford School of Public Policy, specializing in Natural Resource Governance in Latin America. She grew up in Colombia and graduated with a Bachelor's and Master's degree in Economics. She has worked with national and sub-national institutions in Colombia, research institutions, and think tanks. Her experience spans quantitative and qualitative research domains, encompassing areas such as peacebuilding, trust and conflict analysis, water resource management in Paramo regions, public policy formulation, and impact evaluation. Her academic goals regard innovative policy design, specifically focusing on reshaping natural resource governance. As climate change elevates environmental issues and climate justice to the forefront of global discourse, she is dedicated to exploring novel approaches to address these critical challenges.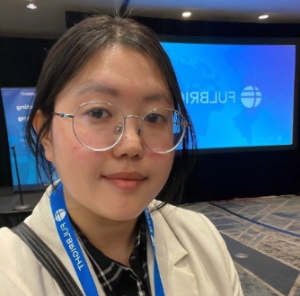 Tashi Choden is a second year Master in International Development Policy student at the Sanford Schoolof Public policy. She is a Fulbright fellow from Bhutan. Tashi holds a BA in English and EnvironmentalStudies from the Royal University of Bhutan. She has 6 years of work experience working in the Royal Government of Bhutan under various roles encompassing socio-economic development planning. Prior to her graduate studies at Duke, she worked as a Planning Officer with the Gross National Happiness Commission Secretariat of Bhutan on long-term perspective planning. Her interests lie in policy analysisand sustainable development. As a lifelong lover of nature, she seeks to delve deeper into environmentaland climate issues and shift towards a career that focuses on policies to address the urgent challenges of climate change, biodiversity loss, and promoting sustainability.
Faculty Sponsors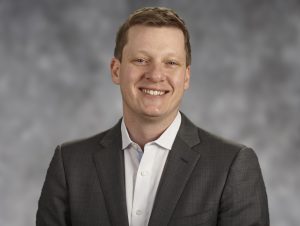 Jackson Ewing is director of energy and climate policy at the Nicholas Institute of Energy, Environment & Sustainability at Duke University. He is also an adjunct associate professor at the Nicholas School of the Environment and a faculty affiliate with the Duke Center for International Development at the Sanford School of Public Policy. He works closely with the Duke Kunshan University Environmental Research Center and International Masters of Environmental Policy programs to build policy research collaboration across Duke platforms in the United States and China.
Prior to joining Duke, Ewing was director of Asian Sustainability at the Asia Society Policy Institute in New York, where he led projects on Asian carbon market cooperation and sustainable resource development in the ASEAN Economic Community. He previously served as a MacArthur Fellow and head of the Environment, Climate Change and Food Security Program at Singapore's S. Rajaratnam School of International Studies, and has worked throughout Asia with actors in government, the private sector, civil society, and international organizations.
Ewing publishes widely through a range of mediums and is a regular contributor to radio, television and print media. He holds a doctorate in environmental security and master's degree in international relations from Australia's Bond University, and a bachelor's degree in political science from the College of Charleston.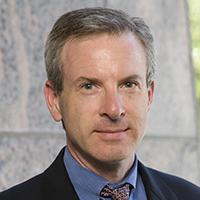 Jonathan B. Wiener is the William R. and Thomas L. Perkins Professor of Law at Duke Law School, Professor of Environmental Policy at the Nicholas School of the Environment, and Professor of Public Policy at the Sanford School of Public Policy, at Duke University.  Since 2015 he is the Co-Director of the Rethinking Regulation program at Duke. From 2000-05 he was the founding Faculty Director of the Duke Center for Environmental Solutions, now expanded into the Nicholas Institute for Environmental Policy Solutions, of which he served as chair of the faculty advisory committee from 2007-10.
Since 2002 he has been a University Fellow of Resources for the Future (RFF), the environmental economics think tank.  He is a member of the Scientific and Technical Council of the International Risk Governance Council (IRGC), and of the Chaire Economie du Climat (CEC).  He was a chapter lead author for the Intergovernmental Panel on Climate Change (IPCC), 5th Assessment Report, Working Group III, Chapter 13, "International Cooperation: Agreements and Institutions" (2014).  In 2015 he was a member of the Special Policy Study team on "Environmental Risk Management" for the China Council for International Cooperation on Environment and Development (CCICED).  In 2014-16 he was a member of the World Economic Forum's Global Agenda Council on Climate Change.
Before coming to Duke, he worked on U.S. and international environmental policy at the White House Council of Economic Advisers, at the White House Office of Science and Technology Policy, and at the US Department of Justice, serving in both the first Bush and Clinton administrations. He helped negotiate the Framework Convention on Climate Change, and attended the Rio Earth Summit in 1992. In 1993 he helped draft Executive Order 12866 on Regulatory Review. He received his A.B. in economics (1984) and J.D. (1987) from Harvard University.