Welcome to a new academic year at Duke Divinity School and a new season of Divcast episodes! We are excited to share conversations with new faculty members, those who have been woven into our community for years, alumni stories, and bonus episodes that we hope will help prospective students in their discernment.
Our Dean, Rev. Dr. Edgardo Colón-Emeric, was recently installed at our opening convocation service by Duke University provost, Dr. Sally Kornbluth. He joins Rev. Maberry (Senior Director of Admissions, Recruitment, and Student Finance and Divcast host), to talk about his vision for Duke Divinity School in 2021. We hope you are inspired, as we have been, by the promise and hope of new leadership as we work together to continue to build the cathedral that Duke Divinity School aspires to be.

Please read about or watch Dean Colón-Emeric's installation service on our Stories@DDS website.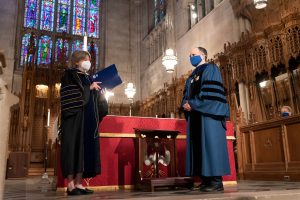 Download a transcript of this episode, listen to it below, or find the episode wherever you prefer to get your podcasts!