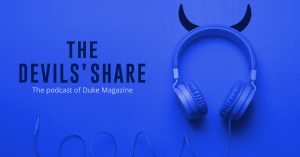 Duke Magazine is one of the most powerful ways Duke maintains its connection with alumni. In our constant interaction with alumni, we've been moved to share their voices more than five issues a year allow us to. What's more, we love the intimacy and connection that only sound, only the human voice can provide.
So we've started a podcast, The Devils' Share, in which we encourage alumni to share their stories and thoughts about topics that interest all Duke graduates, usually in not much longer than it takes to ride between campuses on the C1. Duke alumni have an enormous bounty of stories in their lives, their work, and their families. We believe they won't mind prov
iding a small portion of those stories to their Duke community: the Devils' Share, which we'll share with you.
In our first series we asked Duke alumni to think about their work lives, and the complexity of finding the path that led them where they needed to go. Thus, welcome to "Now What?" the first series of  Devils' Share podcasts. Please send us your thoughts at dukemag@duke.edu, subject line "podcast" or "Devils' Share." We'd love your thoughts. Meanwhile, please click here and enjoy "Now What?"
Apart from our themed series, we often tell stories from the Duke community in audio form, whether attending events or bringing to life some underconsidered aspect of the Duke community. For examples of those stories, please visit our Audio Postcards page.
If you'd prefer to go directly to the Soundcloud page on which our files reside, you can click here or on the Soundcloud logo on the upper right of every page. To subscribe on iTunes, click here.