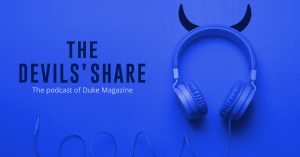 Duke Magazine is one of the most powerful ways Duke maintains its connection with alumni. In our constant interaction with alumni, we've been moved to share their voices more than four issues a year allow us to. What's more, we love the intimacy and connection that only sound, only the human voice can provide.
In our podcast, The Devils' Share, we encourage alumni (and students, faculty, and staff) to share their stories and thoughts about topics that interest all Duke graduates, often in not much longer than it takes to ride between campuses on the C1. People in the Duke community have an enormous bounty of stories in their lives, their work, and their families. We believe they won't mind providing a small portion of those stories to their Duke community: the Devils' Share, which we'll share with you.
Our most recent series followed along as Duke, in its commitment to anti-racism, introduced a new course putting questions about race — affirmative action, Critical Race Theory, whether race even exists as a biological reality — into the curriculum in a new course, University 101: The Invention and Consequences of Race. The Devils' Share followed the entire course in its first iteration. Now you can too by clicking here.
The series before this one connected with a special issue of DukeMag, in which the magazine staff got out of the way and asked the Duke community—students, alumni, faculty, and staff—to share stories on a particular theme. Thit year's theme was "realization," and we have three compelling stories of realizations by alumni and staff. Take a listen!
Our second series took a deep dive into a bigger topic: our award-winning three-part audio documentary of the 1969 Allen Building takeover by Black students.
Our first series asked Duke alumni to think about their work lives, and the complexity of finding the path that led them where they needed to go. Thus, "Now What?" was the first series of  Devils' Share podcasts. Please send us your thoughts at dukemag@duke.edu, subject line "podcast" or "Devils' Share." We'd love your thoughts. Meanwhile, please click here and enjoy "Now What?"
Apart from our themed series, we often tell stories from the Duke community in audio form, whether attending events or bringing to life some underconsidered aspect of the world of Duke. For examples of those stories, please visit our Audio Postcards page.
If you'd prefer to go directly to the Soundcloud page on which our files reside, you can click here or on the Soundcloud logo on the upper right of every page. To subscribe on iTunes, click here. For Spotify, click here.