Everyone knows the experience: you read something, you meet someone, you experience something, and suddenly you get it. Some increased awareness, an understanding: you've just realized something. Sometimes it comes all at once; sometimes a realization emerges over days, months, decades.
But we've all realized something; we all have a story of that thing, that moment, that change, when we finally understood.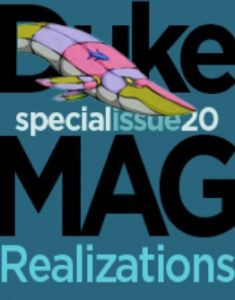 The 2020 Special Issue of Duke Magazine has as its theme "realization." We asked alumni, students, faculty, and staff to share with us their stories of realization. A few of those stories came to us as spoken words, not as writing or images. We're sharing them here. We hope you like them, and we hope to hear your thoughts — and your own stories of realization.
Episode 1: Callie Keeps the Music. Our first realization story comes from Callie Beasley DPT '19. Growing up, Beasley excelled at sports, at music, and at science. She initially went to college for music, but soon realized that her future lay along a more scientific path. She thought that meant that she had to give up her practice of music. But early in her career a patient taught her something different. In "Callie Keeps the Music" she tells us all about it.
Episode 2: Instant Satori. People talk about facing harsh realities, but few among us can share the kind of realization you face when reality reaches its harshest. Blake Tedder, communications and engagement coordinator for Duke Forest, suffered a significant burn injury and learned that there's a lot more to surviving a major burn than blisters and maybe a scar. More, though, he had deeper realization moments before that injury: when he realized that he was about to die in a plane crash. In "Instant Satori" he shares his riveting and powerful story.
Episode 3: Call and Response. Eric Dozier '92 MTS '96 came from a tiny town in Tennessee and had all the life-changing experiences one would expect at Duke, but he returned to the music of his roots as he developed his work. He now calls himself a cultural activist and blues preacher. What he does is use traditionally Black music to bridge the racial divide, performing and giving presentations that share his cultural background in a way that promotes understanding and healing, using especially the call-and-response tradition to engage with his audiences — even over Zoom. We get to hear a little bit of that in this episode. You can sing along!