Future Tech Leaders: North Carolina's Research Triangle (Durham, Chapel Hill, and Raleigh) has been a national leader in scientific discovery and technological innovation for years.  Durham continues to play an important role in the transformation of the Triangle and the country, in both the delivery of new knowledge and the education of the world's next top tech leaders.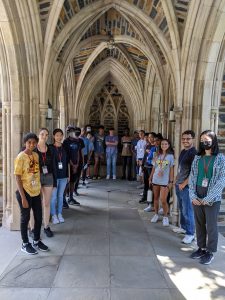 Our Purpose: The Thomas Lord Department of Mechanical Engineering (MEMS) offers a 3-week summer intensive for high school students to establish a Tech Talent Pipeline for the Triangle.  This program is an immersive, hands-on experience that is centered in engineering design practice through active application of theory.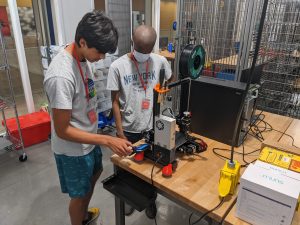 Develop the skills you need to have your college or job application stand out.
Modern Skills: Students learn computer-aided drafting, advanced manufacturing techniques (3D printing, laser-cutting, microcontroller programming, electronics, and shop tools), project management, product design, technical communication through presentations and websites, and teamwork.
Bring meaning to the theory that you learn in the classroom in a real-world design environment.
Guided Mentorship: Rising juniors and seniors in high school are closely mentored by graduate students, faculty, and staff as they identify a problem of social importance and develop solutions in our advanced fabrication facilities and laboratories.
Students work in small groups, have lunchtime talks by our renowned faculty, present their designs and prototypes continuously, and prepare a digital portfolio.
Work alongside the best and the brightest who help you solve problems that are important to you, while also getting career and college mentorship.
Hear what our participants have to say:
Duke Summer STEM Academy was a unique hands-on learning experience I greatly enjoyed.
Even as high school students, we received incredible support to bring our ideas to life, whether it be fantastic mentors, brilliant team members, or super advanced equipment.
The program is just the right size — it's a close-knit community, but you also get to meet many people with diverse interests! I still keep in touch with the friends I met last summer.