Lab Member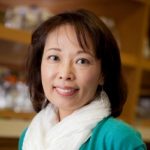 Dr. Mari Shinohara
PI of the lab, also the Director of Graduate Studies (DGS) of Duke Immunology. Had two previous experiences in the industry. One is at a Brewing Lab in a major Japanese whiskey/beer company, and another is a Danish pharma/biotech. In the first job, the beer tasting was a part of her job description (and loved it), but switched her career to immunology research. Enjoys various crafts, Brazilian music enthusiast, and ZIN (Zumba Instructor).
Dr. Nupur Aggarwal – Post-doctoral Associate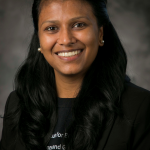 Nupur received her M.Sc. degree in Biochemistry from All India Institute of Medical Sciences (AIIMS), India in 2011, where she investigated the role of SWH/Hippo signaling pathway in glioblastoma. She earned her PhD. in 2016 from Hannover Medical School (MHH), Germany where she investigated the impact of various form of Alpha-1-antitrypsin (A1AT) and the genetic predisposition associated with this protein in human neutrophils and patients. She has authored four articles as a first author during her graduate studies. In the Shinohara lab, Nupur is working on projects to understand the role of Osteopontin (OPN) in various inflammatory disorders. In addition, she is working with different fungus like Cryptococcus- to understand its mechanism of action in immunocompromised patients; and anti TLR response of Mucor (Zygomyces) as well.  She has published a review article on "Understanding Mechanisms Underlying the Pathology of Immune Reconstitution Inflammatory Syndrome (IRIS) by Using Animal Models".
Fun fact: Nupur's passions expand beyond the lab and include hot yoga, painting and dancing. She loves to travel with her most recent adventures being to Puerto Rico.
Shengjie Xu – PhD Student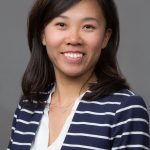 Shengjie joined the lab in 2014. She has since worked on multiple projects, including the innate inhibitory functions of mucor, Dectin-1 of neutrophil, osteopontin in fungal infections, macrophage training and tolerance and various tissure resident macrophages. Her thesis project focuses on the heterogenity in alveolar macrophage populations during fungal infection.
During her spare time, she enjoys going to movies with her husband, reading, sewing and painting.
Will Barclay – PhD Student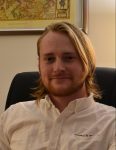 Will received his B.S. in Biology with minors in Chemistry and French from Case Western Reserve University in 2014.  He began his Ph.D. thesis work in the Shinohara lab in 2015. His projects revolve around innate immune system interactions within the central nervous system. He has worked primarily on understanding novel modes of inflammasome signaling in the mouse model of neuroinflammation, experimental autoimmune encephalomyelitis (EAE), in order to gain insight into the underpinnings of diseases such as multiple sclerosis. Secondarily, he has conducted work in collaboration with other lab members to investigate mechanisms of disease development in cryptococcal meningitis-driven Immune Reconstitution Inflammatory Syndrome (IRIS). He maintains interest in topics relevant to science and higher education policy, and has led several advocacy trips to Congress in Washington DC, including NAGPS Legislative Action Days, and the AAAS CASE workshop.
Will enjoys brewing beer and mead, experimenting with graphic design software, and has been known to play the highland bagpipe on occasion.
M. Elizabeth Deerhake – MD-PhD Student
Elizabeth is an MD/PhD student studying C-type lectin receptor signaling in neuroinflammation, specifically in the EAE model of Multiple Sclerosis. She completed her undergraduate training at Yale University and has previous research experience at the Jackson Laboratory, the London School of Hygiene and Tropical Medicine (LSHTM), Yale University, and Memorial Sloan Kettering Cancer Center (MSKCC). She is a recipient of the NIH Ruth L. Kirschstein National Research Service Award (F30). Her long-term goal as a physician-scientist is to understand the role of the innate immune system in neurologic disorders.
In her spare time, she enjoys traveling, birding, reading, and spending time with family and friends.
Publications/Awards: https://scholars.duke.edu/person/marion.deerhake
Twitter: @MEDeerhake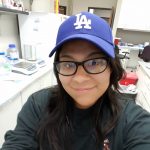 Estefany Reyes – PhD Student
Estefany earned her bachelor's degree in Biology and Spanish from Williams College in 2012. While at Williams, she pursued research on noncoding RNA generation in the yeast model of the yeast, S. cerevisiae.  Before beginning her Ph.D. training in at Duke, Estefany worked at the Beckman Research Institute of City of Hope in southern California where she focused on understanding and defining the roles of noncoding RNAs in the regulation of gene expression in cancer and autoimmunity (miR-142 and miR-146a). Since joining the Shinohara lab in 2018, Estefany has been focusing on elucidating the role of central nervous system resident cells during cryptococcal meningitis. She maintains an active interest in infectious diseases, innate immunity, and neuroimmunology. She enjoys teaching, mentoring, and is an active advocate for increasing the diversity within the biological science.
During her free time, Estefany loves to travel with her two boys and husband. Independently, she loves to spend time with friends, hike, read, and learn new languages (currently fluent in English, Spanish, and Italian).
Emre Cardakli – Research Technician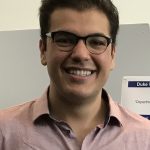 Emre was Duke Undergraduate Class of 2020, majoring in neuroscience with minors in chemistry and biology. He completed his honor's thesis by studying the role of C-type lectin receptors (CLRs) in CNS autoimmunity and the interplay between metabolism and CLR signaling. Now, he continues working at Shinohara Lab as a Research Tech. Emre has also spent time studying antibody/antigen interactions at the Ragon Institute of MGH, MIT, and Harvard. After graduation, Emre hopes to pursue an MD/PhD and a career as a physician scientist with an interest in neuro-immune interactions.