Lab Member
Mari Shinohara, PhD
PI of the lab, also the Director of Graduate Studies (DGS) of Duke Immunology. Had two previous experiences in the industry. One is at a Brewing Lab in a major Japanese whiskey/beer company, and another is a Danish pharma/biotech. In the first job, the beer tasting was a part of her job description (and loved it), but switched her career to immunology research. Enjoys various crafts, Brazilian music enthusiast, and ZIN (Zumba Instructor).
Wen Xi, PhD – Research Scientist
Wen received his Ph.D. degree in Biochemistry from the University of New Hampshire in 2015. In graduate school, he studied biological marco-complexes such as ribosomes and amyloids. Wen joined Shinohara Lab in 2022 to participate in the study of the mechanism of immunosuppression by fungi. A second research project Wen currently works on is to study the role of C-type lectin receptors in neuroinflammation. Prior to Shinohara lab, Wen worked as a postdoctoral associate in Dr. John McCusker Lab of MGM department in Duke, where he studied the mitochondrion-nucleus genomes associated quantitative trait locus (QTL) of Saccharomyces Cerevisiae, as well as a novel RNA virus found within several yeast strains.
In his spare time, Wen likes to spend time with his two kids and wife. He likes to learn and cook of different cuisines for the family. Personally, Wen likes discussion of technology, building DIY computers, trading and testing different computer hardware.
Yike Jiang, MD.PhD – Research Fellow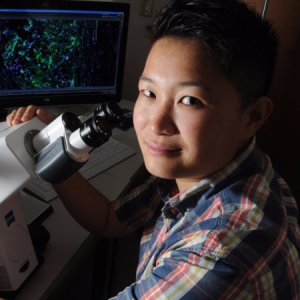 Yike is a pediatric rheumatology fellow studying anti-MOG inflammatory brain disease. Originally a Terp, she has an MD PhD from Geisel School of Medicine at Dartmouth working and did her residency at Baylor College of Medicine / Texas Children's Hospital. Her research interests are post-infectious inflammatory and autoimmune brain diseases. She enjoys traveling, virtual reality, ultimate frisbee, and thinking about ways AI will revolutionize medicine. 
Lalita Mazgaeen, PhD  — Postdoctoral Research Associate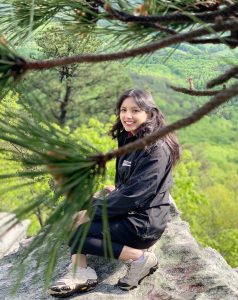 My journey as an international student started in 2014 after I joined the M.S. program in Environmental Chemistry and Toxicology at Southern Illinois University, Edwardsville. During which I worked on the identification and interaction of genes involved in DDT resistance in Drosophila melanogaster.
I received my Ph.D. in Human Toxicology from The University of Iowa in 2023 under the mentorship of Dr. Prajwal Gurung. In graduate school, I worked with a Ptpn6spin mouse model for neutrophilic dermatosis, a rare autoinflammatory disease. Following my Ph.D., I joined Shinohara Lab in the spring of 2023 and currently exploring a few projects related to Cryptococcal infection in the lungs.
In my spare time, I enjoy cooking, painting, and hiking with friends. I am passionate about plants and love learning about exotic flowers and mushrooms.
Sundar Khadka, PhD  — Postdoctoral Research Associate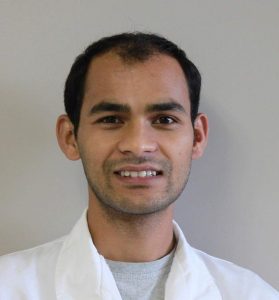 Sundar received his PhD in Neuroimmunology/Neurovirology from the Kindai University Faculty of Medicine, Japan, as a MEXT scholar (2018-2023). During his doctoral degree, he worked on both autoimmune (experimental autoimmune encephalomyelitis) and viral (Theiler's murine encephalomyelitis virus) models of multiple sclerosis(MS). His project focused on gut microbiota alternation in animal models of MS by adjuvant, curcumin, or lipid A. His doctoral thesis title was "Curcumin β-D-glucuronide modulates an autoimmune model of multiple sclerosis with altered gut microbiota in the ileum and feces". Sundar joined Shinohara Lab in 2023 and works on cell-specific mechanism mediated by dectin-1 in animal models of multiple sclerosis. He earned master's degree in clinical microbiology and worked as a microbiologist in WHO HIV drug resistance project at the National Public Health Laboratory (NPHL), Kathmandu, Nepal, for 3 years. Outside of food and work, he also enjoys reading literature and traveling!
Estefany Reyes – PhD Student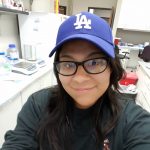 Estefany earned her bachelor's degree in Biology and Spanish from Williams College in 2012. While at Williams, she pursued research on noncoding RNA generation in the yeast model of the yeast, S. cerevisiae.  Before beginning her Ph.D. training in at Duke, Estefany worked at the Beckman Research Institute of City of Hope in southern California where she focused on understanding and defining the roles of noncoding RNAs in the regulation of gene expression in cancer and autoimmunity (miR-142 and miR-146a). Since joining the Shinohara lab in 2018, Estefany has been focusing on elucidating the role of central nervous system resident cells during cryptococcal meningitis. She maintains an active interest in infectious diseases, innate immunity, and neuroimmunology. She enjoys teaching, mentoring, and is an active advocate for increasing the diversity within the biological science.
During her free time, Estefany loves to travel with her two boys and husband. Independently, she loves to spend time with friends, hike, read, and learn new languages (currently fluent in English, Spanish, and Italian).
Chang Su – MD/PhD Student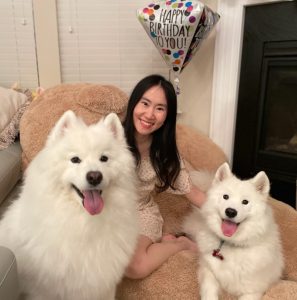 Chang joined the Shinohara lab in 2023. She graduated with a degree in Biology from Davidson College in 2014. During her time there, she studied how to chemically modify the siRNA molecules to increase its stability and potency to downregulate mRNAs that promote ovarian tumor growth. After graduation, she spent two years at the Duke Vaccine Institute, where she conducted research on HIV and SIV evolution and quasispecies. She began her graduate training in 2018 and is co-mentored by Dr. David Kirsch and Dr. Mari Shinohara to study the mechanism of resistance and response to radiation and immunotherapy in sarcoma. During her free time, Chang loves playing board games, cooking new cuisines, and skiing in the winter. She also learned to brew kombucha during COVID.
Elliot Lin – PhD Student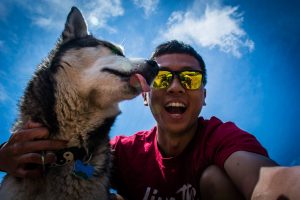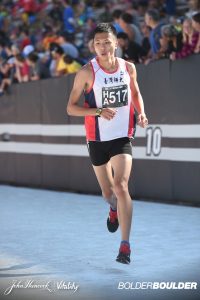 Elliot obtained my bachelor's degree in Life Science and Exercise Science from National Taiwan Normal University in 2017. In the following two years, he received my master's degree in Life Science from National Taiwan University. His master's thesis project was focusing on the pathogenesis of neutrophil extracellular traps (NETs) in inflammatory bowel disease (IBD).
Elliot joined Shinohara in 2021 and works on functions of osteopontin in CNS diseases. During free time, he likes to go for a run, make coffee, drink coffee, and photography. Fun facts: Elliot used to be a track and field athlete competing at the top division collegiate sports in Taiwan. He used to work as a barista at a cat cafe. Before leaving Taiwan, he started picking up Muay Thai for hobby.
Devon DiPalma – MD/PhD Student
Devon is an MD/PhD student, joining the lab in 2021. He did his undergraduate training at Duke University, where he received a B.S. in neuroscience and B.A. in philosophy. His undergraduate research was focused on neuropharmacology, which resulted in graduation with distinction honor. After graduation, he spent two years at the NIH in the Experimental Immunology Branch, where he transitioned his research interests to the role of the 𝛄c family receptors in the development and homeostasis of different sub-populations of T cells. He looks forward to broadening his immunology research interests in the Shinohara lab.
Miranda Lumbreras – PhD student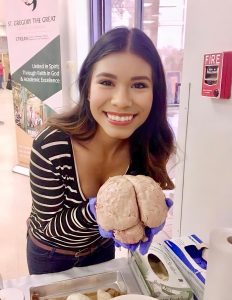 Miranda earned her bachelor's degree in Microbiology and Immunology from the University of Texas in 2019. During her time here, she completed an undergraduate honors thesis on thioredoxin systems in clinical isolates of Klebsiella pneumoniae. After graduation, she turned in her Microbiologist hat for an Immunologist hat, and worked as a Research Assistant at Texas Biomedical Research Institute, studying macrophage zinc metabolism during Mycobacterium tuberculosis infection. She began her graduate training and joined the Shinohara Lab in the Spring of 2022 and is studying fungal infections in the CNS. Along with being in the lab she values mentorship, diversity, and dedicates time to volunteering in the community.
She has a passion for science, discovery, and cats. In her free time, she enjoys rock climbing, watching trivia game shows, and eating pizza. Also, GO BLUE DEVILS! 
Jonathan Messerschmidt – MD/PhD student
Jon joined the Shinohara lab in January of 2023. He graduated with a degree in Biochemistry and Molecular Biology from Boston University in 2018. During his undergraduate training, he biochemically characterized interactions of a sea anemone Toll-Like Receptor with infectious ligands such as flagellin. After graduation, he worked as a research technician in the lab of Dr. Shawn Demehri at MGH, studying the effects of commensal skin-resident HPVs on the development of squamous cell carcinoma. During this time, he also uncovered a mechanism of tolerance induction for T cells through the cytokine TSLP and DCs, and studied disparate roles of alarmin cytokines in skin immunity. Since joining the Shinohara Lab, Jon has focused on the mechanisms of Osteopontin in alveolar macrophages during pulmonary fibrosis, and its central role in other macrophage responses. He is interested in continuing immunology research as he pursues pathology residency and a career as a physician scientist. Outside of the lab, Jon enjoys backpacking and hiking with his fiancé and their dog, Hudson.
Nico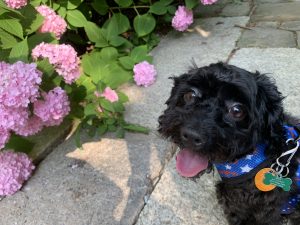 – Mari
Maltepoo boy. Lots of energy in his small fluffy body. His job description is encouraging PI when she writes. Walking on foot is his signature move.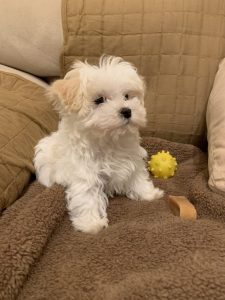 Yuki – Mari
Meet the feisty yet adorable female puppy who's ready to take on the world! Yuki came to Mari's household in late January 2023. Don't let her tiny size fool you – she's got a big personality (and attitude!).
.
Eva – Chang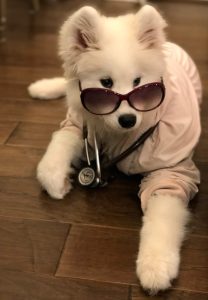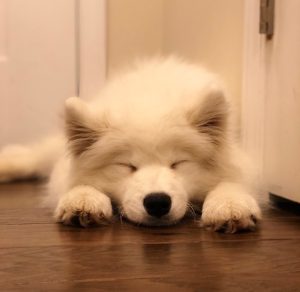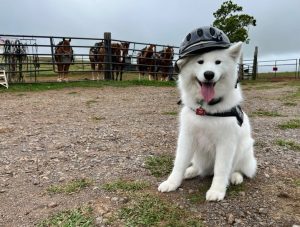 Though this Samoyed has a Chinese name of "Jing Mei" – meaning a gentle beauty – Eva very much turned out on the opposite end of the spectrum. When not napping like a sleeping beauty 23-hours a day or shedding her polar bear-like fur 10 months a year, Eva can be found kissing people, feasting on mulch, or behaving like a lunatic on the playground.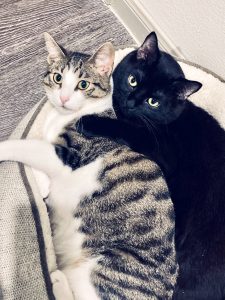 Benji & Henry – Miranda
Benji and Henry are the bestest of friends, and you will typically find them cuddling in their cat bed. They enjoy ruining furniture together and waking up humans at 3am, but because of their cuteness, they are always forgiven.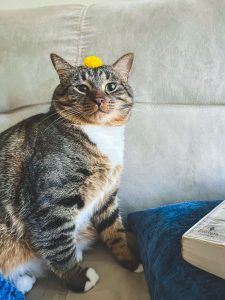 Gumbo – Elliot
He's a 15lb big boy, 3 years old. He likes outdoors a lot and chasing squirrels, birds, and (real) "wild-type" mice as well sometimes. He can be easily bribed with treats, cheese, ice cream, and pizza.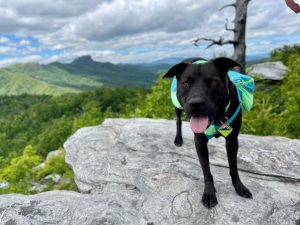 Hudson — Jon M.
From a once terrified, mangy puppy to an adventurous, loving hiking buddy, Hudson enjoys anything and everything outside. As an avid swimmer, he loves the lakes and Eno State Park. He's learning words with the help of buttons, and his owners are realizing the monster they're creating by allowing him to demand 'love'.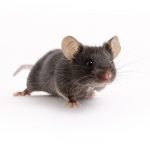 "Mouse"
Black, sometimes white, small fellows. Arguably the most important contributors to all the lab projects. Thank you, little ones!