Graduate Fellows
Hannah Borenstein is a PhD student in Cultural Anthropology at Duke University. Her research is about female long-distance runners from Ethiopia. She is interested in gendered practices of sport, performance, embodiment, labor, and migration.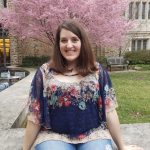 Jessica Covil is a first-year PhD student of English at Duke University. Her research currently focuses on literary representations of community, belonging, and "home" in 20th-Century American Literature, and on connections between the poetic and the political, especially within Black Feminist theory and praxis. She holds BAs in English and in Romance Languages and Literatures from the University of Chicago.
Grant Glass is a PhD student in English and Comparative Literature at the University of North Carolina at Chapel Hill. His scholarship focuses on the migration of 18th-century books within the British Empire and how particular editions (pirated, abridged, children's, imitated, translated) propagated nefarious notions of capitalism, race, empire, gender, and climate throughout the Atlantic. He holds a BA from Harvard University Extension School in Literature and a MA from King's College London in Digital Humanities.
Nicole Higgins is a PhD student in English at Duke University. Her research focuses on musical and sonic impulses in poetry, especially contemporary notions of the jazz poem and women's articulations of generic conventions.
Trisha Remetir is a PhD student in the English and Comparative Literature Department at the University of North Carolina at Chapel Hill. Trisha specializes in contemporary Anglophone poetry and literature, postcolonial studies and third world feminisms. Her dissertation project analyzes representations of trans-Pacific migration in Filipina/o cultural production.
Anna Tybinko is a PhD student in the Department of Romance Studies at Duke University. Her interests include constructions of race in the Iberian world and contemporary themes of immigration, precarity and racialization. She explores Spanish fiction as a means of thinking beyond social limitations and proposing alternative concepts of community to the nation/nation state.
If you are interested in being involved with the Representing Migration Humanities Lab as a graduate fellow, please contact one of the co-convenors of the lab listed on the About page.