This new research lab, co-directed by five faculty members in the English Department at Duke University, is dedicated to investigating stories of migration from the origins of modernity to contemporary concerns. Participants in this lab will engage in collaborative research projects on the representation and cultural expression of migration in literature, music, and performance cultures. Students in any major are welcome, and there will be opportunities for undergraduates, graduates, and faculty to work together, alongside attending symposia and local performances, engaging in collaborative pedagogy and discussion groups, and active involvement in archival, imaginative, and joint research.
Charlotte Sussman is Associate Professor of English at Duke University. She is the author of Consuming Anxieties: Consumer Protest, Gender, and British Slavery, 1713–1833 and Eighteenth-Century English Literature.
Jaji is an associate professor of English at Duke University with expertise in African and African American literary and cultural studies, with special interests in music, poetry, and black feminisms. She previously taught at University of Pennsylvania and has received fellowships from the National Endowment for the Humanities/Schomburg Center, Mellon Foundation, Radcliffe Institute for Advanced Studies, and National Humanities Center.
Her book, Africa in Stereo: Music, Modernism and Pan-African Solidarity (Oxford), won the African Literature Association's First Book Prize, as well as honorable mentions from the American Comparative Literature Association and Society for Ethnomusicology. The book traces how exchanges between African American, Ghanaian, Senegalese and South African artists shaped cultural and political liberation projects. She is now at work on two new projects: Cassava Westernsis a study of how global Black writers and artists reimagine the American frontier myth to serve new, local purposes. The second, Classic Black is a study of poetry set to music by black concert music composers.
Jaji, originally from Zimbabwe, is also a poet. Her collection, Beating the Graves (2017) was published through the African Poetry Book Fund with University of Nebraska Press  and her chapbook Carnaval, (2014)  appears in  New Generation African Poets box set. Her poems have appeared in Black Renaissance Noire, Prairie Schooner, Bitter Oleander, Illuminations, Madison Review, ElevenEleven, etc. and she has read at the Poetry Foundation, Library of Congress, and United Nations, among others.
My work to date has focused on the relationship between language ideologies and the construction of social identities through linguistic practice. My PhD dissertation examined the intersection of language, ethnicity, gender and social class in the context of an educational institution in Taiwan. Most recently, I have become interested in the role of language in the shaping of immigrant identities in the United States and other English-dominant countries.
Corina Stan grew up in Romania, studied in Germany, France, and the US, and taught for several years in the Netherlands. Trained as a comparatist, she works at the intersection of literature and the arts, with interests in continental philosophy and the sociology of intellectuals.
Her first book project, The Art of Distances or, A Morality for the Everyday, identifies an insistent preoccupation with interpersonal distance in a strand of twentieth-century European and Anglophone literature, most notably in the work of George Orwell, Paul Morand, Elias Canetti, Iris Murdoch, Walter Benjamin, Annie Ernaux, Günter Grass, Damon Galgut, and others. In the problematic of distance – in the varied approaches these writers have taken to establishing the grammars, idioms, imaginaries and ethics of proximity, immersion, identification, hesitation with which we might engage one another, particularly in moments of social disruption and historical crisis – she reads an original reflection on the question of the ethical life, a nuanced and often moving contribution to the rethinking of community in the course of the past century.
She is currently working on two other book projects. Distant, yet Contemporary: the Revolutionary Seventeenth Century in Fiction and Drama (1921-2012) examines historical novels and plays of the past century set during the English Civil War, the Restoration and the Glorious Revolution (1640-1688) with the aim to understand the sense of affinity that writers from Rose Macaulay and T. S. Eliot to David Caute and Iain Pears intimated between these two distant periods, bookending the period of Western modernity with an eye to its premises and to its missed opportunities. "Visions of the End of Culture: Civilization, Barbarism, and the Place beyond Forgiveness" (Arcadia, 2015) is the first part of a project that traces the history of the "end of culture" in the West, a most palpable anxiety in the contemporary context of the migration crisis.
Jarvis C. McInnis holds a BA in English from Tougaloo College in Jackson, Mississippi, and a Ph.D. in English & Comparative Literature from Columbia University in the City of New York.  Jarvis is an interdisciplinary scholar of African American & African Diaspora literature and culture, with teaching and research interests in the global south (primarily the US South and the Caribbean), sound studies, performance studies, and visual culture.
He is currently at work on his first book project, tentatively titled, "The Afterlives of the Plantation: Aesthetics, Labor, and Diaspora in the Global Black South," which aims to reorient the geographic contours of black transnationalism and diaspora by exploring the hemispheric linkages between southern African American and Caribbean literature and culture in the early twentieth century. Jarvis's research has been supported by numerous grants and fellowships, including the Mellon Mays Undergraduate Fellowship, the Ford Foundation Pre-doctoral and Dissertation Fellowships, and Princeton University's Department of African American Studies postdoctoral fellowship. His work appears or is forthcoming in journals and venues such as Callaloo, MELUS, Mississippi Quarterly, Public Books, and The Global South.
Sasha Panaram is a PhD candidate in English at Duke and serves as the Teaching Assistant for the Representing Migration Humanities Lab. At Duke she studies conditions of belonging, creative expressions of loss, and enactments of fugitivity in black diasporic literature. Her dissertation explores fictional and critical renderings of the Middle Passage by black women in black diasporic literature and culture. At Duke, she also pursues certificates in African and African American Studies, Gender Sexuality, & Feminist Studies, and College Teaching. She received her BA from Georgetown University where she majored in English and minored in Theology, and Education, Inquiry, and Justice.
Karen Little is a PhD candidate in English at Duke and serves as a graduate lab assistant for the Representing Migration Humanities Lab. Her dissertation focuses on mid-20th century US fiction featuring racialized homespaces haunted by exclusionary pasts. Her interest in migration developed as she discovered the frequency with which narratives about home turn into narratives about expulsion or departure from home. She has a BA in English, an MA in Secondary Education, and an MA in English from University of Kentucky.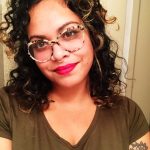 Sonia Nayak is a 6th-year PhD Candidate in English at Duke, and served as a teaching assistant for the RMHL during the fall semester of 2017. During that time, she led a small working group centered around narratives of migration in Rushdie's Midnight's Children, focusing on Indian Partition. Her work focuses on cruelty, decolonization, and globalization in 20th- and 21st-century Global Anglophone novels. She received an MA in Humanities and Social Thought from NYU, and a BA in Literary Arts from Brown University.
Catherine Lee
Catherine Lee is a PhD student in English at Duke and served as a graduate assistant for the RMHL during the 2017-18 academic year.