Looking at him today, R. Buxton Ward looks like a healthy, 17-year-old junior high school student at The Craven Early College Program associated with Craven Community College. You would never know that he had been through nearly a 2-year battle with scoliosis. As part of his graduation project, Buxton led a fundraiser, "A Walk to the Coast," to benefit Duke Children's Hospital and to thank the providers who helped him.
At the age of 15, Buxton was diagnosed with a specific type of skeletal deformity known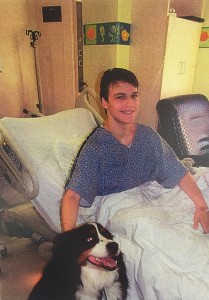 as Idiopathic Scoliosis, which is a spontaneous curvature of the spine without a known cause. Buxton was placed under the care of Robert D. Fitch, MD, a pediatric orthopaedic surgeon at Duke who specializes in scoliosis cases. After a year and a half of wearing a brace, Buxton's spinal curvature worsened from 35.9 degrees to 51.1 degrees. On June 8, 2015, Dr. Fitch performed surgery on Buxton and was able to permanently correct his scoliosis curve from 51.1 degrees to 11.5 degrees.
As part of his graduation project, Buxton developed a fundraiser benefitting Duke Children's Hospital, called, "A Walk to the Coast;" a 45-mile, 3-day journey from the front steps of his home in New Bern, NC, to the center of Fort Macon State Park near Atlantic Beach, NC. He placed binders detailing his journey with scoliosis around the community and envelopes for donations to support his walk.
On February 12, 2016, Buxton and his mother, Paisley, set out on their journey of walking approximately 15 miles per day. Despite bitter temperatures, rain, and sleet, Buxton and his mother completed the journey to Fort Macon State Park on February 14, 2016. In addition to completing a journey that Buxton says he will "never forget," he was able to raise $1,880.00 to support Duke Children's Hospital.
"I am just a young man who wanted to say thank you and give back as much as I could to Duke Children's Hospital and Health Center," says Buxton. We would like to thank Buxton for the time and dedication that went into "A Walk to the Coast," and for the generous donations he received from all of his supporters. He is an inspiration to all of us.
Photo Gallery from "A Walk to the Coast"