Natalie Dixon, Administrative Coordinator
natalie.dixon@duke.edu
Natalie Dixon is a first-year MEM Environmental. Economics & Policy student. She graduated in 2020 from American University with a double major in international relations and economics.  Natalie is also on the cabinet of the student club Oceans at Duke, is completing an assistantship with the Nicholas School admissions office, and is doing research assistant work for Duke Law professor Lee Miller.  Being from the coast in southern California, Natalie has been motivated by first-hand experience to get into coastal conservation and resilience work. She plans to go into a career in policy advocacy in the ocean space, specifically with an organization that uses economic valuation to advocate for marine ecosystem conservation. 
Mollie Bowness, Outreach Coordinator
mollie.bowness@duke.edu
Mollie is a first-year MEM Business & Environment student at the Nicholas School where she is focusing on ocean-related topics and climate climate. She has a B.S. in Business & Marketing from Fordham University and an M.S. in Media & Communications in Developing Countries from the London School of Economics and Political Science. Mollie has 10 years of professional brand strategy and marketing experience working in the UK and US across various sectors and brands. Her most recent full-time role was a Senior Brand Manager at Hulu. Mollie is a first-year representative on The Coastal Society board and is completing an assistantship with the Duke Marine Geospatial Ecology Lab. Her interests include spending time at the beach surfing, traveling, reading, and doing yoga in between classes. Mollie plans to take her experience in marketing and apply it to a career in eliminating and recycling ocean plastics.
Mackenzie Audino, Seminar Coordinator
mackenzie.audino@duke.edu
Mackenzie Audino is a first-year MEM Business & Environment student and is excited to serve as the Seminar Coordinator for the OPWG. Born and raised in Seattle, Mackenzie spent her life in and around the ocean. She witnessed first-hand the threats facing our fragile marine ecosystems while learning to scuba dive in Indonesia. With a renewed passion for ocean and coastal conservation and sustainability, Mackenzie plans to pursue a career focused on innovative market-based solutions to address the issues of plastic pollution, coral bleaching, and over-fishing. In her free time, you can find Mackenzie swimming, biking, trail-running, and enjoying all kinds of outdoor adventures!
Steven Wagner, Symposium Coordinator
steven.t.wagner@duke.edu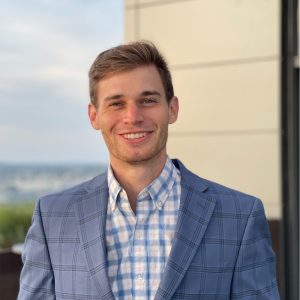 Steven is a first-year MEM student studying Environmental Economics & Policy. Originally from New Jersey, he graduated from Boston College with a degree in economics and a minor in International Cooperation and Conflict. After graduating, he worked in economic consulting focusing on antitrust litigation and merger reviews. At the Nicholas School, he is excited to explore the role the oceans play in our global economy and how to better protect them. Like many of his other board members, he enjoys spending time outside, including hiking, biking, and running.
Lexi Addison, Symposium Coordinator
aea59@duke.edu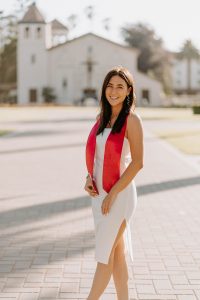 Lexi Addison is a first-year Coastal Environmental Management student at the Nicholas School. She recently graduated from Santa Clara University with a major in Environmental Studies and a minor in Political Science. Lexi is excited to be a Symposium Coordinator for OPWG and looks forward to collaborating with other student groups and putting on an amazing Symposium this year! Going forward, Lexi would like to have a career that incorporates both marine policy and science. She is extremely passionate about our oceans and hopes to work in sustainable fisheries, international fishery management, and shark conservation. Along the way, Lexi hopes to further explore our oceans and take up conservation photography/videography.
Chelsea Nielsen, Action Team Coordinator
chelsea.nielsen@duke.edu
Chelsea is a first-year MEM student studying Environmental Economics and Policy. She graduated from the University of Miami with a dual degree in Biology and Anthropology. Her studies included behavioral ecology research in the Galápagos Islands and archaeological fieldwork in Puerto Rico and the Yucatán Peninsula. After graduating, she pursued a career in collections management at the Frost Museum of Science in Miami and then at the Seminole Tribe of Florida's Ah-Tah-Thi-Ki Museum in the Everglades. Wanting to transition into natural resource management, she decided to attend the Nicholas School and is currently researching ethical supply chains. In her free time, she enjoys exploring the outdoors and going to the cinema.
Gabi Ballardo, Publication Coordinator
gabi.ballardo@duke.edu
Gabi is a first-year MEM student specializing in Coastal Environmental Management. She is from the San Francisco Bay Area in California and grew up visiting family by the coast. This June, she graduated from Santa Clara University (SCU) with a Bachelor of Science in Environmental Studies and a Bachelor of Arts in Italian Studies. During her time at SCU, Gabi was a research assistant for her university's Department of Environmental Studies and Sciences. She helped edit an article on the relationships between climate change and food and water security that was published in the academic journal, World Development. Gabi also co-authored an article on gender relations, climate resilience, and agroecological diversification strategies of smallholder farmers in Nicaragua. Her senior capstone project focused on climate change effects on the migratory and foraging behaviors of northern elephant seals in Pescadero, California. Gabi's main areas of interest are coastal policy in relation to coastal habitat conservation and climate-resilient communities along with environmental communication. In her free time, Gabi enjoys sketching, painting, writing, stand-up paddleboarding, kayaking, and going to the beach.