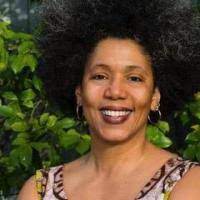 Andrea Woods Valdés
In her work, Valdés uses dance as contemporary folklore. Everyone has a story to tell. The presence of Black women in America offers a rich and valuable landscape to explore. As a former dancer with Bill T. Jones/Arnie Zane Dance Company, her creative process is strongly linked to identity and representation. Her research is equally physical, creative, and scholarly. Valdés' research focus is to build Black audiences for Black Women's creative work, mentor young and new teachers in African Diaspora dance forms, and develop intergenerational and interdisciplinary performance and practice opportunities. Her areas of interest include women in the arts, Afro-Cuban dance/music, African Diaspora history/culture through performance, and Dance for the Camera. She focuss on intra-cultural, interdisciplinary activities and dialogues that happen between Black women artists beyond the boundaries of national and political identities. Her creative process explores the intersections between dance, music, and writing as my own brand of performed folklore. SOULOWORKS/Andrea E. Woods & Dancers is the vehicle for the performance work I create. Calabasa Calabasa: Dancing and Making the Music of Life is a multilingual dance/music/vocal performance group she created to explore interdisciplinary African Diaspora practices and social justice. www.souloworks.com/calabasa. She developed wimmin@work as a creative hub where performances, classes, and scholarship are developed in ways that support women's creative contributions to our communities. In addition, Valdés participated in developing a choreographic collective of Black women artists in the Durham area to support and nurture the creative process and cultural identity.
Dawna is a dedicated social worker, student affairs professional, and community advocate. A New Jersey native, Dawna has lived and worked in North Carolina since 2013, coming to Duke most recently from the Dean of Students office at UNC Chapel Hill. With over 10 years of student affairs experience, she has worked in crisis and case management, housing and residential life, and multicultural and first-generation student support. Dawna gives back to the higher education community by serving as a faculty member in the Higher Education Case Management Association's (HECMA) foundations program and as an active NASPA member. An engaged Chapel Hill resident, Jones was named the 2020 Young Professional of the Year by the Chapel Hill – Carrboro Chamber of Commerce for her service to the Chapel Hill Housing Advisory Board and leadership roles within the Chapel Hill - Carrboro NAACP and the Democratic Women of Orange County. Dawna is also a NEXT30 Board Member with the Southern Environmental Law Center and a graduate of the NAACP NextGen program. Jones has also been recognized with ACPA's Pan-African Network 30 under 40 award for civic engagement. Dawna holds degrees in Sociology (BA), Higher Education Management (M.Ed.) and Social Work (MSW) and is currently pursuing her doctorate in Transformative Leadership for Civic and Community Engagement at the North Carolina A&T State University. Outside of work and community service Dawna loves movies, reading and dining out with friends.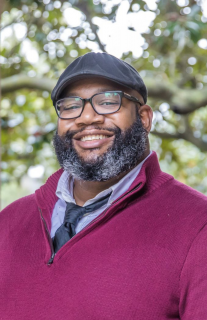 Quinton "Q." Smith was born and raised near the small town of Dillwyn in central Virginia and remained there until he left to attend college at the University of North Carolina at Chapel Hill. After completing his B.A. in Interpersonal and Organizational Communications, Quinton spent nearly a decade working in community mental health at varying levels before returning to UNC Chapel Hill for a Master of Social Work degree, focusing on community management and policy practice. This return to school reignited Quinton's passion for working with marginalized communities in higher education, leading him to accept a position at the Sanford School of Public Policy here at Duke, spearheading their Committee on Diversity and Inclusion. Quinton eventually decided to return to Carolina yet again—this time to pursue his PhD in Social Work—and is actively in the midst of his studies. When not working or studying, Quinton enjoys mentoring Black young adults, playing video games, watching movies, listening to music, engaging in photography, cooking for others, and spending time with his wife and daughters.