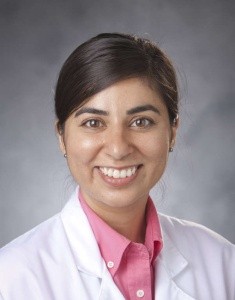 This week's faculty spotlight shines on Poonam Sharma, MD. In addition to being a hospitalist at Duke Regional Hospital, Dr. Sharma is involved in a variety of educational roles, especially with the training program for Physician Assistants (PA).
How long have you been at Duke?
I've been at Duke 9 years now. I came for residency training and then started as a hospitalist in the division in 2010.
What are your responsibilities within the division?
My days vary so much! On my clinical days I work as a hospitalist – usually at Duke Regional Hospital. Most clinical days I am doing some teaching as well. I often have a PA student with me. I also work with the resident teams which include residents, medical students, PA students and pharmacy students. On my non-clinical days, I work on developing educational programs for the learners at Duke Regional as Director of Medical Education there. We have developed and deployed a new curriculum for the PA students rotating through DRH Hospital Medicine. And we have some exciting work in faculty development and medical education research.
Could you tell us more about your role as a researcher?
I just presented the results of a medical education research project at the Society of Hospital Medicine meeting. We surveyed hospital medicine faculty to explore how well they understand the training pathway of PA students. This helped us understand where there was a need for faculty education. The field of inter-professional education and communication, particularly as it pertains to hospital medicine, is super interesting to me! This is one of several education research projects going on at DRH. I am lucky to be part of a group that is passionate about hospital medicine and education.
How did you get into this field?
I have been the site preceptor for the PA students rotating at DRH on the hospital medicine rotation for several years. I took it over from fellow faculty member, Vernee Belcher, who had made it a really great experience for the students. That was my first exposure to that group of learners and working with them has been really rewarding!
How has your subject area changed or where you see future changes?
PAs are a growing part of the hospital medicine workforce. I think as a profession we need to think about how to best educate and prepare this group of students and professionals. They will (and are!) taking care of us!
What passions do you have outside of the division?
I love to putter in my garden. On a nice day when I am not working you can either find me at Lowes or weeding my garden while listening to a Freakonomics podcast.
Have you recently read any books that would be of interest to the division?
I am currently re-reading Richard Colgan's "Advice to the Young Physician."  It is really interesting to re-read it now and think about how to teach these concepts.