Britta Momanyi is a 2L from Bloomington, Minnesota. She obtained her Bachelor of Arts in Political Science and Sociology of Law, Criminology, and Deviance from the University of Minnesota in 2017. After graduation, Britta interned in the Investigations and Resolutions Division of the Equal Opportunity Department of the Metropolitan Council in Minneapolis where she assisted on a number of equal opportunity investigations. A few months later, Britta was deployed with the 34th Infantry Division of the Minnesota Army National Guard as an administrative paralegal in the Office of the Staff Judge Advocate. While there, she assisted in sexual harassment investigation training and processing of administrative investigations. Since returning to the States in July and beginning her law school career at Duke, Britta has been involved with the Black Law Students Association, the Women of Color Collective, the Women Law Students Association, the Veteran's Assistance Pro-Bono Project, and the Public Interest Law Foundation. Additionally, she is currently serving on the Student Misconduct Committee and as the 1L Representative for the First Generation Professionals student group. In her free time, Britta enjoys woodworking, traveling, cooking, lifting weights, and listening to podcasts.
Having grown up in Minneapolis, MN, Maurice Baynard attended The University of Notre Dame. He spent time volunteering in several youth development programs. After graduation he taught for Minneapolis Public Schools. Maurice then moved to Chicago and was a corporate paralegal before applying to graduate schools. He started at Duke's Sanford School of Public Policy in 2017 as a dual degree student, and is now in his 3L year at the Law School.
Maurice has participated in the Innocence Project, the Duke Journal of Constitutional Law and Public Policy, and has volunteered at Southerners on New Ground (SONG), a local nonprofit aimed at criminal justice reform, while attending Duke. He was a summer associate at Faegre, Baker, Daniels, LLP in Minneapolis, MN last summer, and will be going to Latham & Watkins in Chicago during his 2L summer.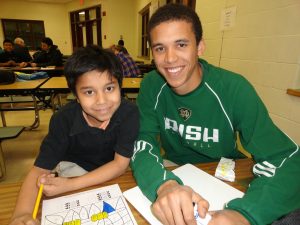 "Duke has become a home away from home for me.  I've become immersed in a close community of intelligent and interesting people.  Duke's small class size and strong Black Law Students Association have been integral to that immersion.  BLSA, particularly, has given me a platform to launch my professional network and provide general support.  BLSA's "Paving Pathways" program, which gives current students the opportunity to interact with successful black alums throughout the year, is a strong example of how BLSA sets students up for success.  However, some of my favorite experiences with Duke BLSA simply involve hanging out in the law school's student lounge to talk, listen to music, and take a break from the academic rigor of law school.  There's a community here unlike any other."
— Donovan Stone, '20