BLSA Students in the News: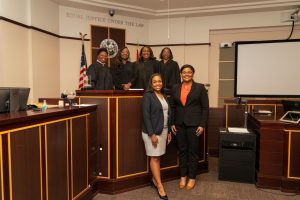 Congratulations to BLSA members Kristen Love '24 and Analese Bridges '24 for winning the Thurgood Marshall Moot Court Competition at this year's Southern Region of the National Black Law Students Association (SRBLSA) Regional Convention & Career Fair!
"It was a great honor to represent Duke in the Southern Region's moot court competition since it was Duke's first time competing in a while," Love said. "There was a lot of strong competition, so I am excited that our effort and hard work paid off. But more than winning, the most rewarding part was working with one of my good friends and seeing how much of a powerhouse she is in the courtroom!"
See full story here.
Student perspectives:
Kristen Love serves as BLSA's Chief of Staff this year. She considers BLSA to be one of the best parts of her Duke experience. She particularly appreciates the organization's ability to provide opportunities for members to engage socially and professionally with people with shared experiences.
"I saw students who looked like me succeeding at Duke and pursuing a variety of careers and opportunities. Connecting with BLSA made Duke feel like a place I could grow and succeed at." 
-- Kristen Love '24
Andriana currently serves as a 1L Representative for BLSA. She pursued this position in order to give back to those who have given to her.
"Since my first semester started, the 2Ls and 3Ls in BLSA have been invaluable with advice, resources, and community," she said. "Being a part of BLSA has given me a sense of community at Duke and allowed me to find my closest friends here at Duke."
-- Andriana Johnson 25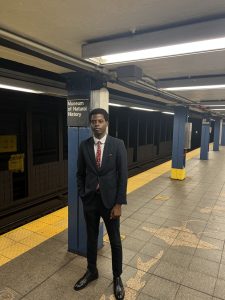 Moses currently serves as a LLM Representative for BLSA.
"I have had such an amazing experience with BLSA. The members are lighthearted, supportive, and friendly. We look out for each other and make sure everyone has access to the resources they need to make the most of their time at Duke Law school, while still having fun. I should mention, though, that we still haven't settled the debate over who the greatest African music artist is."
-- Moses Bagume, LLM '25