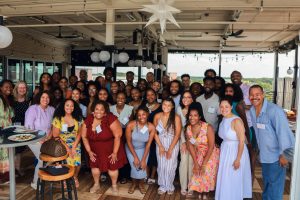 The Duke University Chapter of the National Black Law Students Association, Inc., strives to promote the success of future Black attorneys both in law school and in society by supporting our members on an academic, professional, and social basis. In order to accomplish this goal we focus on five major areas:
VOICE

– We provide our members with a forum for expressing their unique needs and concerns by holding regular meetings and actively engaging the administration to make them aware of these concerns.

DEVELOPMENT

– We provide a local support mechanism for chapter members through a mentoring program and academic/career guidance.

NETWORK

– We promote activities, which encourage both internal BLSA bonding and collaboration with other individuals and organizations within the Duke community.

COMMUNITY

– We stay involved in the local Durham community by staying abreast of current concerns and needs of Durham community members. We then utilize this knowledge to influence both BLSA members and the larger Duke legal community to meet the needs of the Durham community through community service.

RESOURCES

– We utilize the collective resources of the chapter to effectuate the goals of the National Black Law Students Association.