Visit the official Law School Admissions page by following this link. If you have specific questions related to life in Law School or as a student at Duke University School of Law, we are happy to share our experiences with you! Feel free to reach out to any of the board members listed on our Officers page. We are happy you are considering Duke Law, and we look forward to speaking with you!
---
Why Duke Law? 
Alumni Perspective:
"If you want to go to a school where you can bring your entire authentic self to campus and the classroom, which includes, but is not limited to, the ability to be radically inclusive, deeply involved and "Unapologetically Black", Duke Law should be your choice.  My time at Duke was one of the most academically rigorous, socially fulfilling and incomparably meaningful experiences of my life.  I can say unequivocally I would not have had that experience at any other law school and Duke Law will forever be the best decision I have ever made."
-- Seth Pearson '16
Alumni perspective:
"Duke Law is a great place to be a law student because of the Black students and Black faculty. Not only are we at one of the best law schools in the country with amazing job placement numbers, a collegial environment and amazing basketball – we also have a Black student population that is close-knit and committed to lifting as we climb. Our Black alumni are committed to ensuring our success, and our faculty members consistently support BLSA events and career development. Picking a law school is about going to a school that will propel you towards your goals and support you being your whole self. BLSA has ensured that Black students are always supported personally and professionally and this is why we continue to thrive at Duke Law and beyond."
-- Kameron Townsend '19
---
Student perspective:
Kristen Love serves as BLSA's Chief of Staff this year. She considers BLSA to be one of the best parts of her Duke experience. She particularly appreciates the organization's ability to provide opportunities for members to engage socially and professionally with people with shared experiences.
"I saw students who looked like me succeeding at Duke and pursuing a variety of careers and opportunities. Connecting with BLSA made Duke feel like a place I could grow and succeed at." 
-- Kristen Love '24
Student perspective:
Andriana currently serves as a 1L Representative for BLSA. She pursued this position in order to give back to those who have given to her.
"Since my first semester started, the 2Ls and 3Ls in BLSA have been invaluable with advice, resources, and community," she said. "Being a part of BLSA has given me a sense of community at Duke and allowed me to find my closest friends here at Duke."
-- Andriana Johnson 25
Student perspective: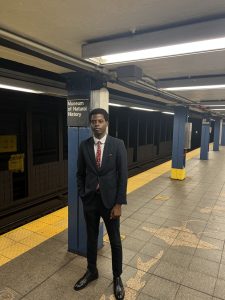 Moses currently serves as a LLM Representative for BLSA.
"I have had such an amazing experience with BLSA. The members are lighthearted, supportive, and friendly. We look out for each other and make sure everyone has access to the resources they need to make the most of their time at Duke Law school, while still having fun. I should mention, though, that we still haven't settled the debate over who the greatest African music artist is."
-- Moses Bagume, LLM '25